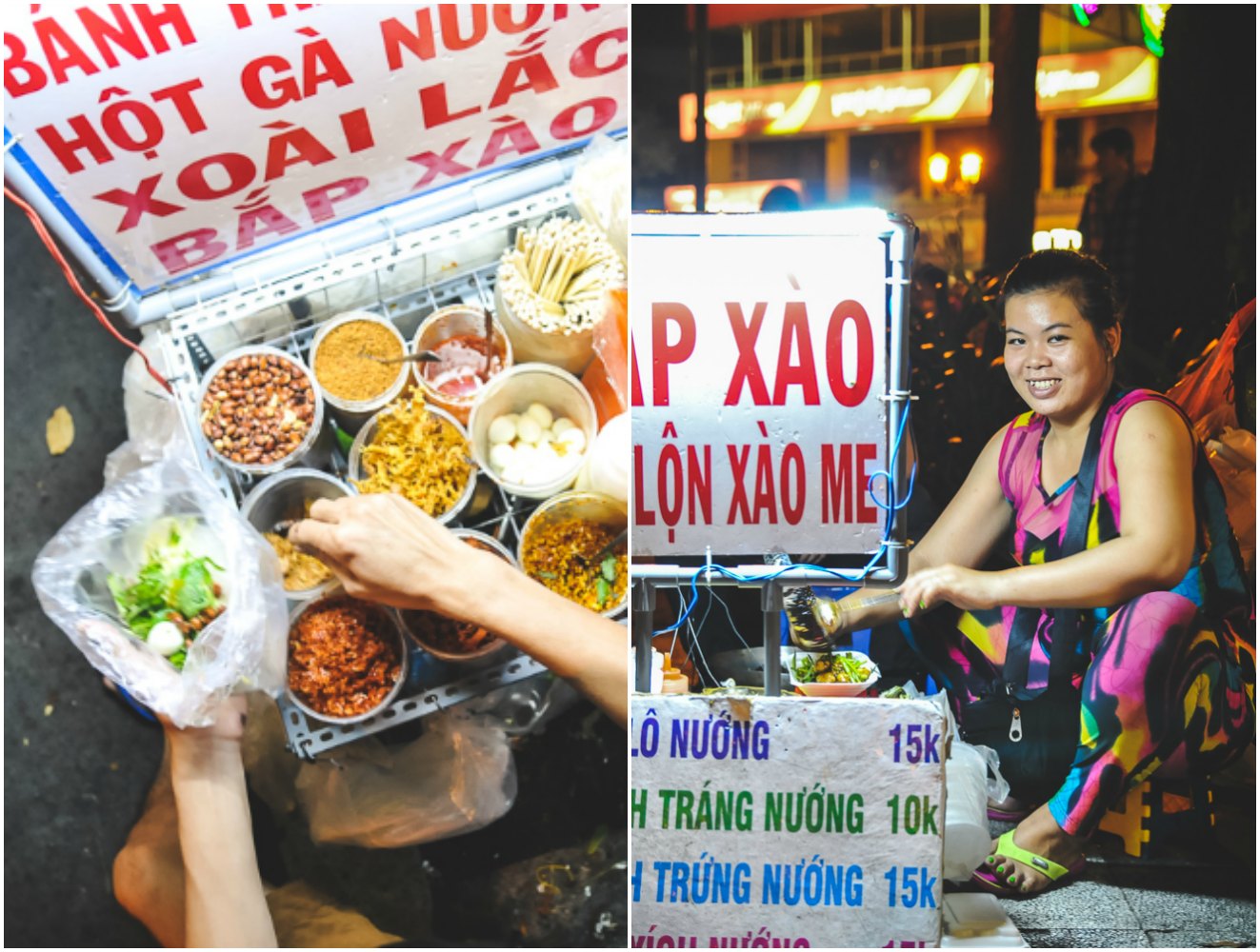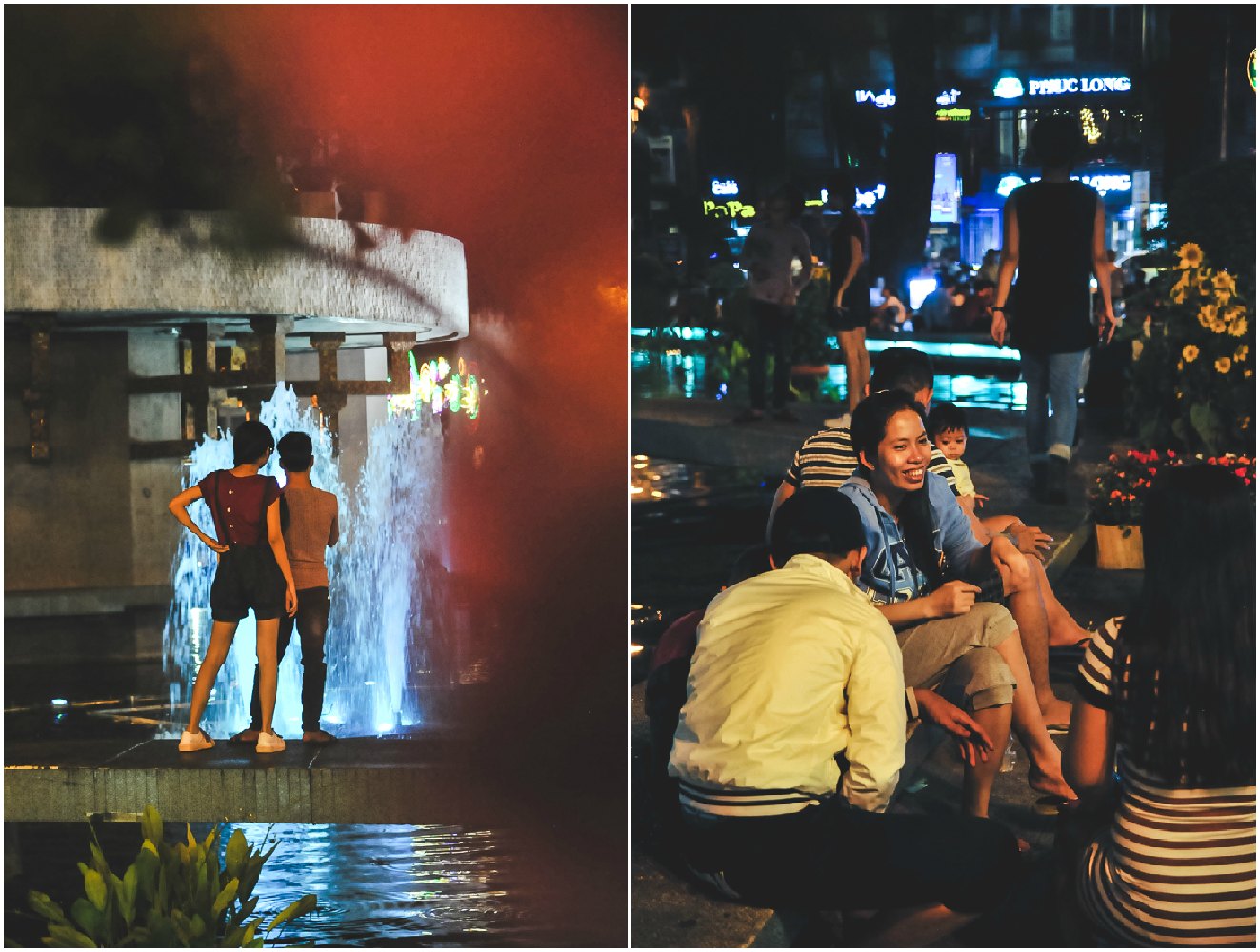 My love of Vietnam was born on the streets. Here, the street is where you live, play, cook, eat, argue, haggle, go on dates, pick your nose and teeth. I just love it! And although this way of living outside of home (where it's usually quite narrow and crowded) is the proper to most countries in Asia, I found Vietnam to be particularly well tuned to my culinary tastes. Plus I seem to always find some inner harmony here, which I feel whenever I travel across the Vietnamese province, towns and villages.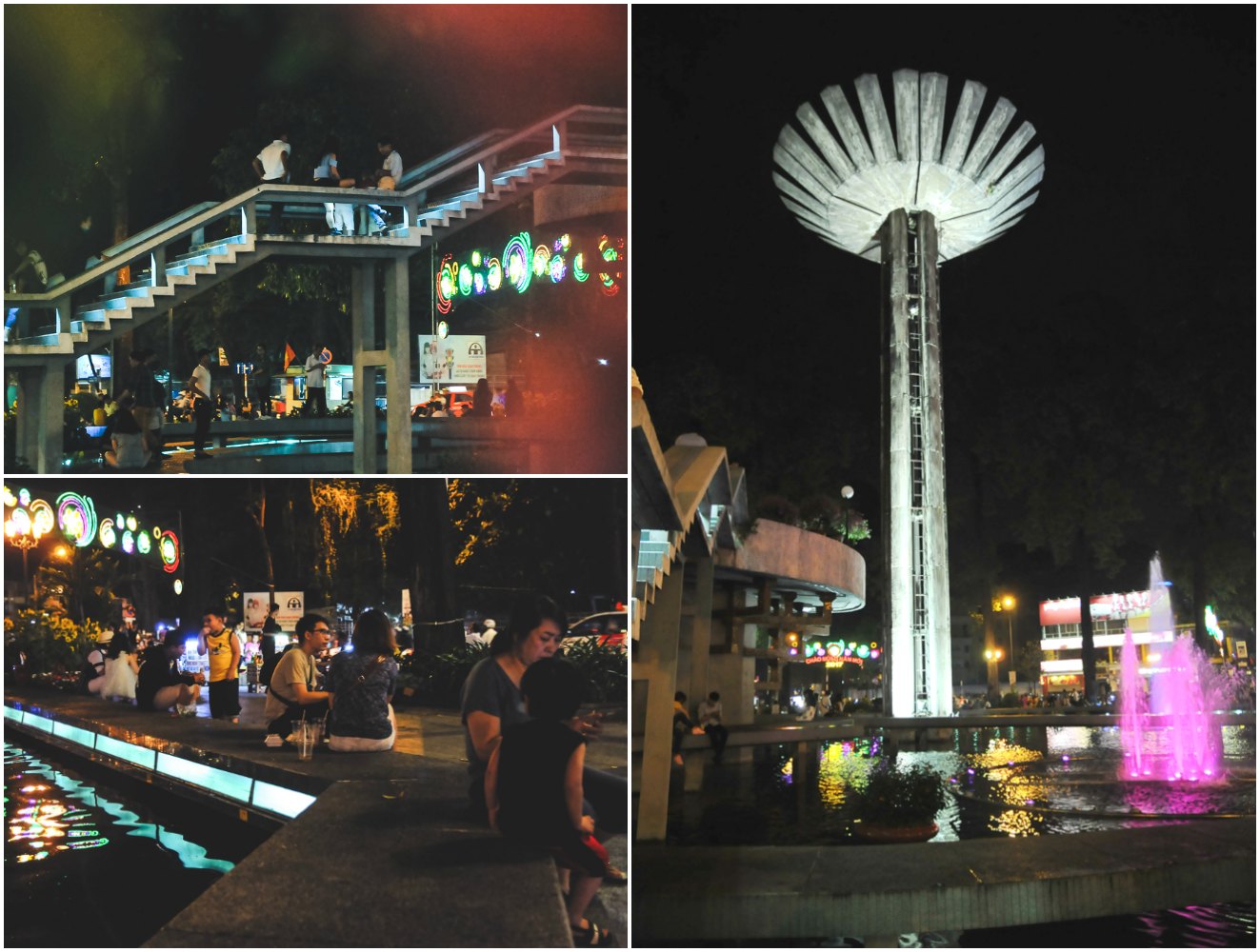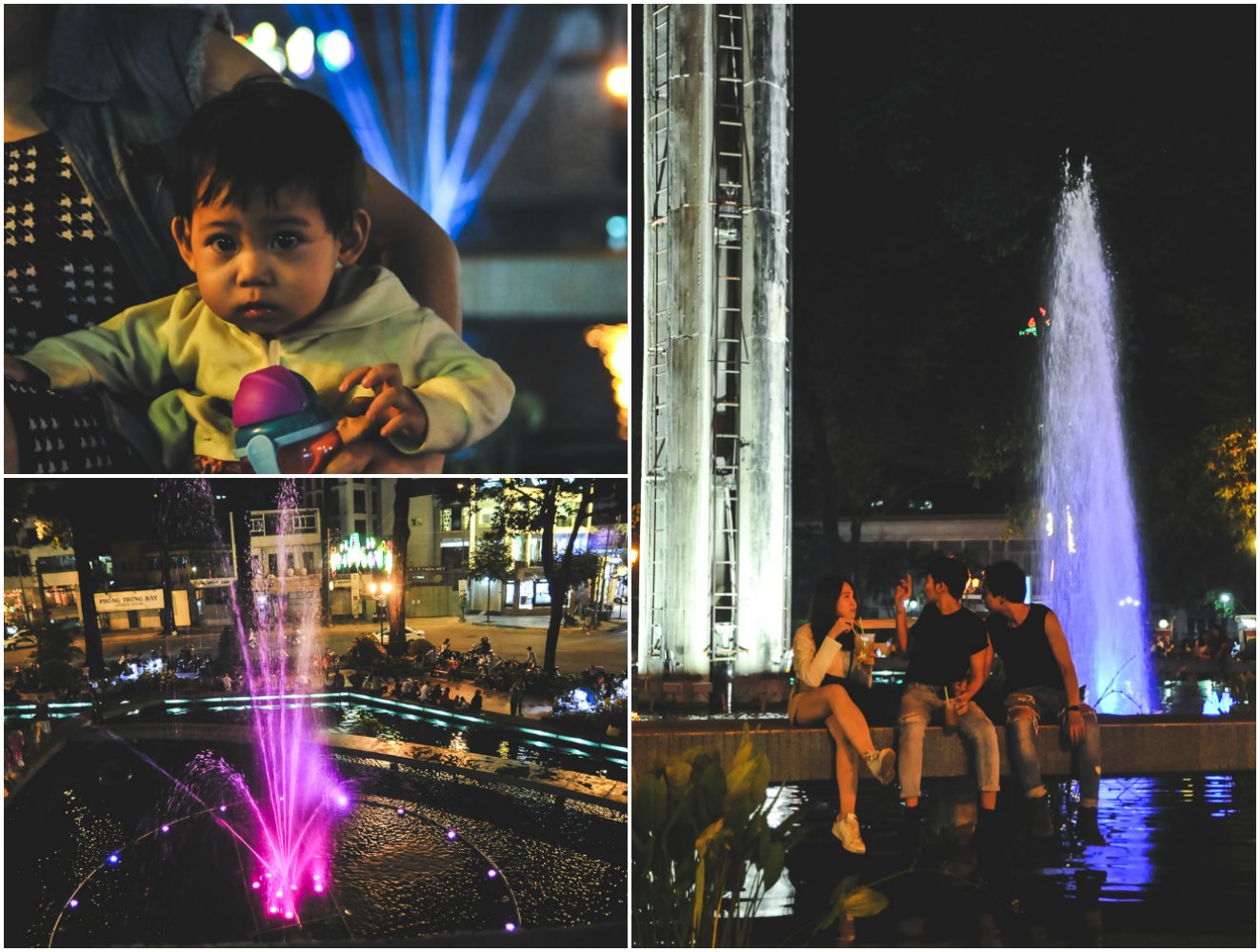 After a four-month break I ended up in Saigon and dived straight back to its hustle and bustle, the city constantly feeding, day and night, its millions of inhabitants. Excess – that's what you might call this enormous metropolis. Trying to avoid going nuts from its overwhelming abundance, I decided to stick to my neighbourhood in my walks – which is to say I mainly stayed near Turtle Lake at its center, a.k.a. Ho Con Rua. Surrounded by a small park and a roundabout, its distinctive column is alluding to a sword stabbed into a huge dragon's tail. As the legend goes, long long ago the dragon used to live underneath the city and according to the Feng Shui master its tail was pinned to the ground by an enormous turtle; the same that gave the name to the lake with its turtlish – round, as turtle go – shape.
But fauna set aside, the most important thing on the Turtle Square is that whether on late afternoon or late at night it resembles a gigantic inn, fizzing and pulsing with life. A crowd of teenagers, kids and adults gather here to eat very original snacks, typical for the place.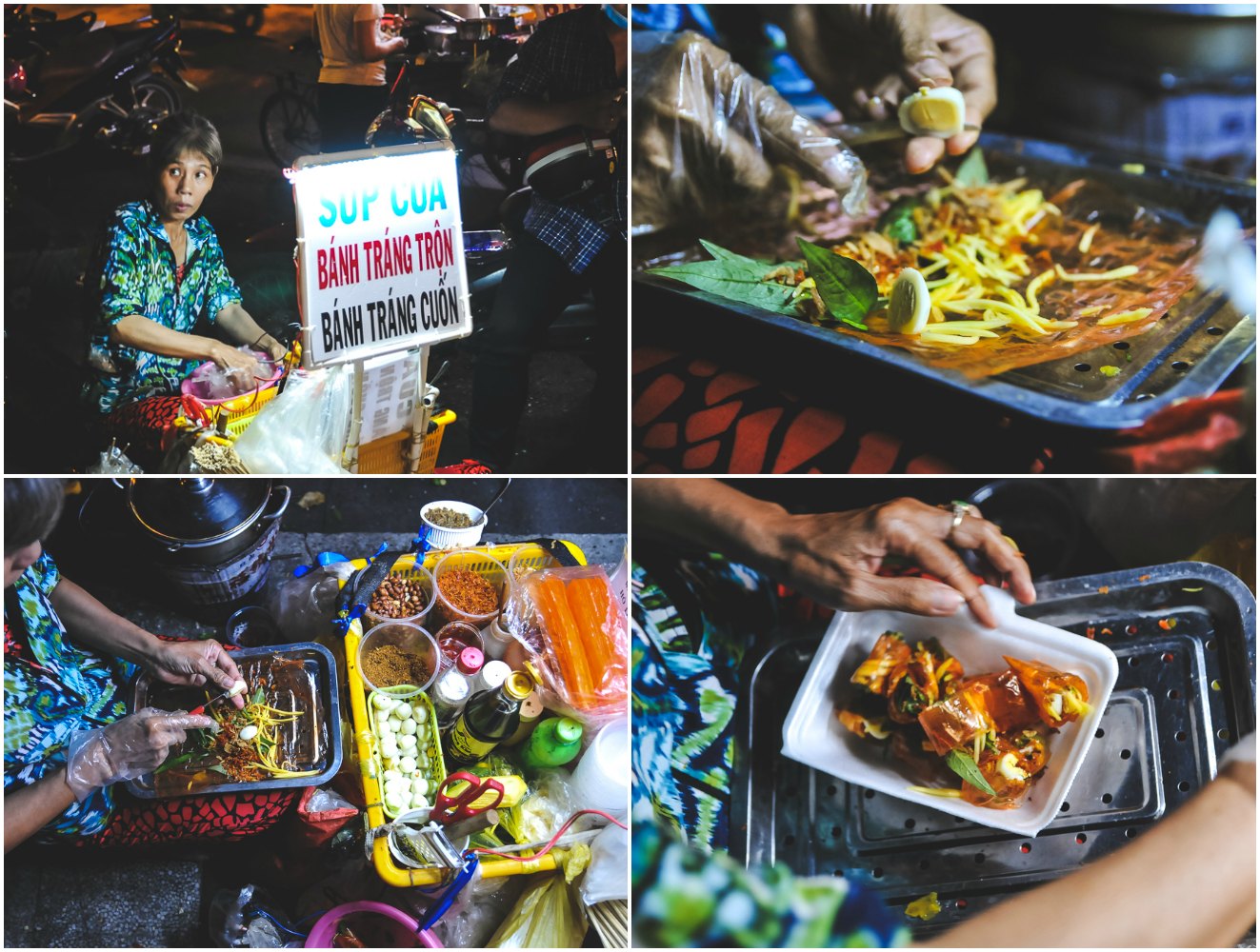 One of the many saleslady of my beloved delicacies – banh trang tron. The mixed rice paper is cut into stripes with scissors and thrown into a pouch together with shredded green mango and herbs (mainly my favourite rau ram – the vietnamese coriander), tiny bits of dried meat, quail eggs and some chilli sauce. It demands some extended chewing (mostly because of the rice paper and meat) to release all the aroma and the mix of tastes and I simply adore it. A great pleasure for 15 000 vnd (0.65$). Usually at the same stands you can also find banh trang cuon (20 000 vnd) – a rolled rice paper taco containing the same ingredients than the "salad" mentioned above, except in this version they are rolled into a roll and cut into smaller bits with scissors. Be careful during the dish preparation as they often like to slosh it with chilli sauce and mayonnaise – which I myself always try to prevent them from doing.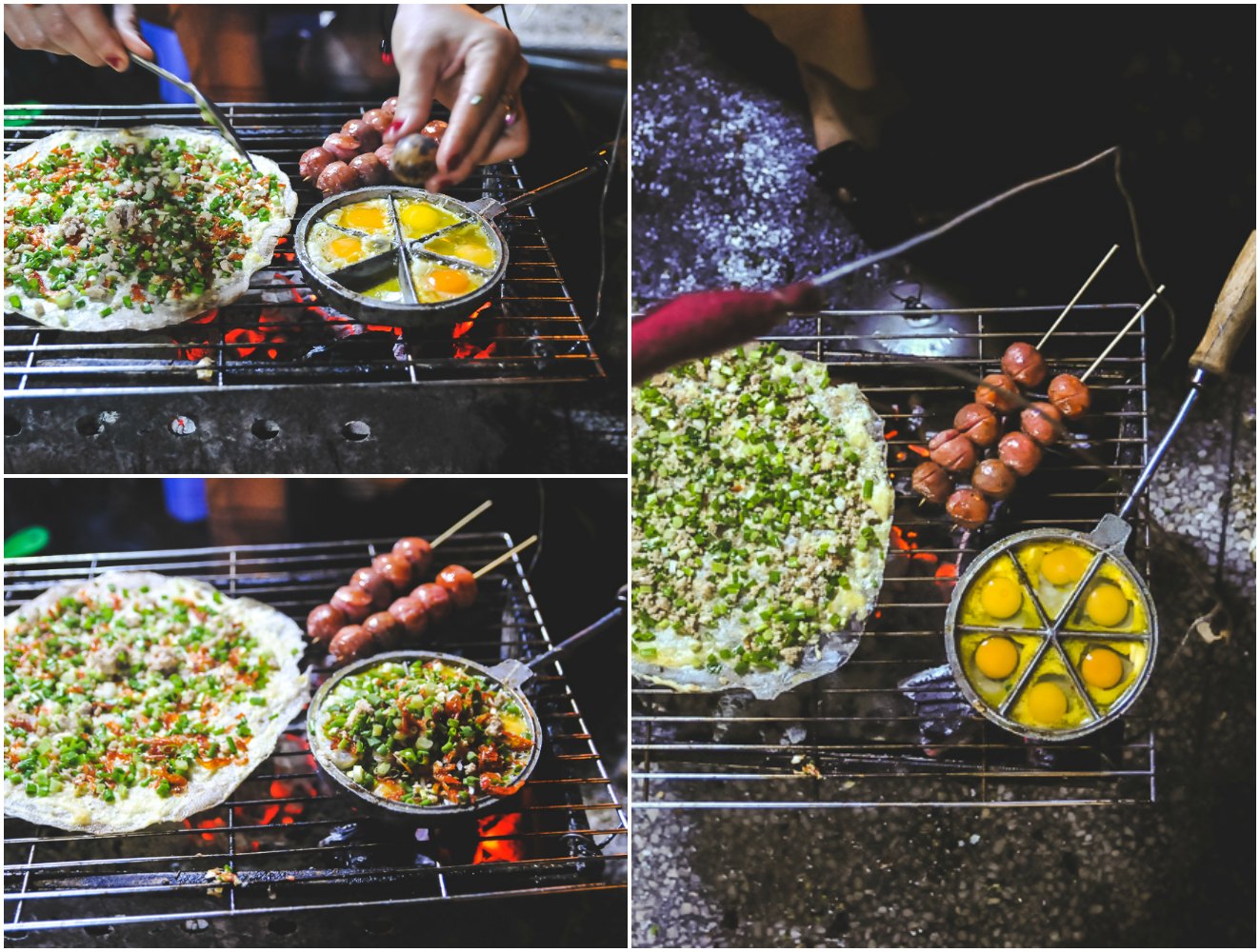 Banh trang nuong (10.000 vnd) is yet another delicacy, sometimes also called Vietnamese pizza. It is made from rice paper as well but grilled this time (nuong) with chive, egg, tiny dried shrimps, a bit of minced meat and chilli. This results in a crunchy, hot scrambled-egg-like dish and is insanely good.
An omelette-like dish made of quail eggs, the bang trung nuong (15 000 vnd) is stir-fried on a small pan. It is sprinkled with the same additives as "pizza" and served with rau ram leaves and mayonnaise and chilli (which I avoid again). It is served steaming hot and tastes heavenly.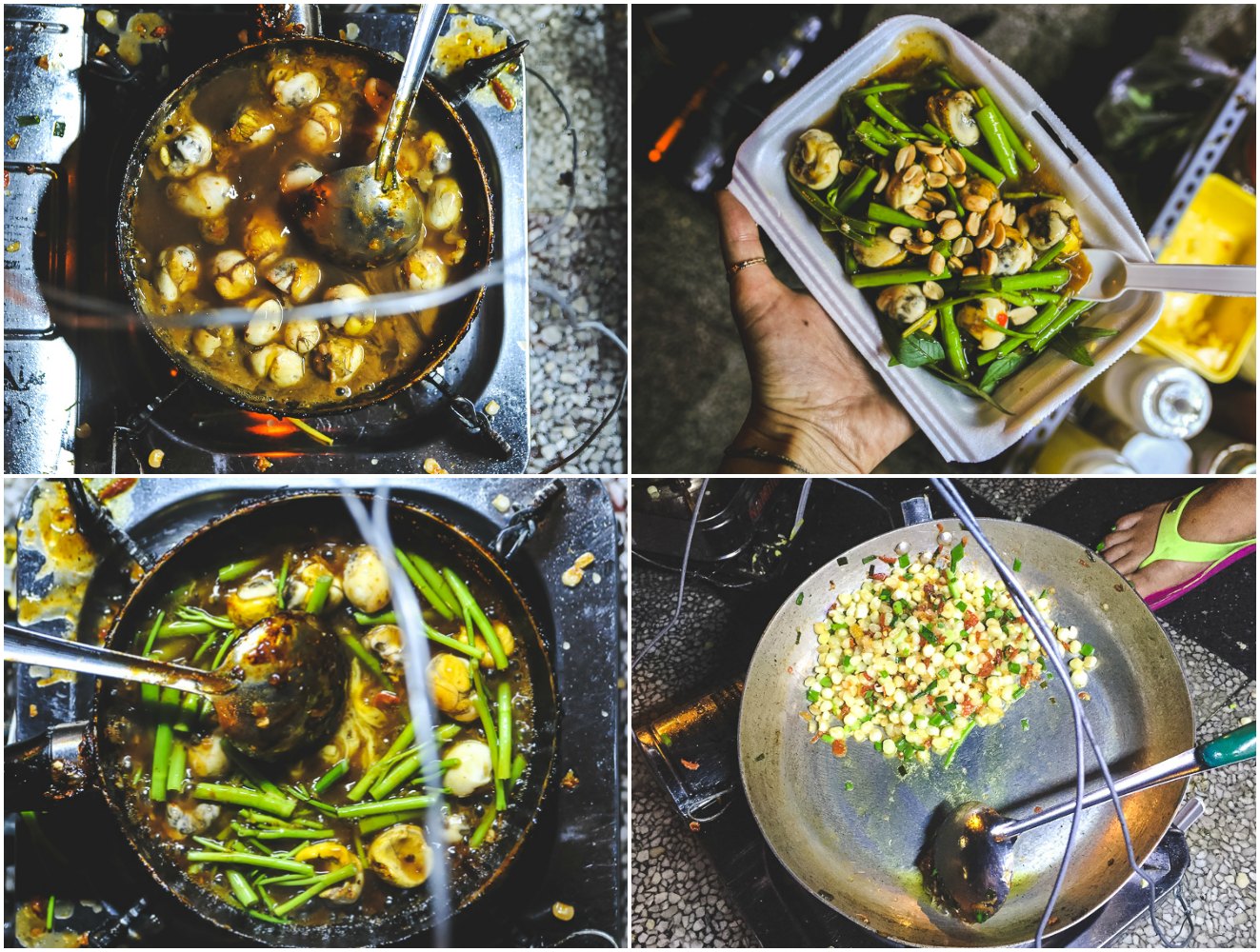 Two other interesting positions: trung cut lon xao me which are quail embryos fried in tamarind sauce (20 000 vnd) and bap xao or Vietnamese white corn (it differs from the one we know not only by its colour but also by the texture, which is a bit more gluey/gummy and which I am personally very fond of) stir-fried together with dried shrimps and a generous amount of margarine (which also ends up in the egg-tamarind dish).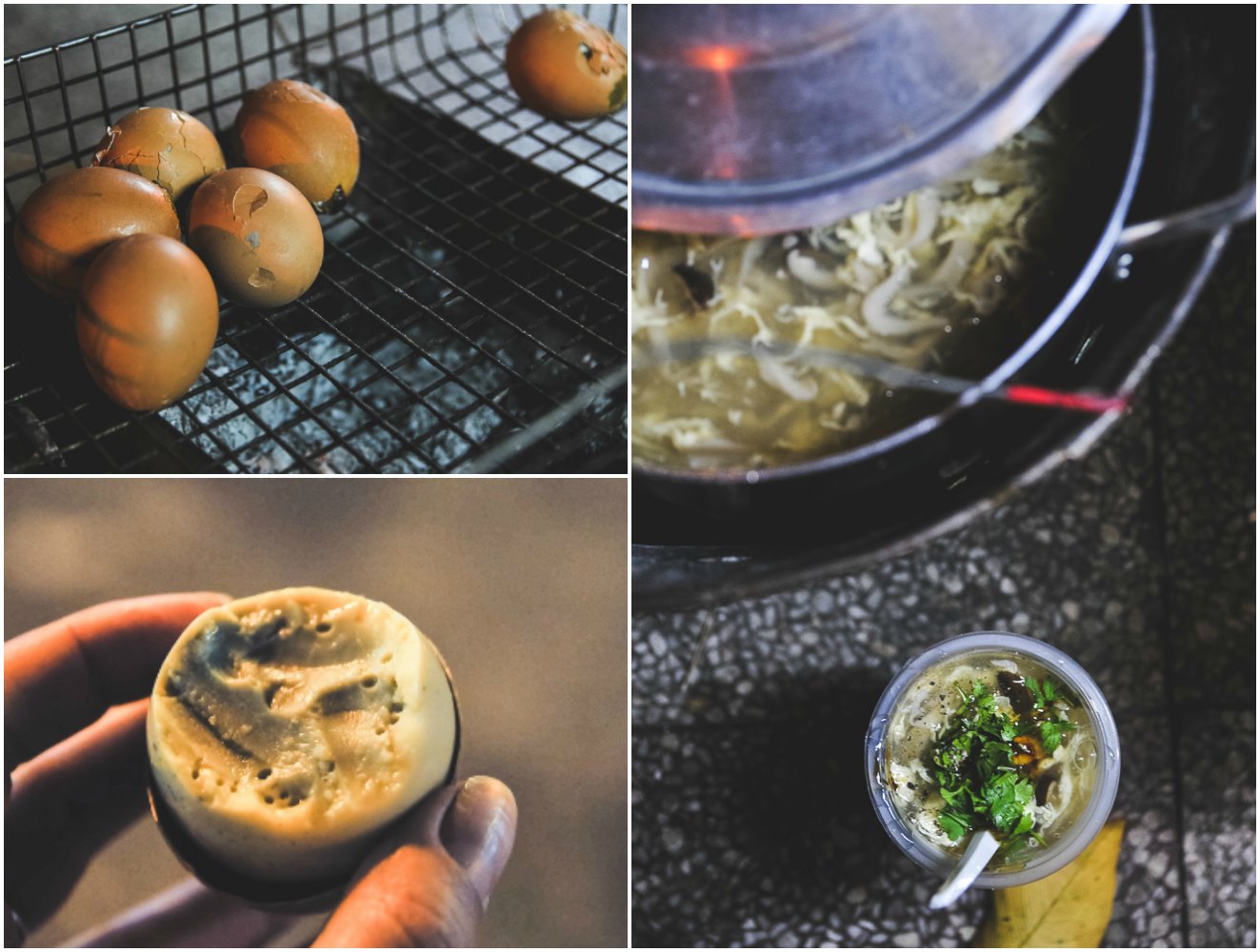 Hot ga nuong is an interesting egg variation. It makes it a perfect Easter attraction as in order to prepare it you have to make an eggshell first. Then you pour out the egg through the tiny hole in the shell and mix it with fish sauce, pepper… and honey. Finally you have to pour the mix back into the eggshell and grill it. Once it's ready you eat it with a mix of salt, pepper, some tiny cumquat juice and rau ram. Sup cua is a mug full of hot, thick soup (thicken with tapioca flour) with shredded crab meat and shiitake mushrooms (15 000 vnd).