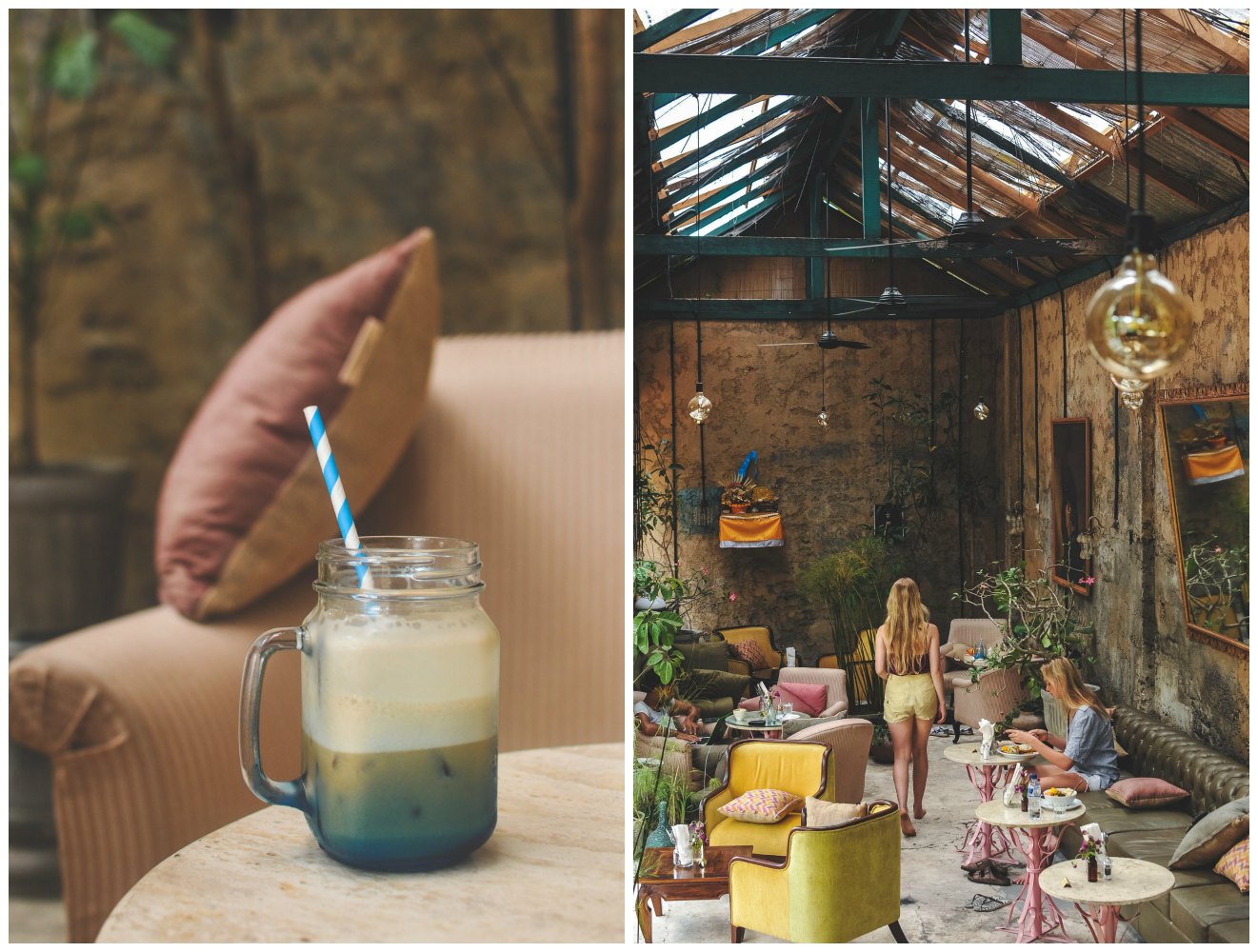 There are three cafes in Ubud that you just can't miss. Two of them serve delicious freshly roasted coffee while one has an amazing interior that looks like a painting no matter where you look. So put your flip flops on and walk or drive the streets of the city for your morning caffeine kick!
1. Lazy Cats, Jl. Raya Ubud no 11, Ubud, Bali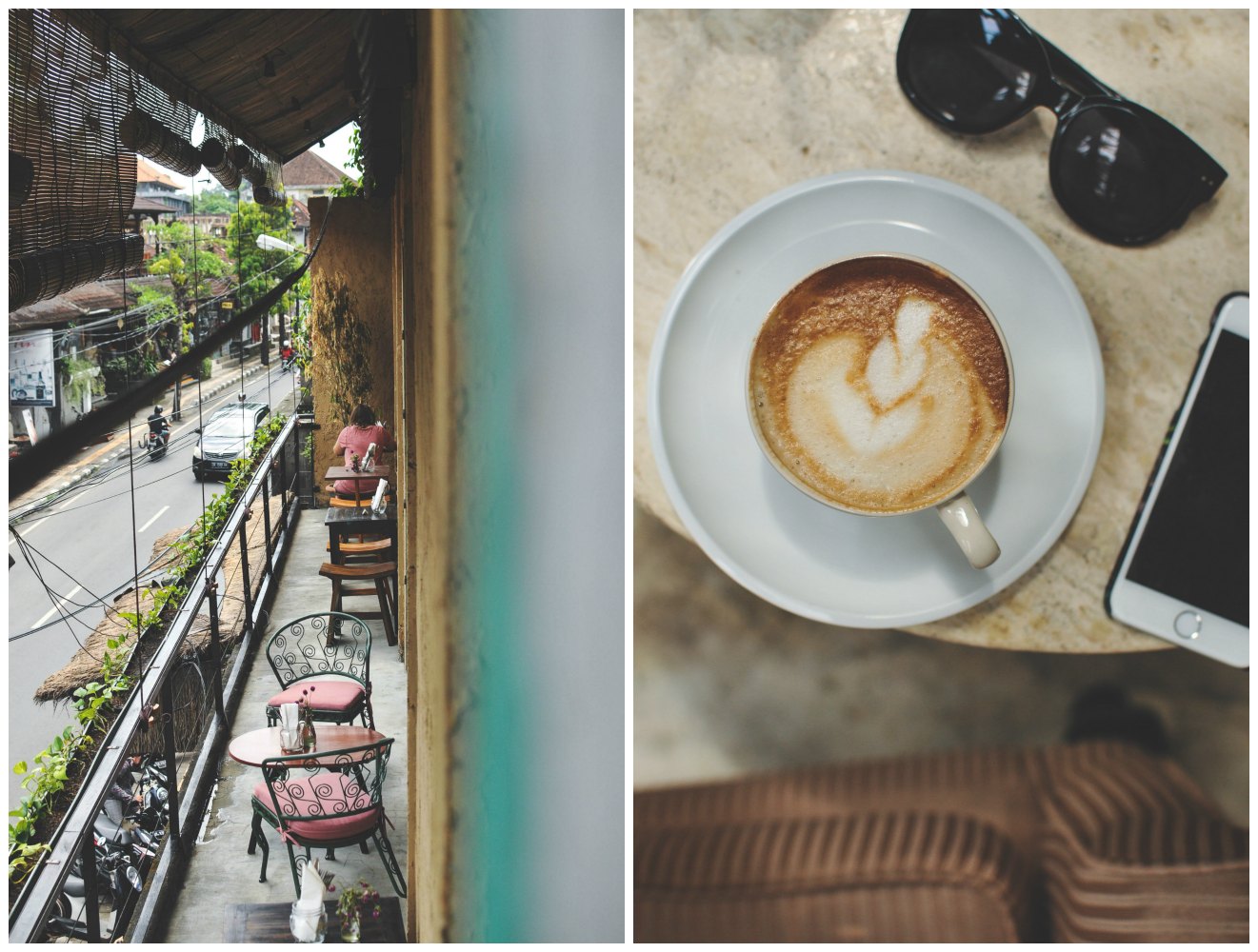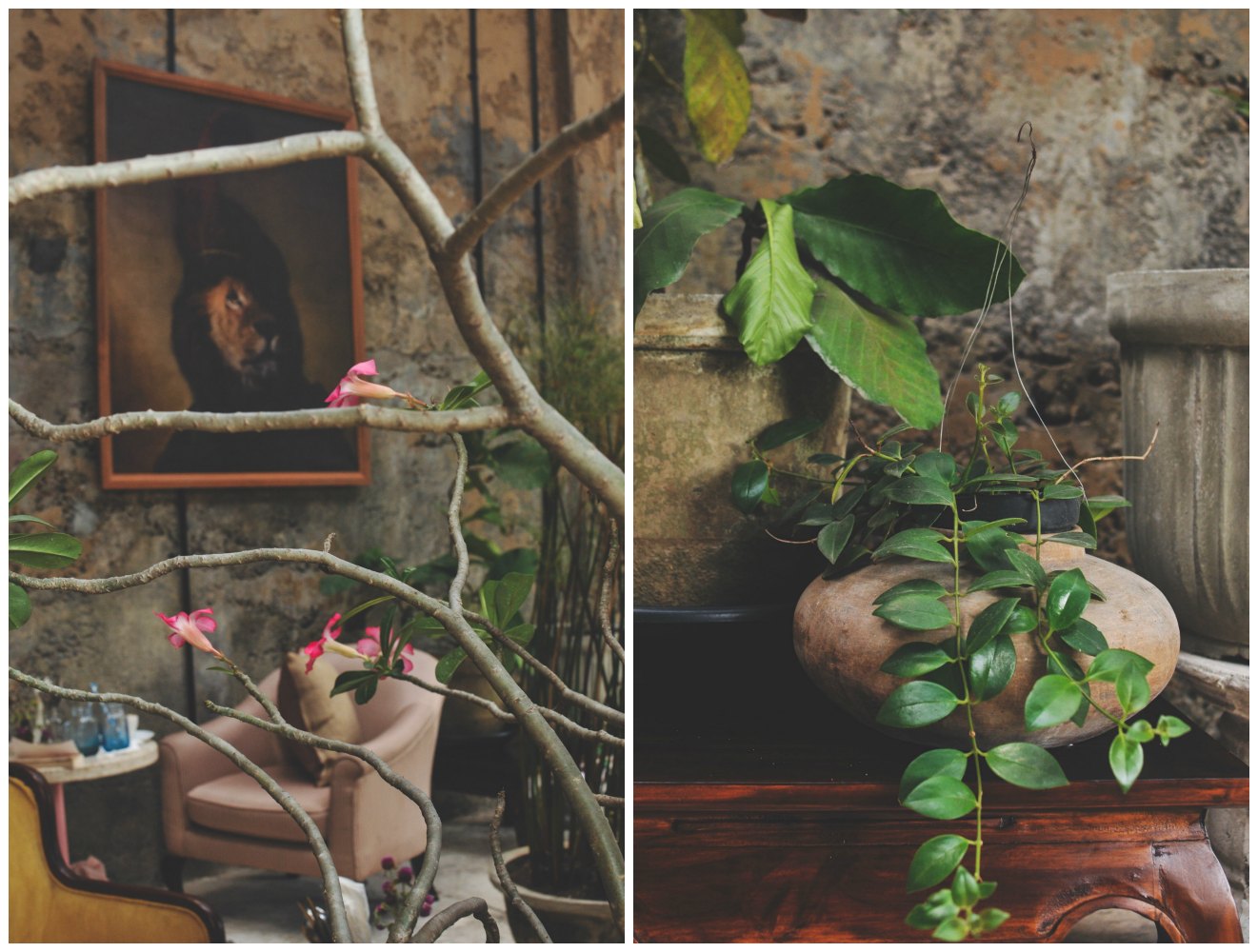 Walking down the main road of Ubud I saw this rather Hanoian style worn-out building front with a narrow balcony full of tiny tables where people enjoyed their time while peeking at the hustle and bustle of the city life below. That was enough of a reason to get my ass in there and whoah! what a good idea it was!
Lazy Cats hosted their first guests only a month ago and their opening party was such a success that they decided to follow with a second one. Good start, huh? 🙂 There is no doubt that the owner has a taste for Baroque style details – the big bright space is filled with comfy, pastel sofas and chairs, pink ornaments, big golden-framed mirrors and it's all juxtaposed with industrial textured walls, pipe shelves, retro bulbs and pictures of hipster cats, dogs and gorillas all around. All that seasoned with plenty of plants among which I smelled South-American palo santo, the saint wood that has a very unique, sweet scent I adore. The vibe here is very relaxed and so is the staff, always attentive and nice. Coffee is good, prices are honest, (around 30.000 idr + tax for a latte) and the menu includes lots of healthy foods and smoothies. Vegan milk options are available with a cashew-coco milk that foams up surprisingly well making for a tasty cappuccino and sweetened (it's Indonesia baby…) soy milk. This place is a must visit!
2. Seniman Coffee Studio, Jl. Sriwedari no 5, Ubud, Bali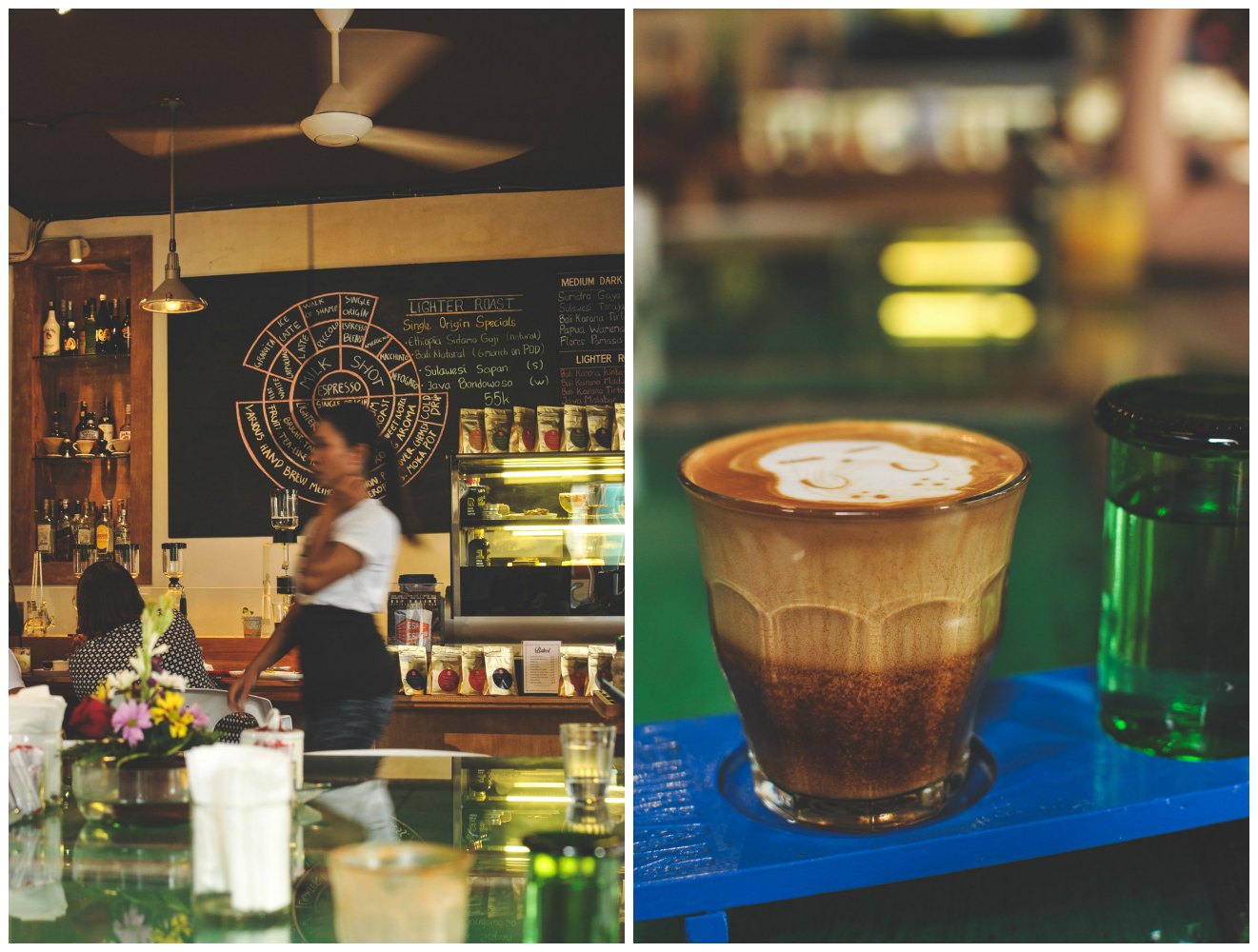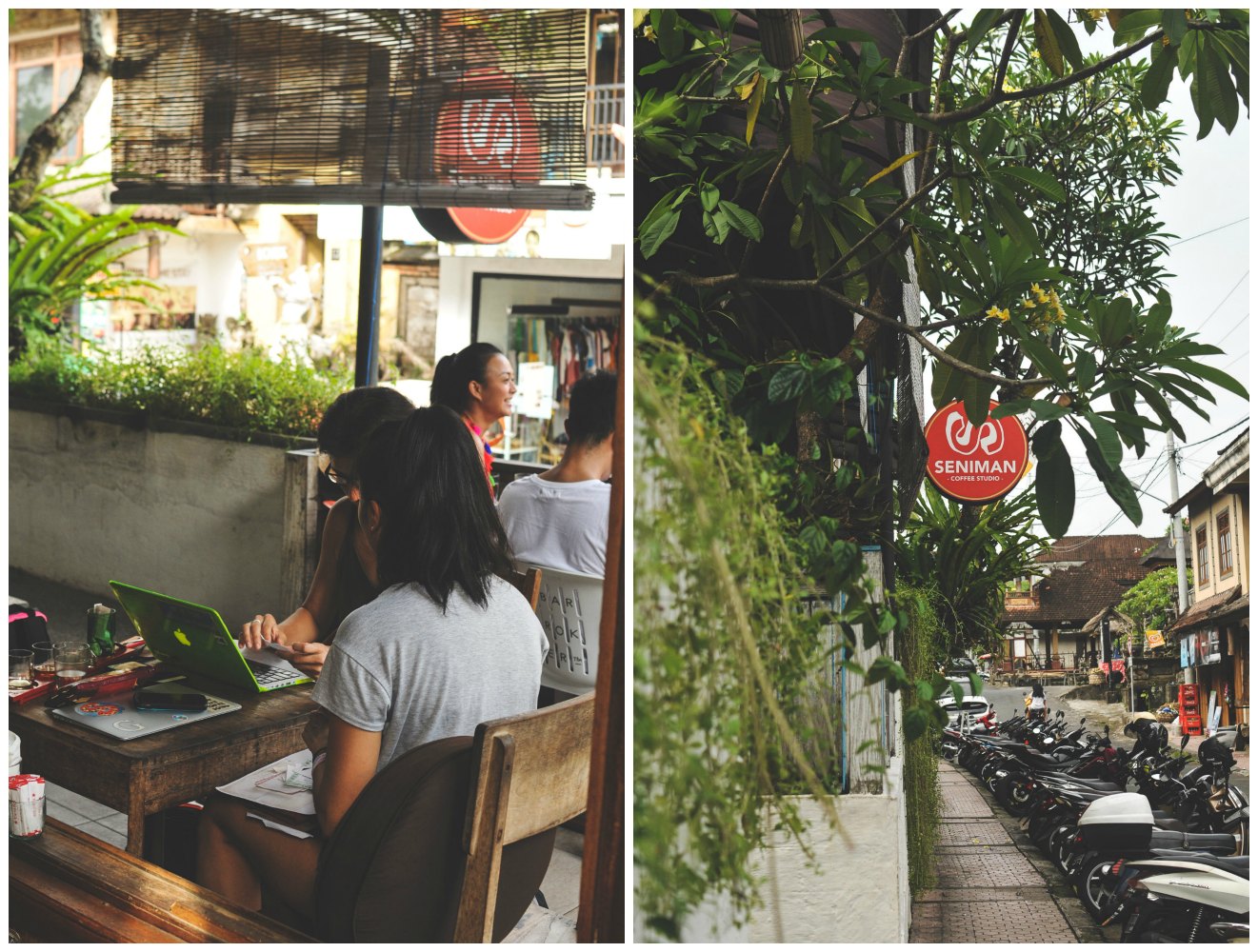 There is a thing with this freshly roasted coffee: not only does it taste great but it is also supposed to be "alive". Apparently, the beans should be used within 7 days from roasting as later they become 'dead' and the coffee is nothing like what it should be. I definitely feel the difference. The biggest one in my body's reaction – it didn't hate me for putting the stimulants inside of it! Usually, I don't feel too good after a glass of black infusion but the freshly roasted version seems to be totally neutral like it's mild and delicate enough not to mess up with my stomach while still giving this nice stimulation.
In Seniman you can enjoy a wide selection of coffees from a cold brew to a classic latte. The cashew milk is delicious and it's worth paying extra for it. The coffee is served on a wooden tray with a glass of water and a tiny butter shortbread. Good wi-fi makes this place a great spot if you have some computer work to do although the open space might be a little too busy for a quiet afternoon with a book.
For a cashew milk latte, I pay around 44.000 idr with a tax.
3. F.R.E.A.K Caffe, Jl. Hanoman no 19, Ubud, Bali.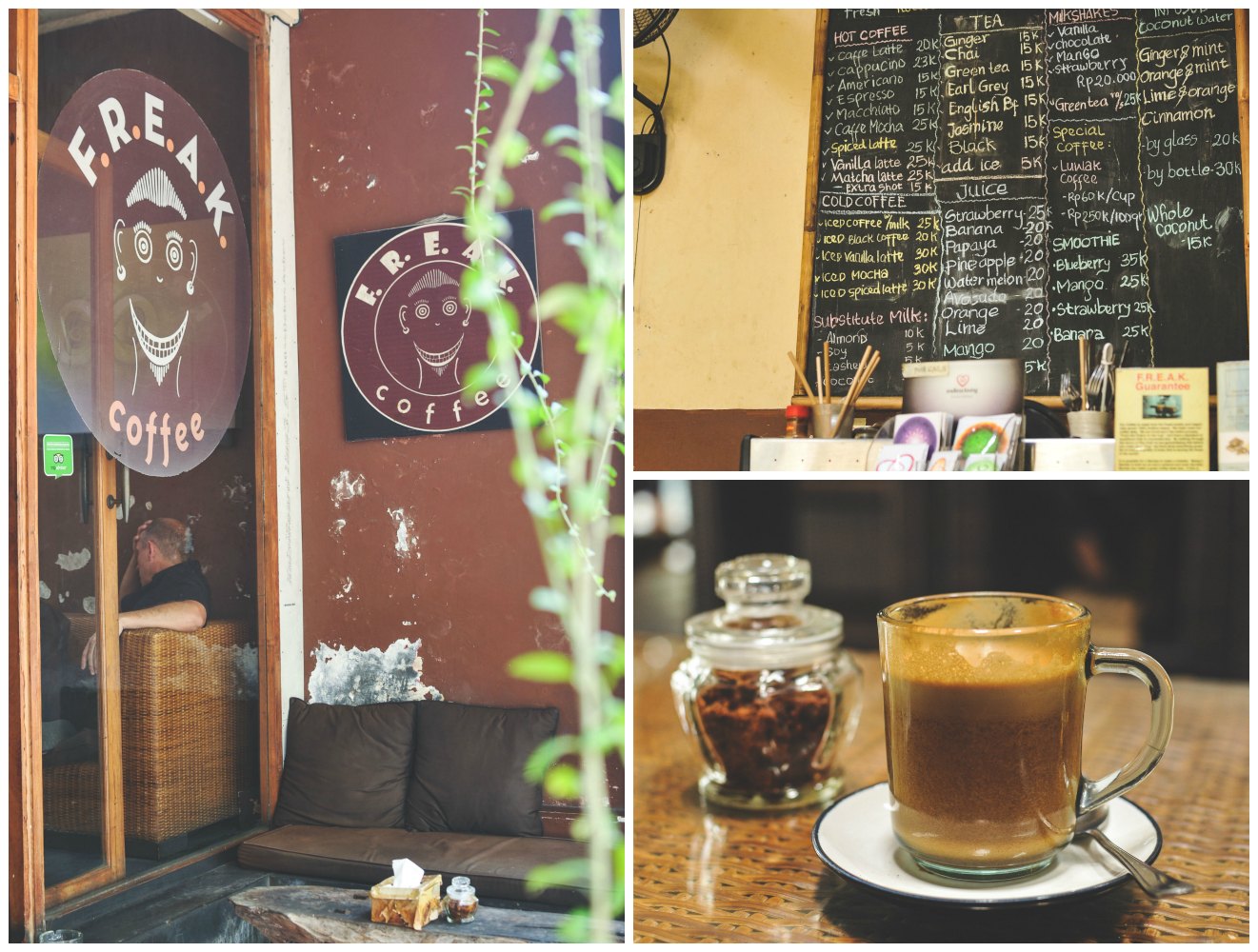 Founded by a real enthusiast and booster of the freshly roasted beans – Asher Yaron, this place is great if you don't want to spend half of your daily budget on a cup of coffee. Order a glass of Americana for 15.000 idr, add a cashew milk on the side for 5.000 idr and you're all set for a nice, quiet time with a book. The place is small but cosy and since the internet tends to work slowly people rather come here to talk or catch up on their latest reading. Located in the very centre of Ubud with lots of boutiques around, it is a perfect stop on your shopping day.

Tagi: a day in Ubud, bali, cafes, coffee, freak coffee, indonesia, Lazy Cats, places, Seniman Coffee Studio, ubud, what to do in Ubud