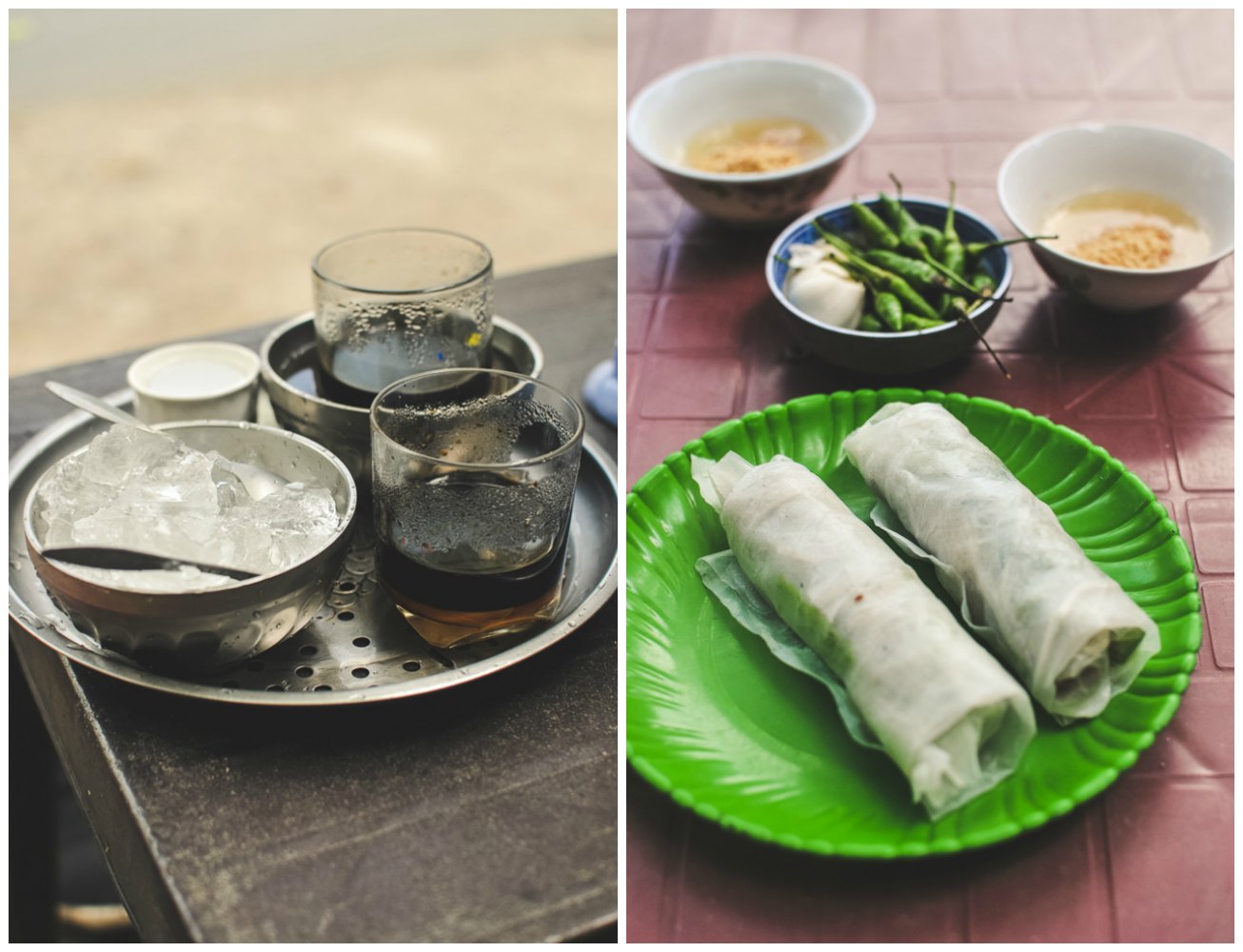 The very first day of the trip towards Central Highlands brought the best weather, most picturesque views and one of the tastiest meals. We couldn't stop regretting that we had so little of it.
We were just looking for a nice place for our coffee stop and out of nowhere, on a small crossroad we spotted a small lady with her small food stall. The place looked just too perfect not to stop there. We had a cafe just behind, hidden under the branchy ficus tree and a sleepy streets with the lazy, afternoon traffic in front of us. To add up we had the sun above our heads and some delicious ca phe sua, two rolls of banh cuon and a small bowl of bun nem nuong on the table.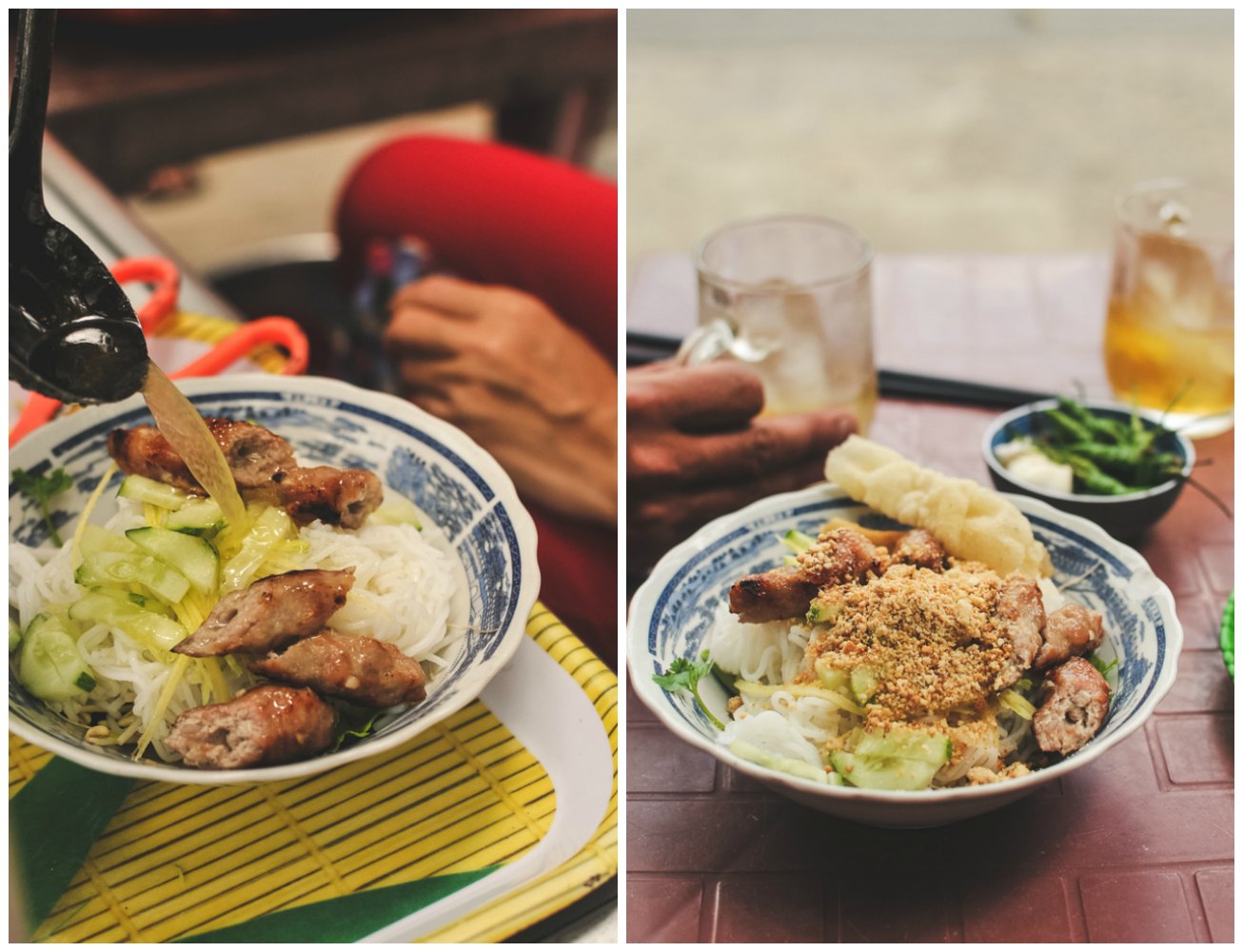 When you order banh cuon in Vietnam what you will get are delicate, steamed rice pancaked filed with minced pork & mushroom mix (full name is banh cuon nong). This changes in the Central region of the country many places serve fresh summer rolls by this name which Southern Vietnamese would call goi cuon or nem cuon. Our chef served them with nem nuong – grilled pork patties, plus some shaves of young mango, mung bean sprouts, cucumber, salad, herbs, fried rice paper crushed into small pieces. She rolled it in a rice paper and served with light, delicious dip filled with tiny bits of peanuts. Crunchy delicacy for 5.000 vnd/piece.
The other option in the menu is bun nem nuong (25.000 vnd). It's a mix of all mentioned ingredients served in the bowl with a handful of bun noodles and a much bigger amount of mango shaves and herbs. The cherry on top – hearty serving of crushed peanuts sprinkled on the dish. Finger licking good!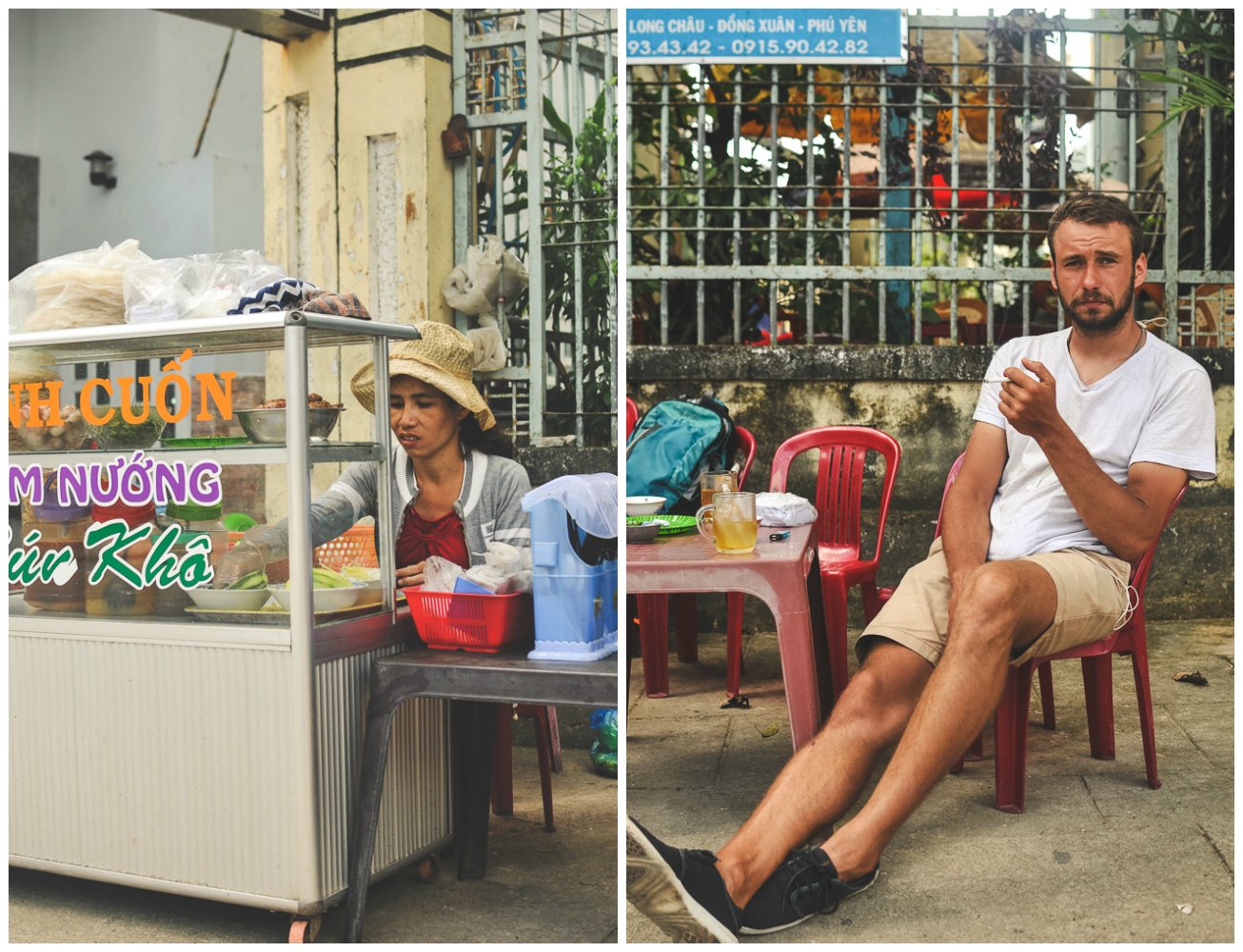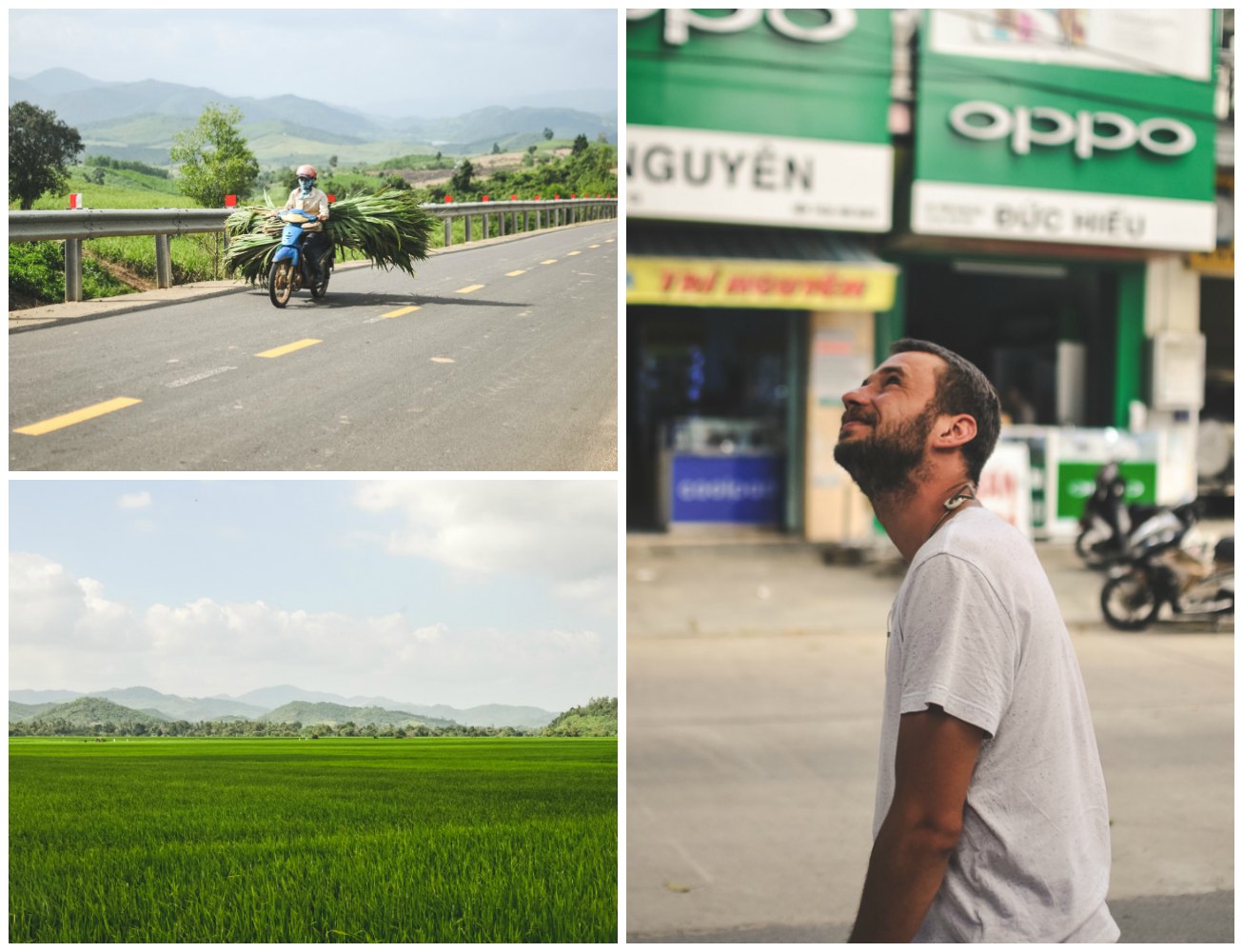 All you need to get those views and this lunch is jump on the motorbike/scooter and drive 70 km south-west of Quy Nhon towards Central Highlands. Good roads, a very pleasant ride and a nice idea for a 1 day trip from the coast.
Our lady occupies the pavement at the small crossroad in La Hai, just under the plate with this address: 16 Le Loi, TT La Hai, Dong Xuan.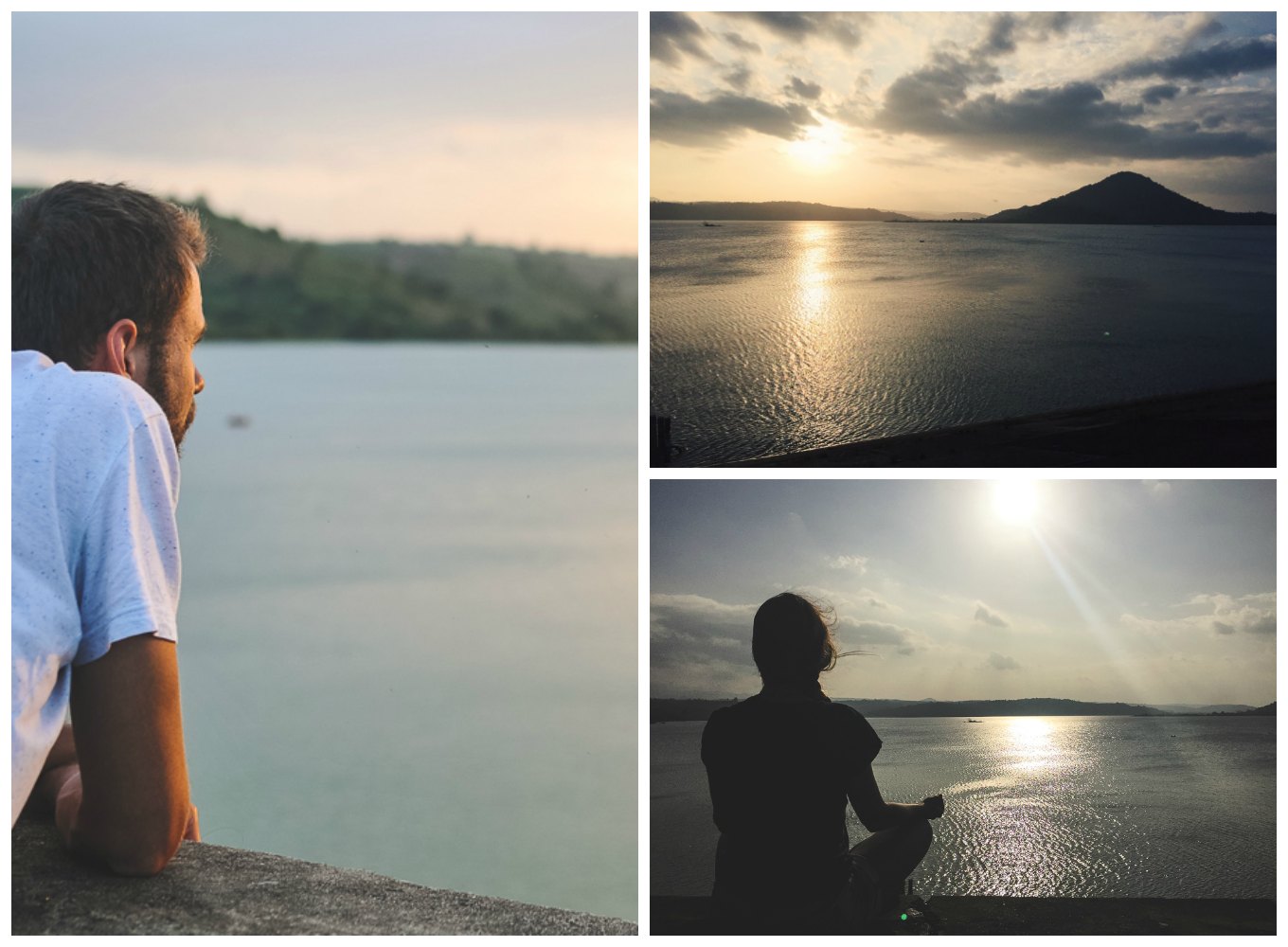 The evening that day, we arrived in the small town Hai Rieng which is worth visiting because of two reasons. First – a big lake created next to the Ba Ha hydroelectric plant – visiting the dam for the sunset is a really enjoyable thing to do.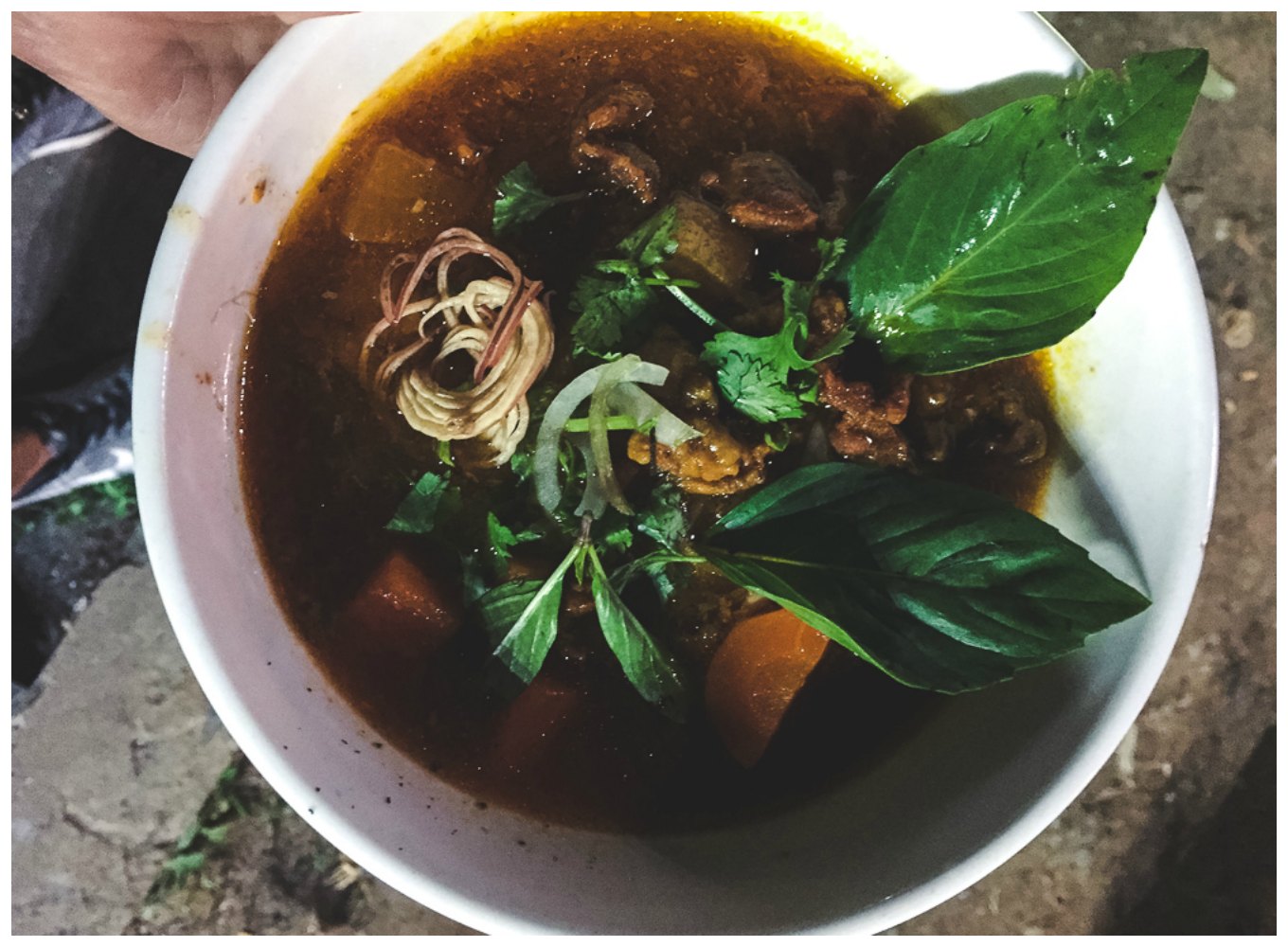 Second is most probably the best beef stew (bo kho) that you can eat in Vietnam. Served with the springy hu tieu noodles or crunchy baguette, lemongrass scented and attracting in the evenings half of the citizens of this sleepy hollow. You'll find it at the only roundabout here, on the corner of Nguyen Trai St. and QL29 (opposite of the kindergarten).