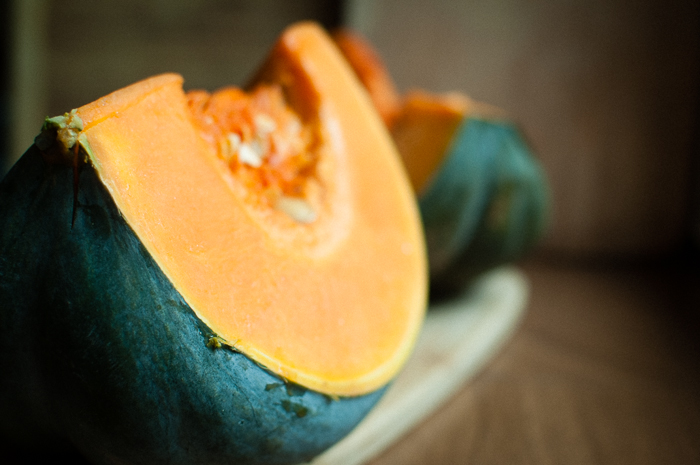 I'll keep it short Today. This soup is perfect for every fan of Asian cuisine who'll always find a can of coconut milk and fish sauce in his cupboard, ginger on the shelf and chilli peppers frozen in the freezer. Then it's just about going to the nearest shop or market for a big, round pumpkin and start dicing, roasting, frying and simmering to get an amazing, warming, tropically scented soup. That is definitely one of my favourite autumn recipes for a pumpkin!
RECIPE
Ingredients (4-6 servings):
1 kg pumpkin (Muscat or Hokkaido works best) peeled and cut into medium pieces
1 onion diced
2 tbsp butter
1 small chilli pepper
3-4 garlic cloves finely diced
1 tsp white mustard seeds (roasted on a hot pan for a minute)
1 tsp ginger finely diced
1 tbsp soy sauce
fish sauce, lime (or lemon) juice, salt and pepper to taste
1 can coconut milk (recommended Arroy-D)
1-litre hot water
Melt the butter in a big saucepan and fry the onion for 1-2 minutes. Add garlic, ginger and chilli, fry for 1 more minute. Add the mustard seeds to the saucepan, let all the aromas mix before adding the soy sauce and water. Add pumpkin, cover with a lid and cook until it's soft. At the end add the coconut milk and blend. Add the fish sauce and lime juice to taste and if necessary a pinch of salt and pepper.
This recipe is a little-modified version of the soup I found on Truflas' blog a while ago.