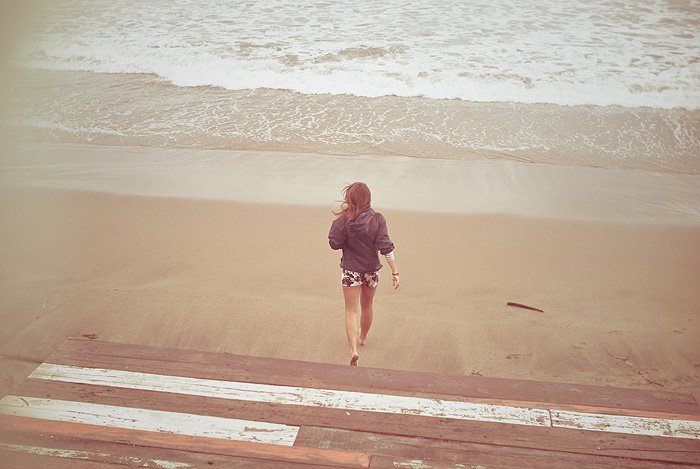 Six years ago to the day, I left Poland, leaving its autumn weather, my job, my apartment, my family and friends, for an almost yearly journey in Asia with one cheerful lad. We barely knew each other at that point and spending 24/7 together came out to be both difficult and vital experience for each of us. It worked as a trigger, revealing our dark sides and all of the shit that – neatly hidden behind our big, happy smiles – was, in fact, filling us up from top to toe. That experience caused us lots of pain and it took me a couple of years to be able to understand that this just couldn't have happened any other way.
First of all, I had to be literally taken away from me, rushing to nowhere life to see it from a distance and to understand I do not ever want to go back to where I was and who I was before. I also needed a strong kick in the ass to be able to move forward. But before I could do anything, the realisation crushed me and broke my heart.
I was there, somewhere in the countryside of Indonesia, crying out loud on the floor, choking on my salty tears and not being able to see any light in the tunnel nor point to keep going on. I was drowning and soon I reached the very bottom of my misery. I never felt so alone and hopeless, with anyone to help me, no one to dispel the grief, to carry me along into somewhere better, a night filled with shiny lights, sounds, laughter and colourful drinks preferably. There was no hideaway from myself. And that was exactly when the healing started: at that very moment, at this very muddy bottom, I was finally able to find a spark in me and to hold on to it. I was able to rebound and slowly swim up the wave that was submerging me. That is when I was born again. With all that drama and all the sorrow it brought, things started shifting, patterns dissolving bit by bit and I could finally take a deep dive inwards.
He and I are not a couple anymore, although we are still friends and we still care about each other. Each of us is following a different path now, yet I have no doubts that this was a necessary experience for both of us and I thank the Universe for putting this man on my way and giving me this ride.
It's been 6 years since I started to realise who I really am, since I first realised how brainwashed I was and how I've been allowing my true nature to suffocate for years, entangled in my insecurities and fears, limited by rules given by the society I was growing up in while giving the lead to my ever-looking-for-appreciation ego. I was taught to always be humble, docile and quiet. So I did obey. Now I am sure now I don't want to be voiceless anymore! I am singing with all my heart, letting my voice be heard in the distant corners of my soul. I don't let myself be fooled by my ego anymore, aware of its selfishness, never-ending craving for comfort and applause. But I did befriend it. I question every men-imposed law that does not vibrate with my deepest self and most importantly, I spend time talking to Nature, letting her hear me while being attentive to her call. Because I am Nature. I am born from her, fed by her, empowered by her and healed by her. We are one and I can find in myself all the wisdom she brings. So I entrust my life in her while we're both embraced and guided by the enormous, mysterious Universe.