Lombok is way different than it's popular, neighbouring islands – Bali and little Gilis. Less touristy, more local, religious, quiet without overwhelming infrastructure. It has a lot of pros with the most important for me being letting go of unnecessary money spending and mindless consumption of the goodies, smiling from every corner. Luckily I don't have to give up this little, innocent luxury of having a delicious coffee and spending hours with a laptop or a book over it 😉 This quality of the western world is easily found here both in form of a local, cosy cafes imitating it's western cousins as well as american giant lurking in the shopping mall – Starbucks. Therefore whether you choose a scooter ride through the island, surfing or rummaging the shelves of clothing stores – there is a cafe adjusted to your needs in most of the corners of Lombok.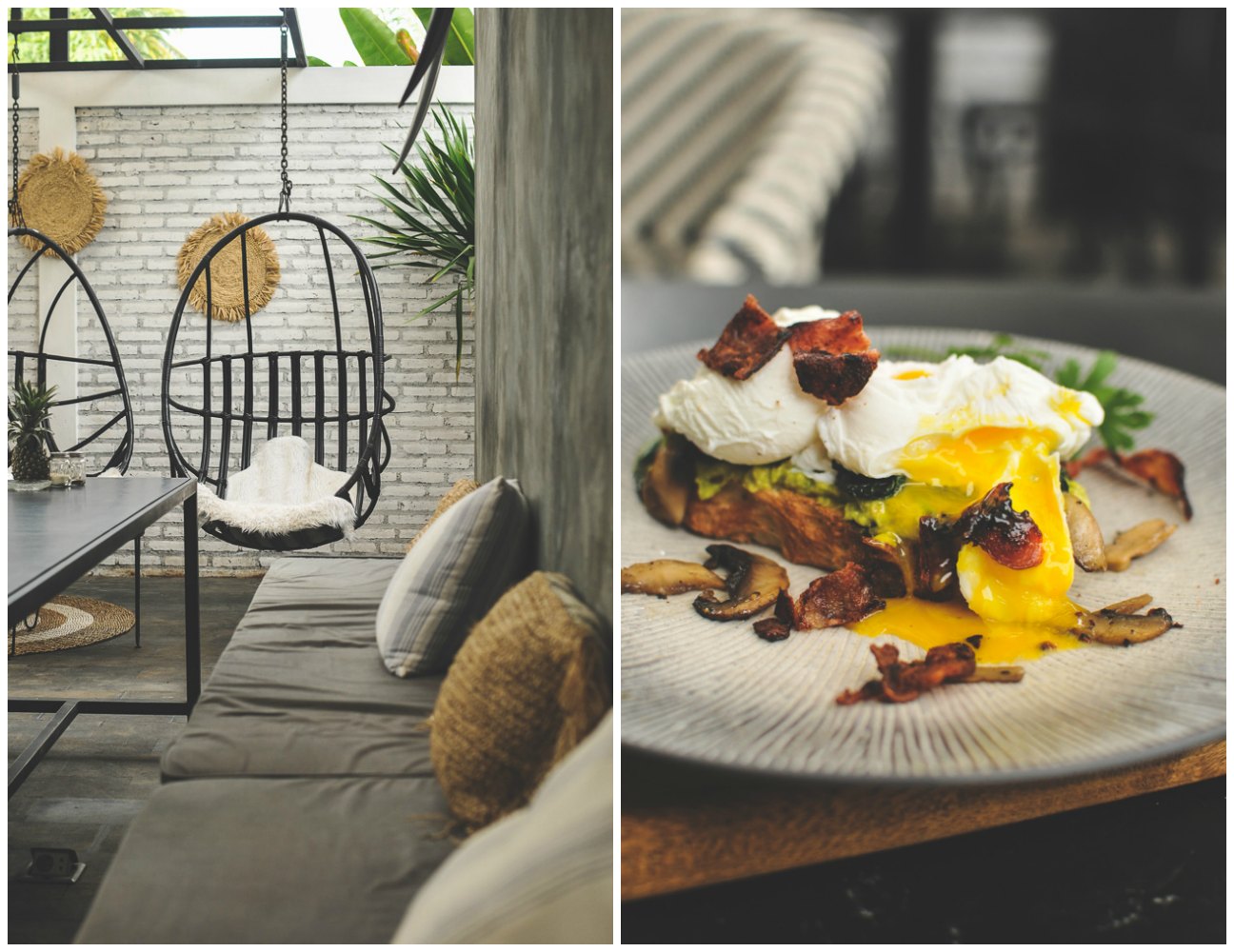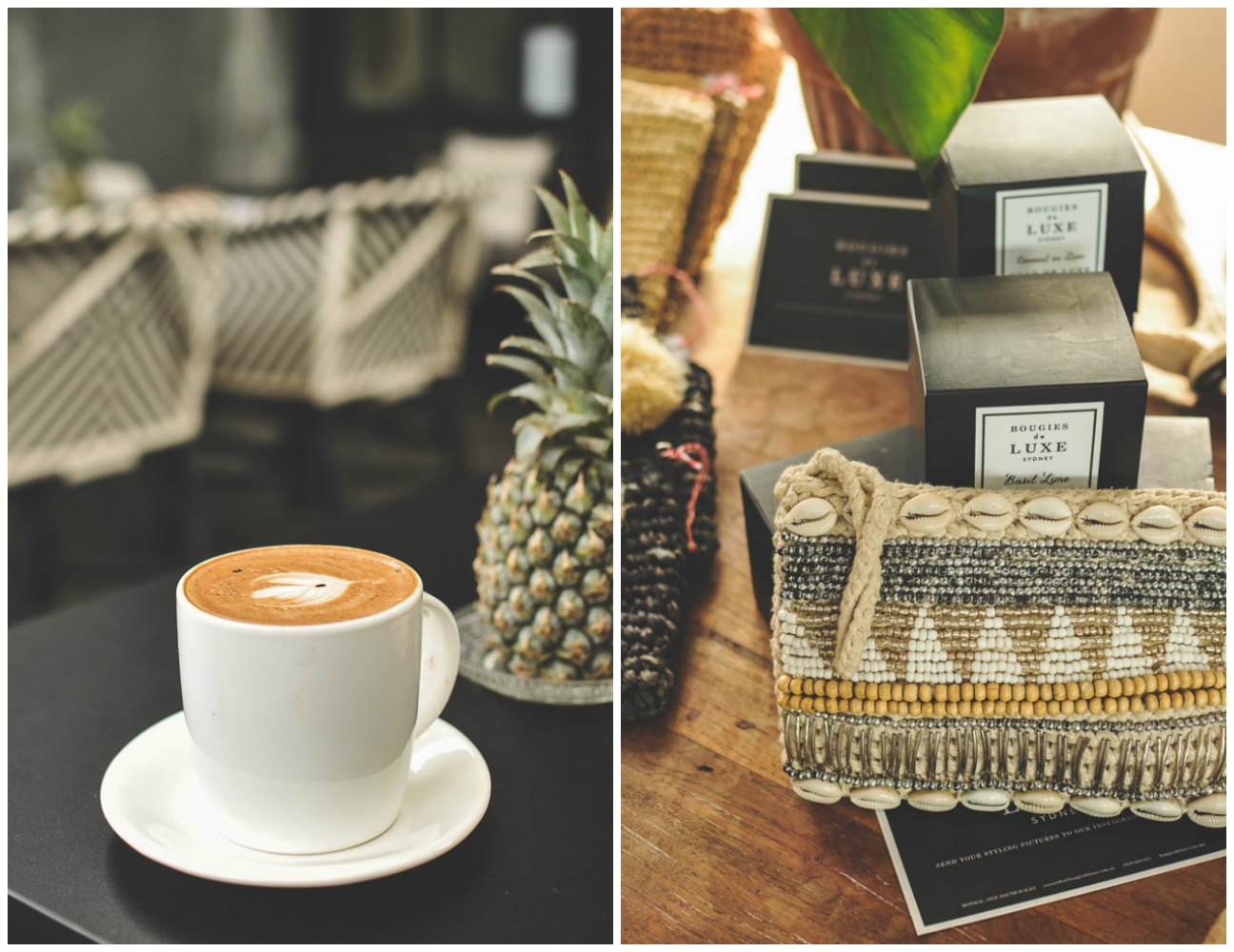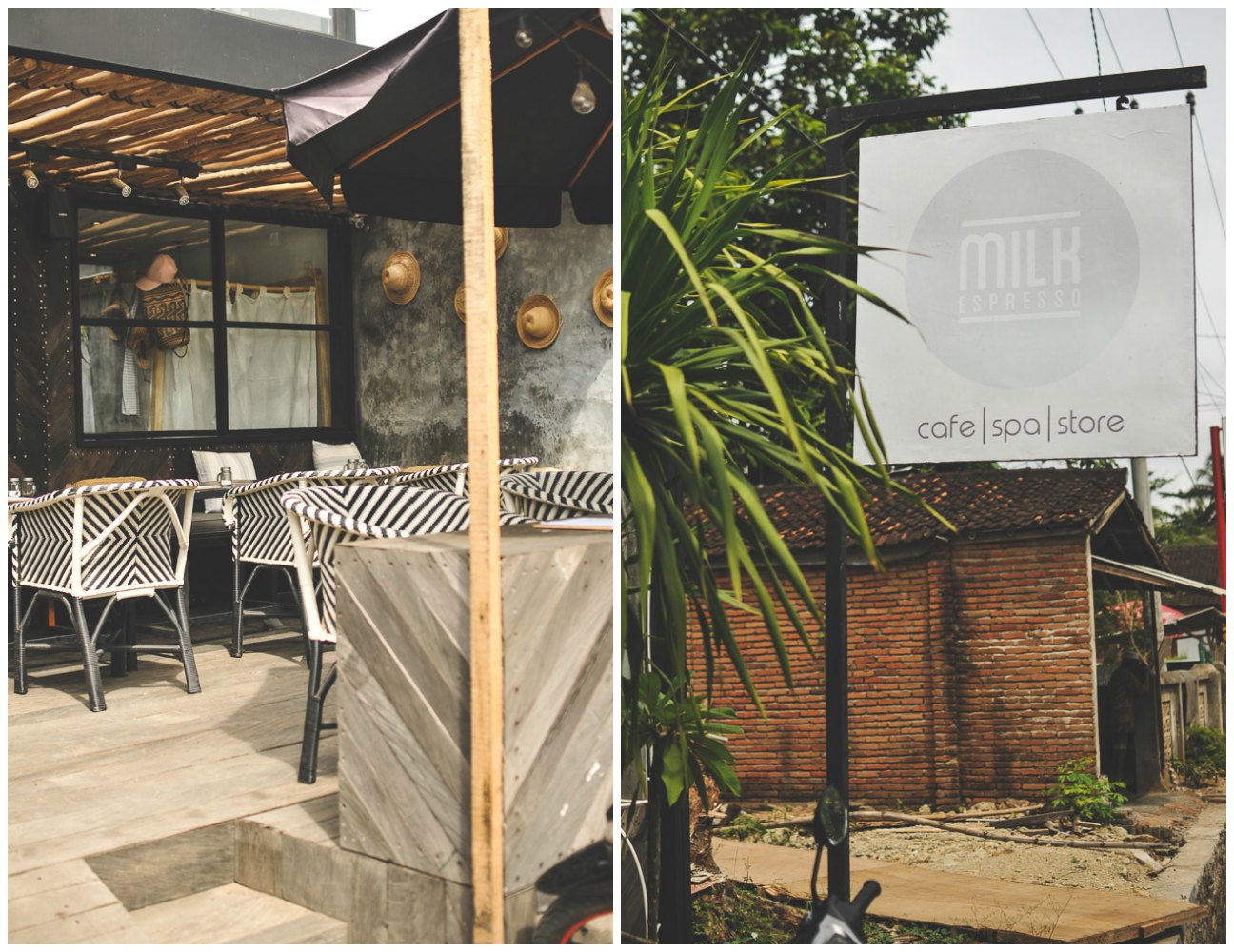 Milk Espresso Cafe, Jl. Raya Kuta (next to Alphamart), Kuta, Lombok; 6am – 9pm

By far the only place in Lombok that could be easily located in the heart of a big, european metropolis. Indeed there is a western idea behind the Milk Espresso, it's Irish-Australian, energetic owner. She's created black and white coffee paradise here with lots of comfy seatings and the cosiest hanging chairs. I had a delicious poached egg and avocado toast, good soy milk macchiato and ruby fruits and veggies juice. Plus easily spend over 4 hours just chatting with the owner, reading and rummaging in their tiny, hippie store. The place opens early in the morning and works till the evening when the caffeine crowd gets replaced by the booze fans. The prices are rather european but it's worth to have a bit of this luxury which, if it feels too little, you can prolong in their spa upstairs.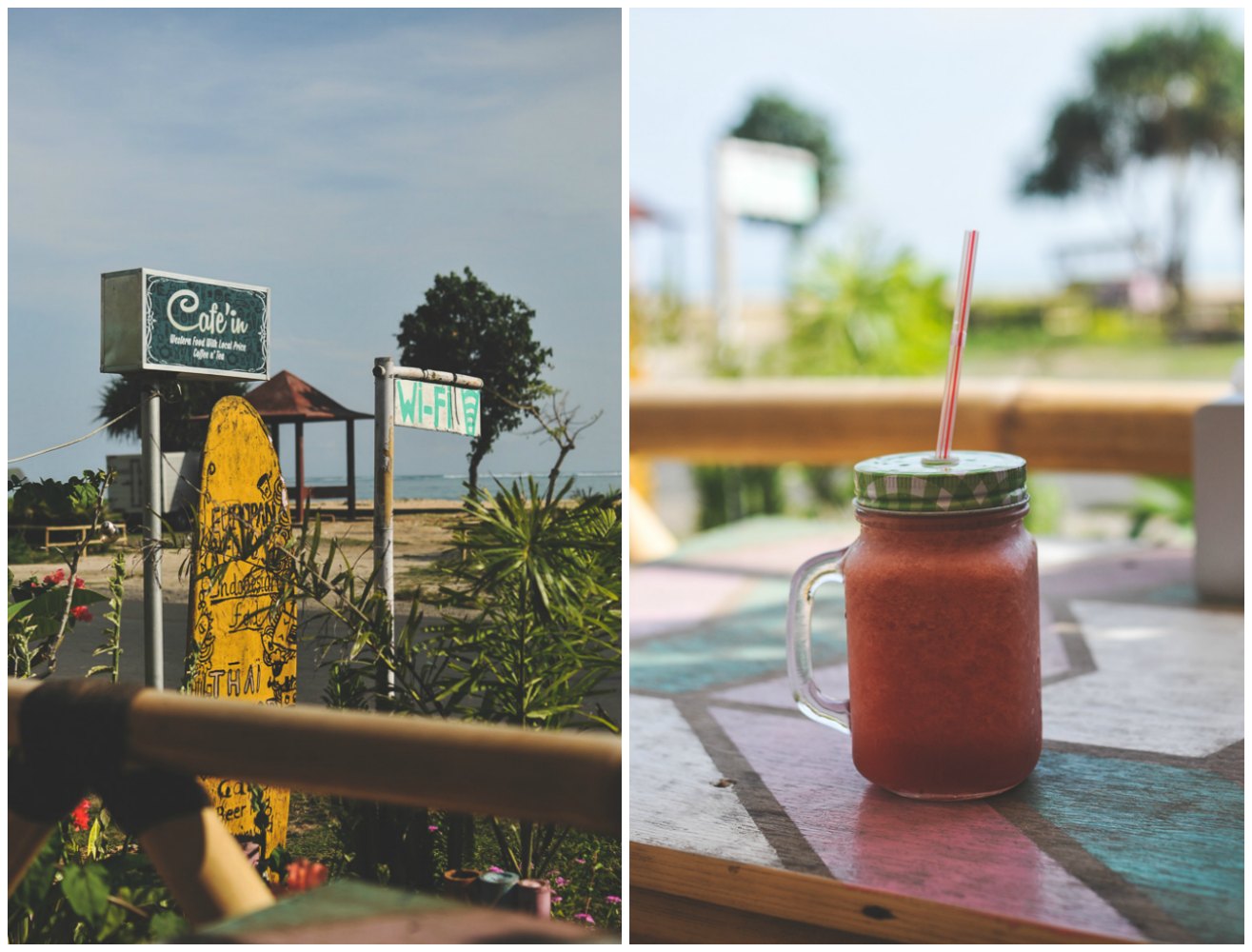 Cafe'in, Jl. Pariwisata Pantai Kuta, Kuta, Lombok; 10am – 10pm
Very chilled place, a bit aside, in front of the sea, with spots of the sun coming in and a comfy seatings in the fresh air. Don't let the name of the place fool you, we're in Asia and the coffee is not a must in a 'cafein' cafe 😉 I didn't see it anywhere in the menu thus chosen to go for a healthy fruit juice. Then I forgot to order my watermelon-pineapple smoothie without sugar so it was not so healthy anymore but still enjoyed it while doing nothing on the beautifully lazy, hot afternoon. There is a good energy in this place and I've seen quite a lot of people during lunchtime here – come, come!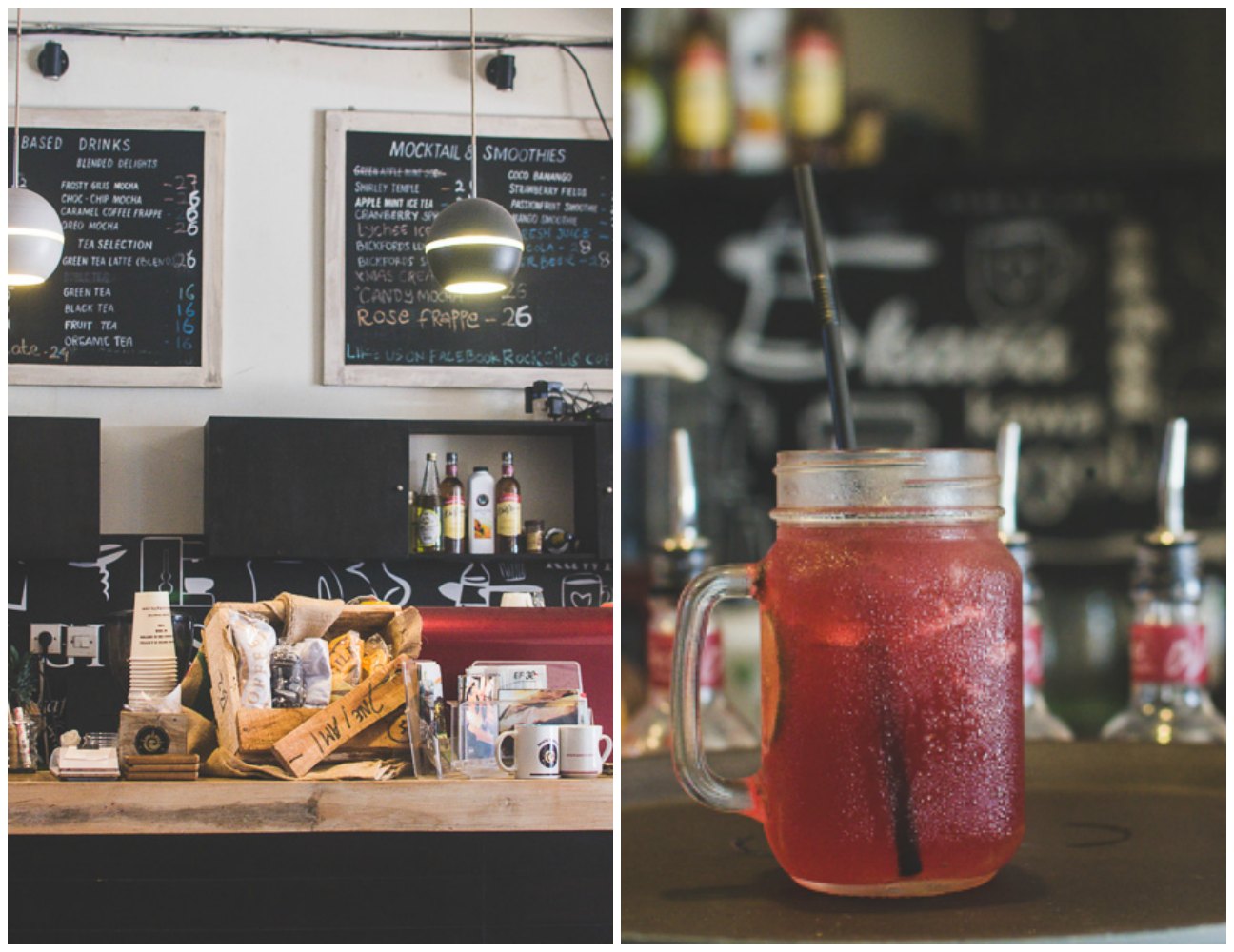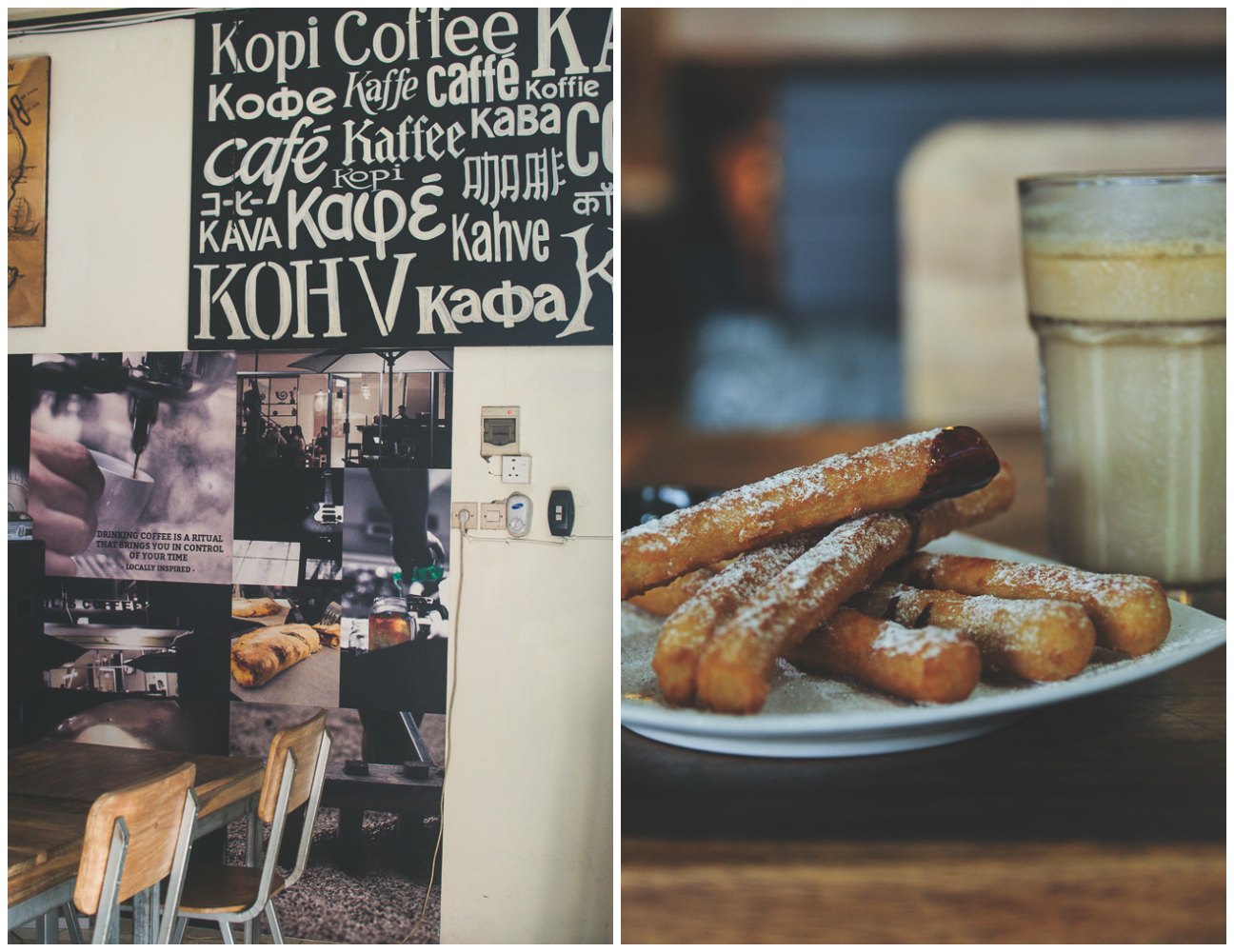 Rock Gilis Cafe, Jl. Langko 23 F-G, Mataram, Lombok; 8am – 12pm; rockgilis.com
My local friend's favourite place, whenever she feels like coffee or a cheesecake that is where she's heading to. It was her who introduced me to the owner, Nico from Bosnia and to his pretty wife Desi. Most of my visits to this place mean the company of those guys and their kids which creates this lovely atmosphere of lazy, friends meetings which I miss sometimes being away from home for so long. The other story is that I really like the coffee here (latte is ca. 25k idr/2$) and there is plenty of its variations here. The place is big with lots of cosy couches and spots to hide with a book or a laptop (very reliable wi-fi!), or just gaze at another tropical downpour through the huge windows. They always have something to sweeten up the day – make it tiramisu, cheesecake, brownies or pretty surprising thing to find here – Spanish churros! Plus fruit smoothies, green tea latte (from the powder mix but still ;)) plus pizza for those who want a piece of western food. Nico goes even further in introducing some unusual flavours to the locals – he just started with a little joint with Bosnian food where he makes his own sausages and serves other delicacies. I was leaving the island just before he opened thus didn't try it but I hope the business is going great!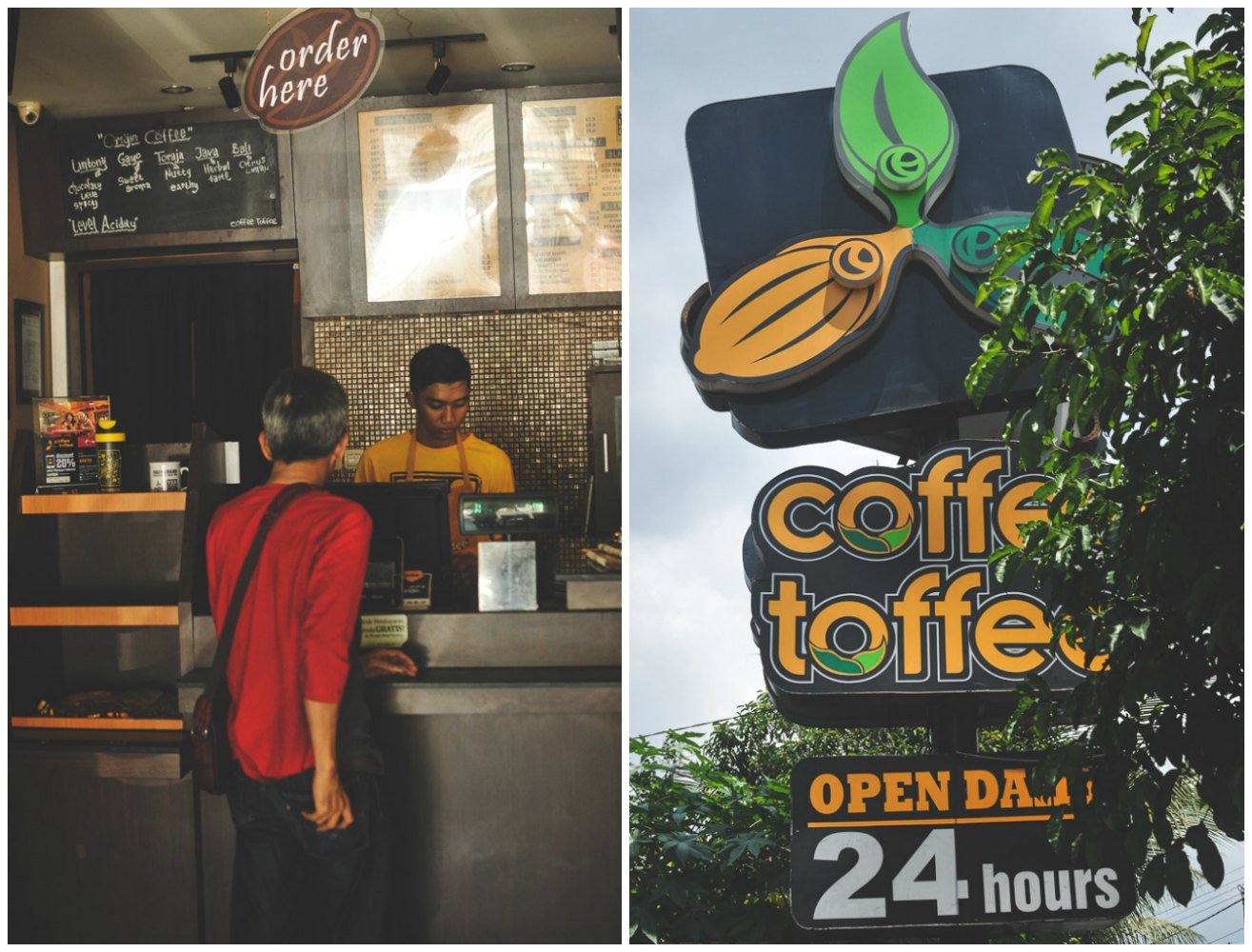 Coffee Toffee, Jl. Palapa 1, Mataram, Lombok; 24h
Coffee Toffee is a local answer for the comfy chain cafes but it's still an Indonesian answer which leaves some space for improvements especially when it comes to the cosiness and atmosphere. Little tables and a couple of fabric covered chairs – checked; wi-fi – checked; coffee headlines covering the walls – checked. On top of that a smoking crowd behind the glass wall which keeps the space big but leaves this awkward feeling like we're different species peeking at each other in the zoo. There is plenty of coffee shakes, lattes and tea or chocolate variations and what I tried was the delicious Avocado Cream Joe – coffee&avocado frappe. I will come another day for sure as I am tempted to try the more classic brews here.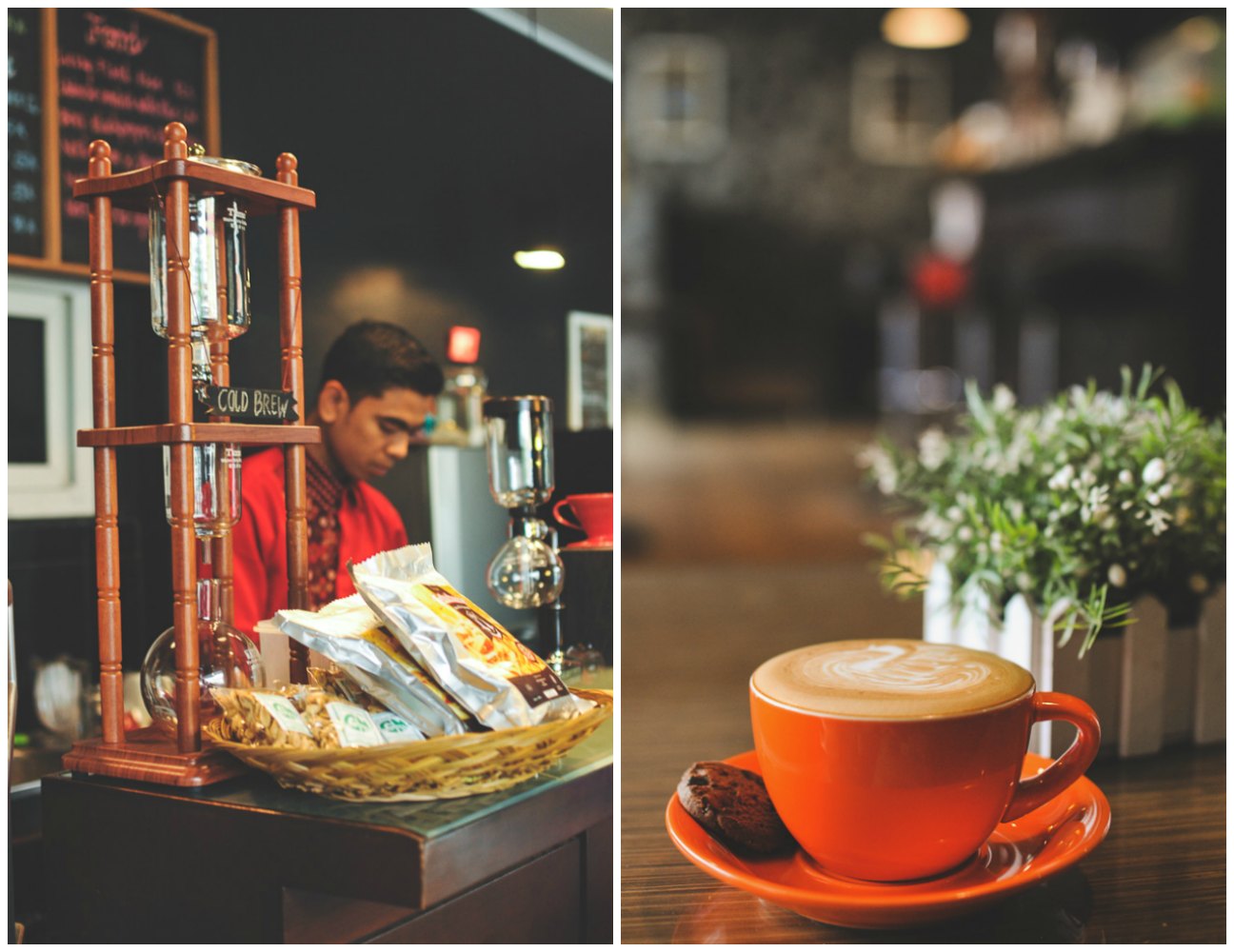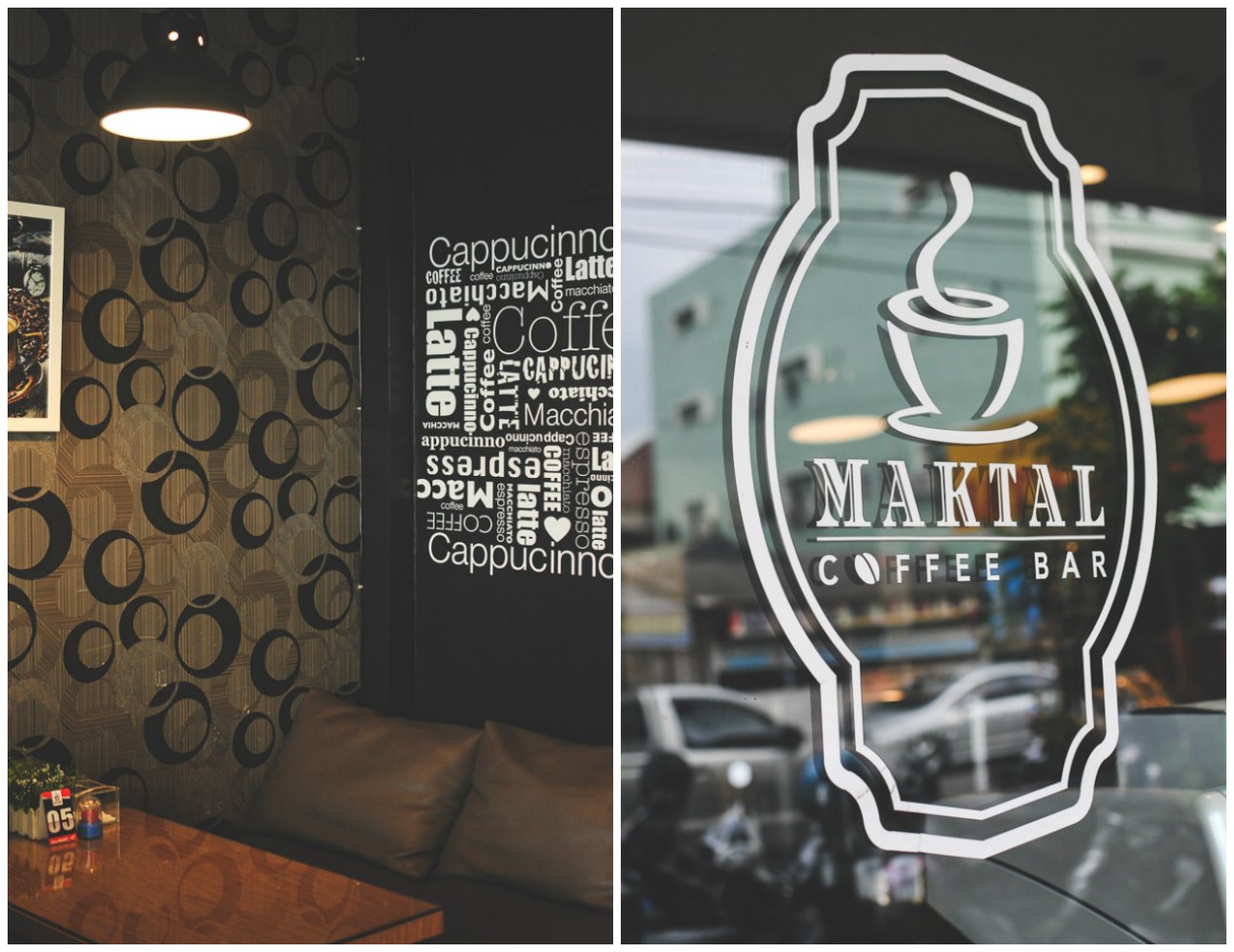 Maktal Coffee Bar, Jl. Maktal 3, Mataram, Lombok; 9am – 10.30pm
Maktal is mainly a hotel but you don't need to stay here to visit their small cafe, and that is a place worth paying attention to. The non-smoker section is the one filled with coffee aroma and has a few pretty comfy (not too pretty though) couches. Their latte is great, comes with a small cookie and goes for less than 2$. Wi-fi didn't work too good when I was here but it was just the right place to wait for the thunder to stop as this more of a chill, book time place in my opinion.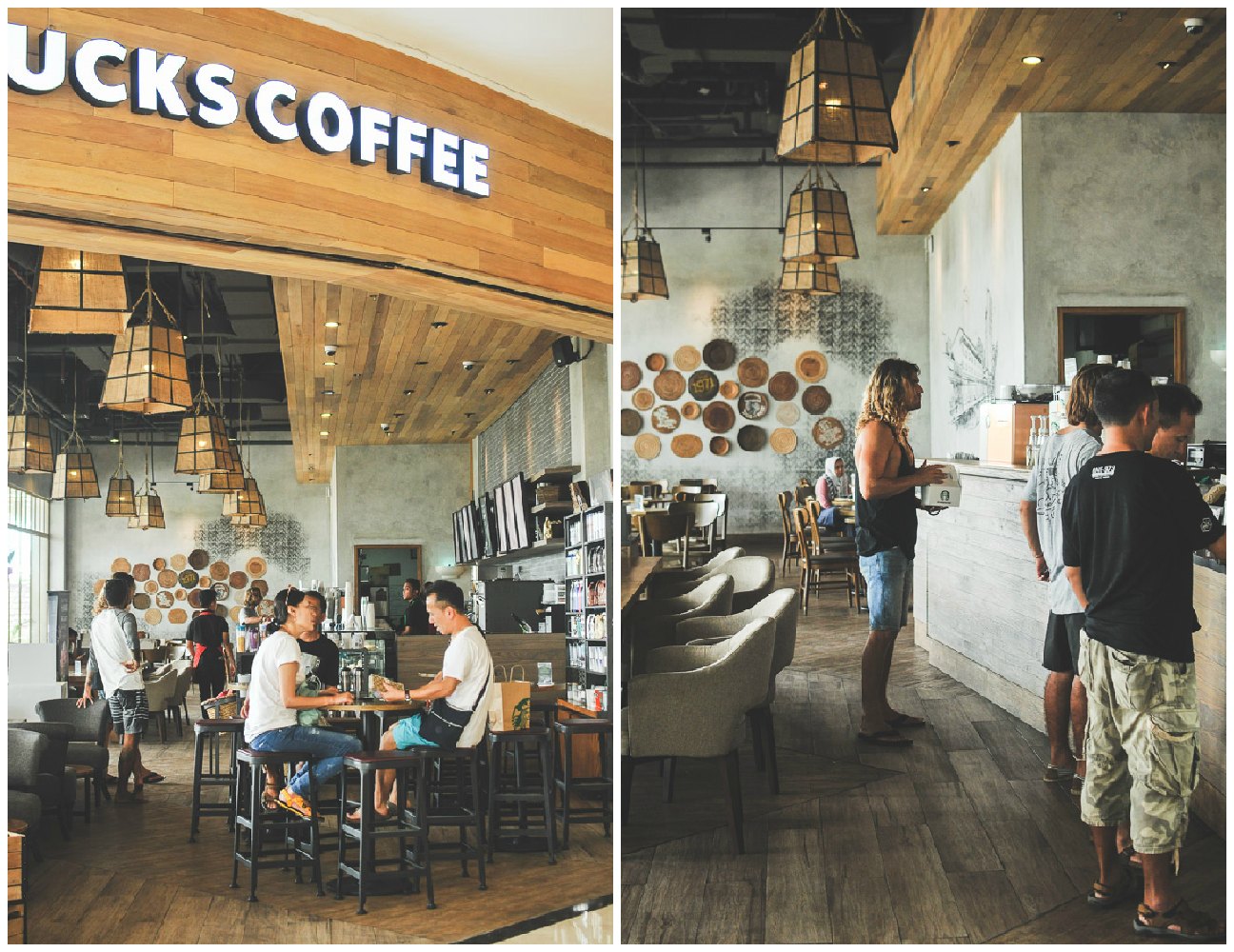 Starbucks, Epicentrum Mall, Jl. Sriwijaya 19A, Mataram, Lombok; 9am – 11pm
International chains don't pass even such quiet, tranquil places as Lombok. From my visit 6 years ago I remember MCD, now there is Burger King and coffee giant Starbucks in the team. By now there is only one cafe and it's opened in the perfect surrounding – the most modern shopping mall on the island. I will not recommend their coffee as I'm not it's fan, however, I need to admit that this is the place for a huge mug of a soy latte, reliable wifi and a comfortable space for hours of work. The prices are just as expected in such place – high.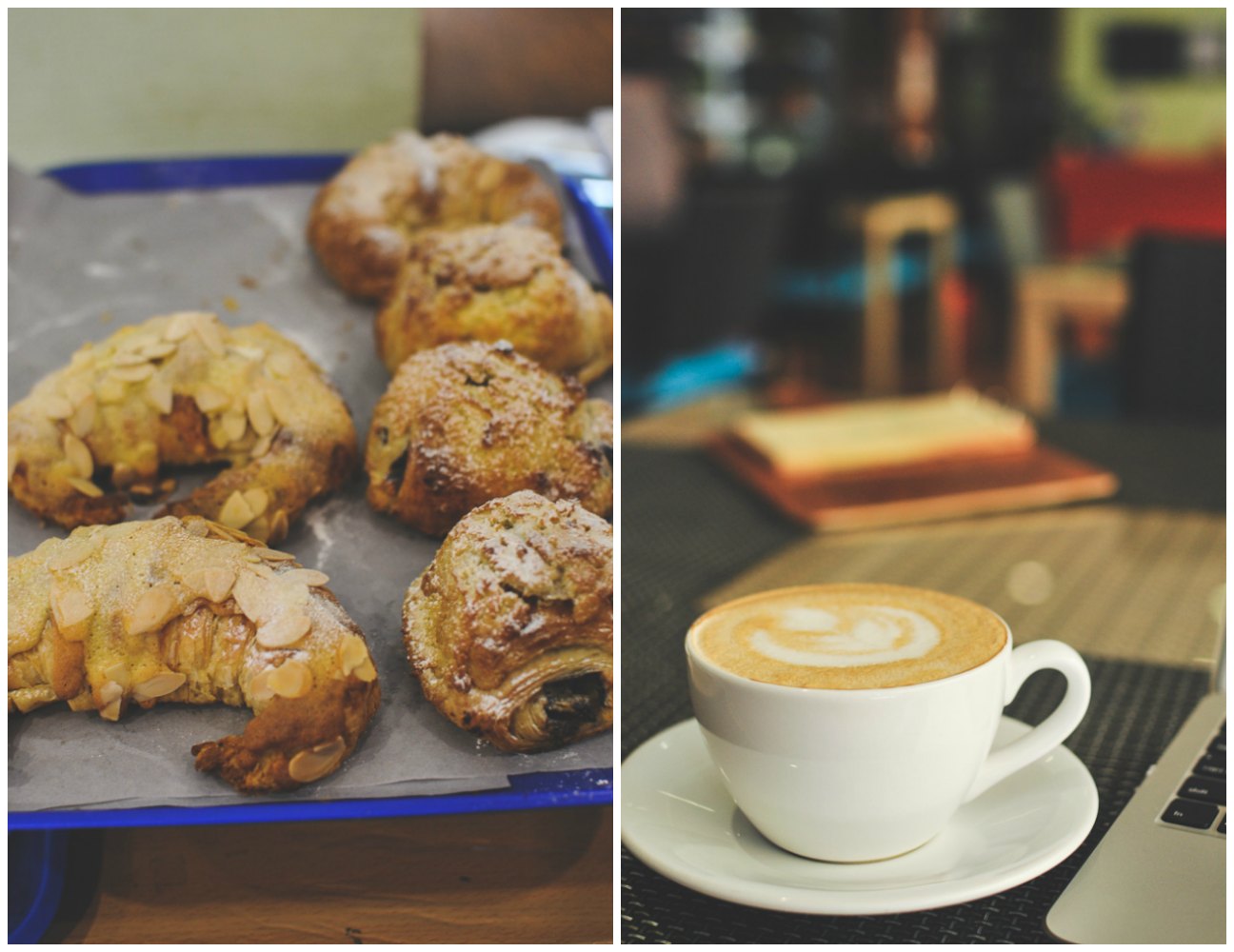 Temptations, Senggigi (entrance to Green Valley), Lombok
Big chances you'll visit Senggigi while in Lombok. This is the biggest tourist town in the western part of the island, not far from the harbour where most people embarks to the nearby Gilis or Bali. The best place for a coffee, a croissant and the internet is the Temptations cafe which also serves a lot of breakfast and lunch food plus is consolidated with a store selling plenty of imported, western delicacies. Big pros are vegan, soy milk coffees (I managed to have my own big soy cappuccino for 30k idr/2,3$) and nice, smiling service. I get the feeling that no matter what thunder will pass outside the windows, the wifi here will not break so definitely recommend this place if you have some digital duties on your travel (they also have 2 computers here which you can use).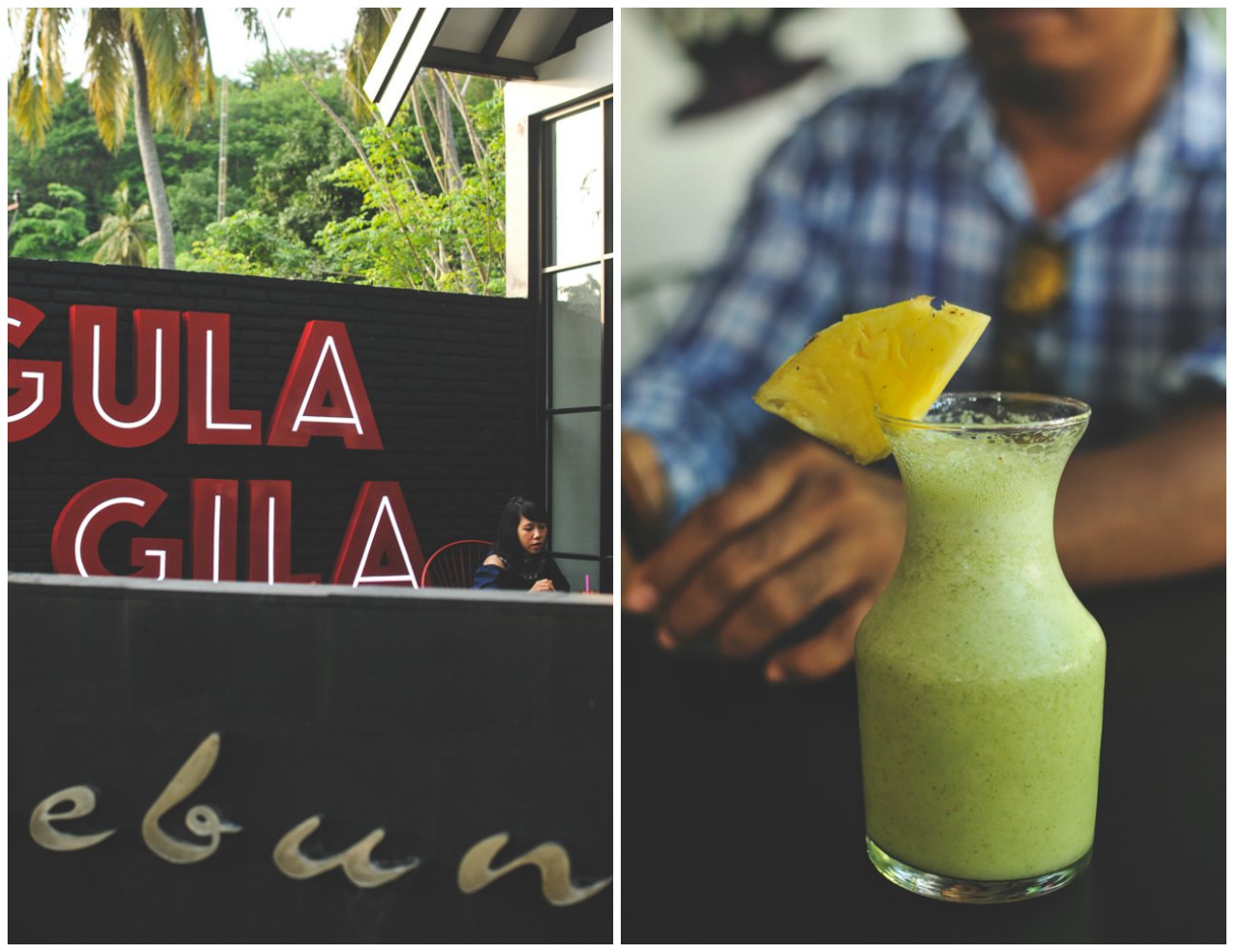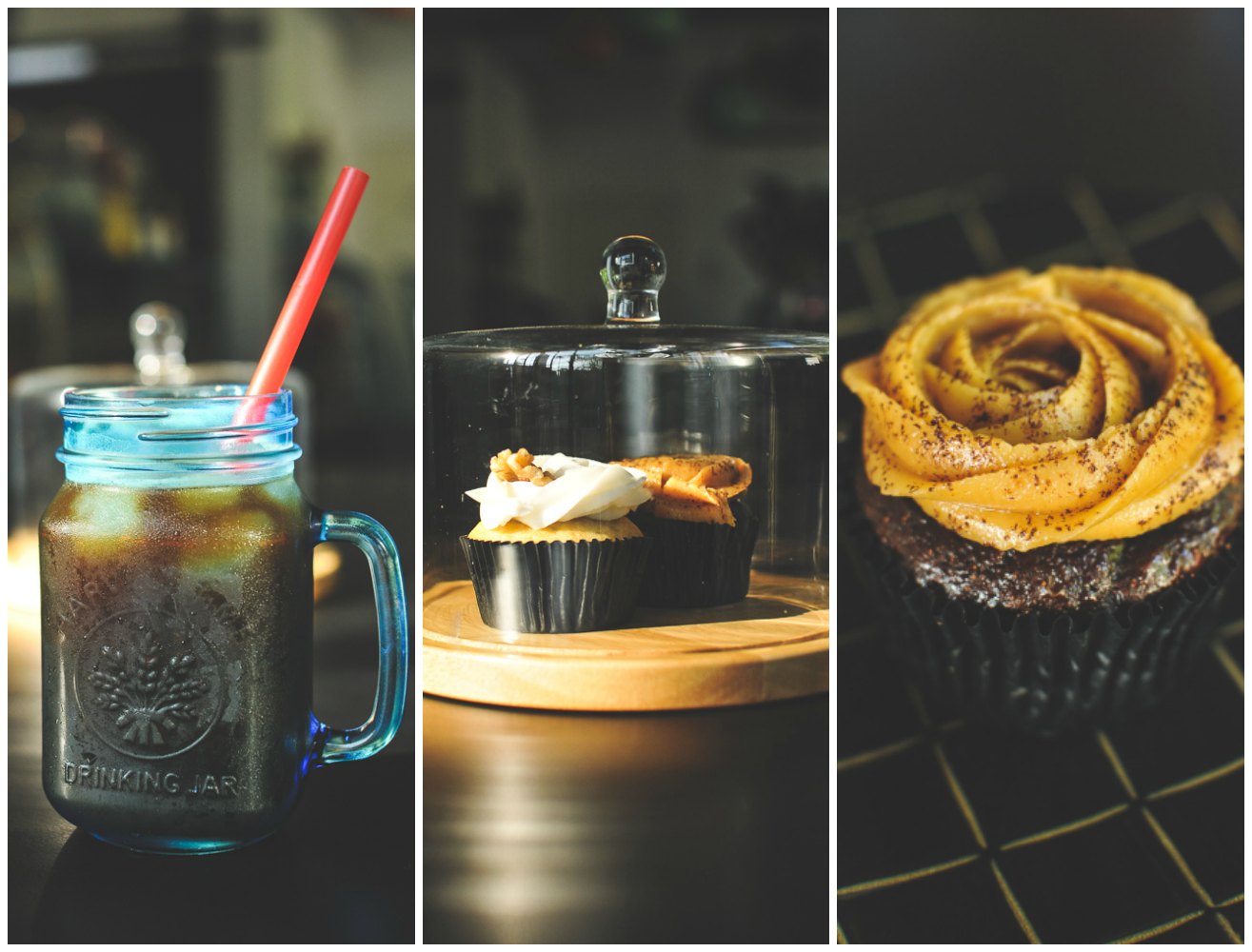 Gula Gila, Jl. Raya Senggigi 16, Senggigi, Lombok; 7am – 10pm
When you leave Senggigi heading north, just after the Sheraton hotel, on the opposite side there is a new cafe which invites travellers with its big banner. Of course, I stopped by and the first thought was – wow, they have an amazing air-con, I want to stay in that fridge for a while! The interior is clean, small and minimalistic but lacks atmosphere, however, is good enough for a coffee on the go. It seems the speciality is colourful, pretty cupcakes which are a nice idea but the look and taste don't go together – they are very dry an just a no-no. I do stop here for an ice Americana (28k idr) which mixed with their chilly breeze works as the best refreshment on the hot, humid days. They have a selection of great smoothies which could only be better if they were a bit bigger. Wi-fi was a bit slow when I was here, but this is a 'come – drink – go' kinda place not a working space.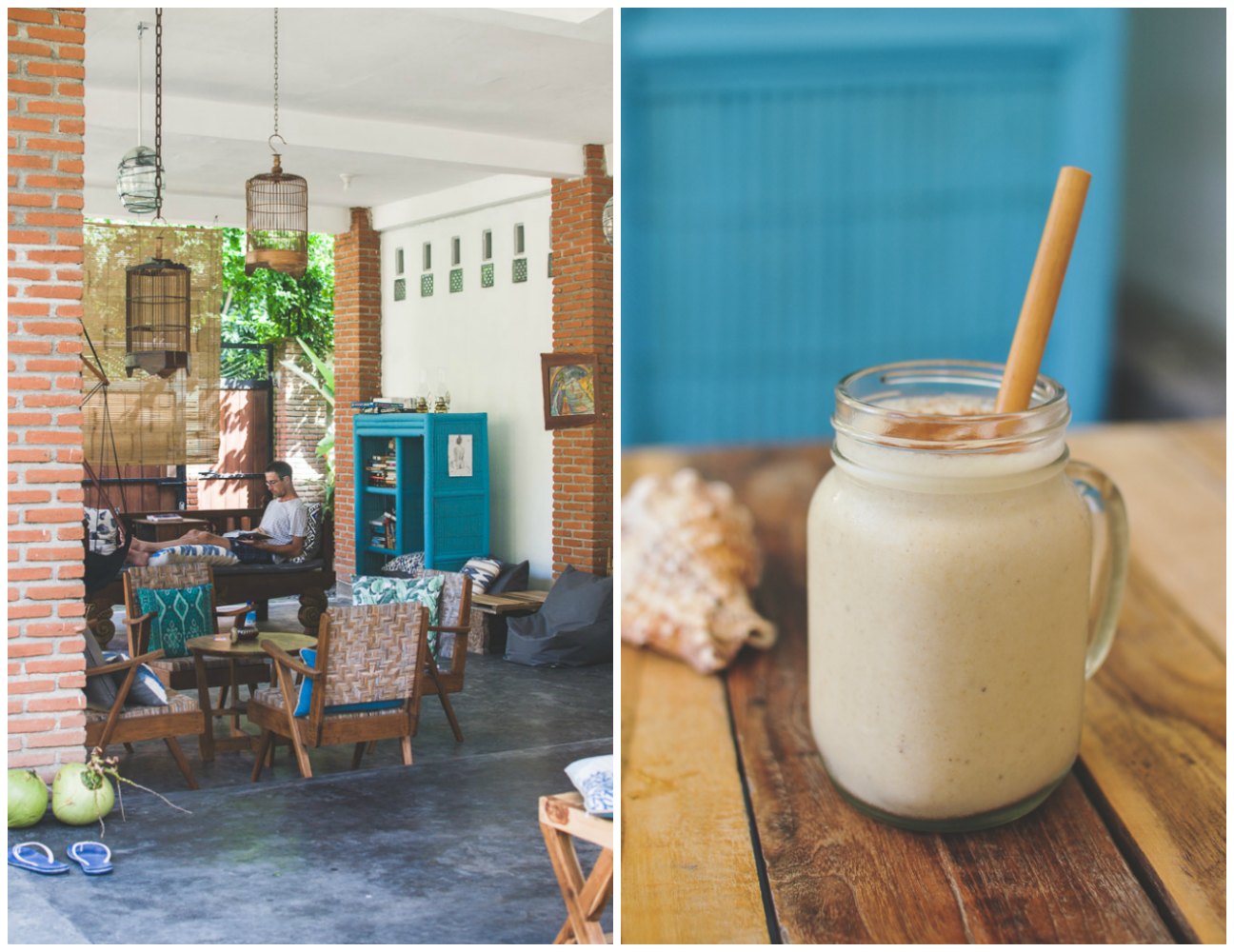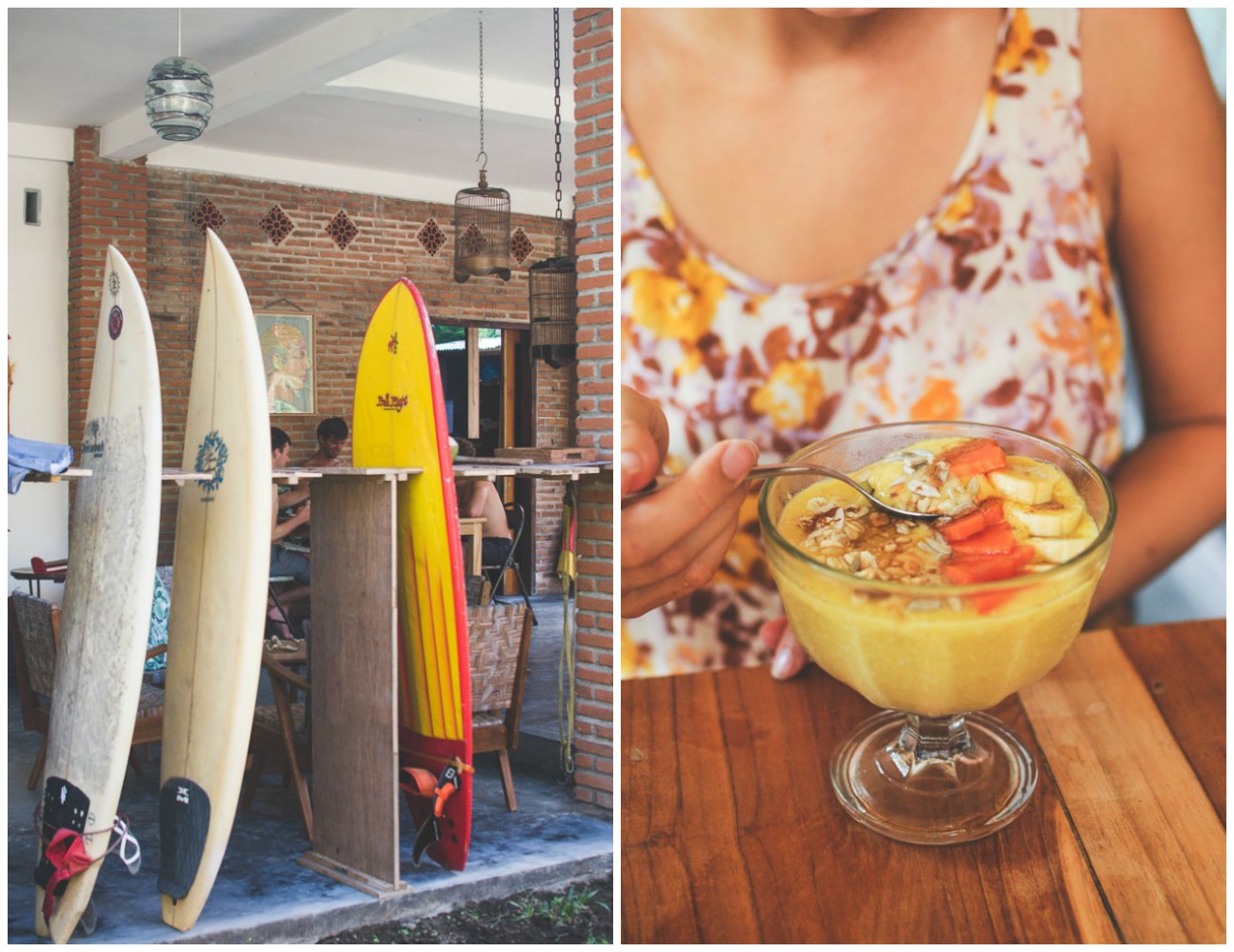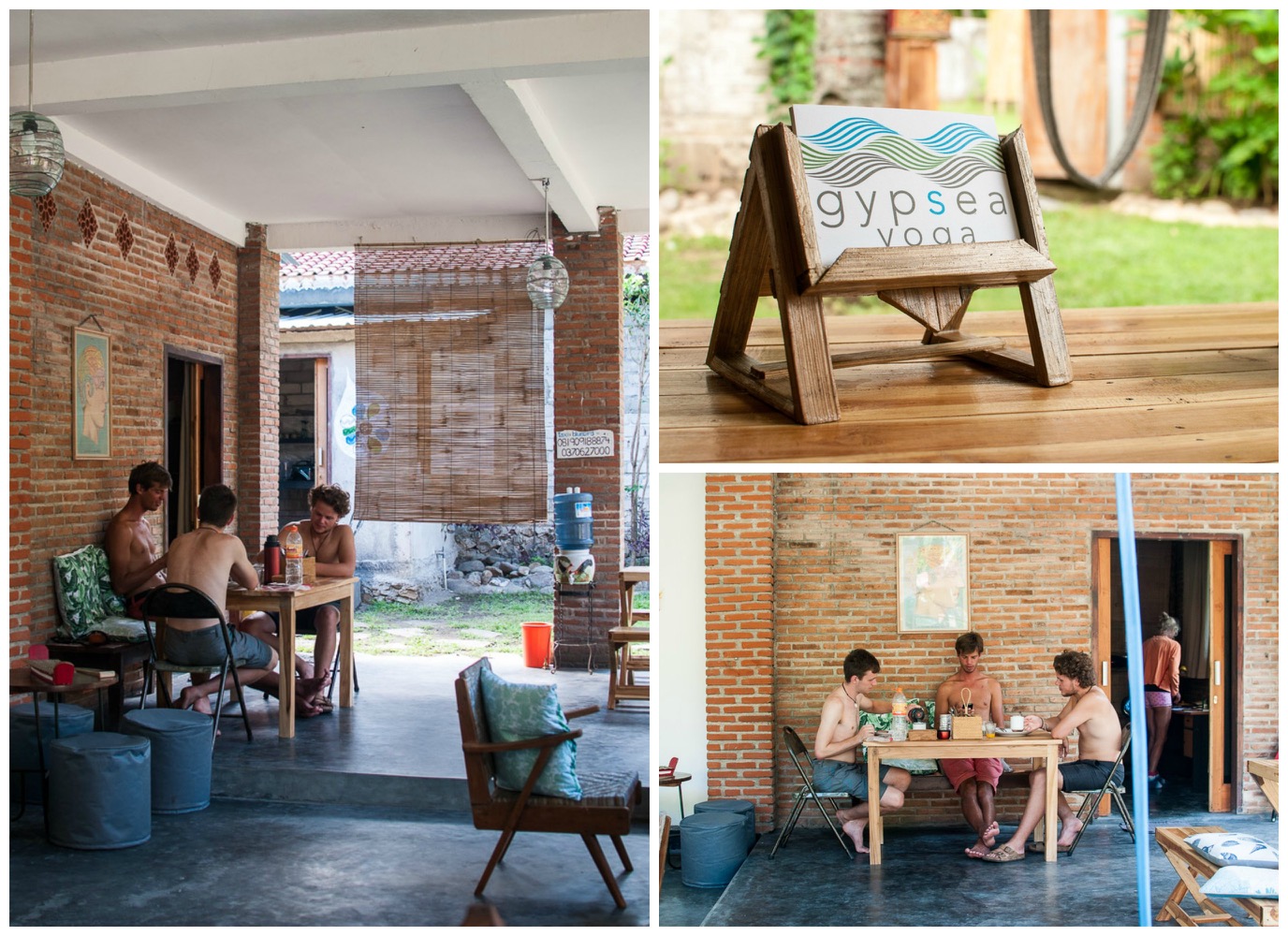 Gypsea Yoga Cafe, Jl. Raya Senggigi, Malaka, Lombok; gypseayoga.com

Unique place, hidden in the lush green nature with open yoga shala and 3 beautiful bungalows. Heading north, 15-20 min scooter ride from Senggigi, just after 'Living Asia' hotel look for a 'Gypsea Yoga' sign and turn right to get to this oasis after a couple of minutes. Their cafe is open in the mornings (7-11am) and at dinner time (5.30-7.30pm) and serves delicious, big smoothies, smoothie bowls, classic brekkies with eggs and toast, delicious Indonesian gado-gado and nasi goreng, soups, burritos and veggie burgers (which, next to pumpkin soup would be my contribution to their menu;)). You won't have a coffee romance here as they serve only local black coffee but the merit of this place is not the cold brew but nature, space and serenity. They have wi-fi but due to the location of Gypsea oasis, it is not very reliable whereas you can count on comfy sofas, pillows, hammocks and floor sittings as this place was created to enjoy time with a book and long, lazy conversations. Definitely my favourite address on the island!

Tagi: bistro, caffein, caffeine, coffee, coffee spots, coffee toffee, destination, gula gila, gypsea yoga, indonesia, kuta lombok, lombok island, makatal coffee bar, mataram, milk espresso cafe, rock gilis cafe, sengiggi, sengigi, starbucks coffee, temtetions coffee