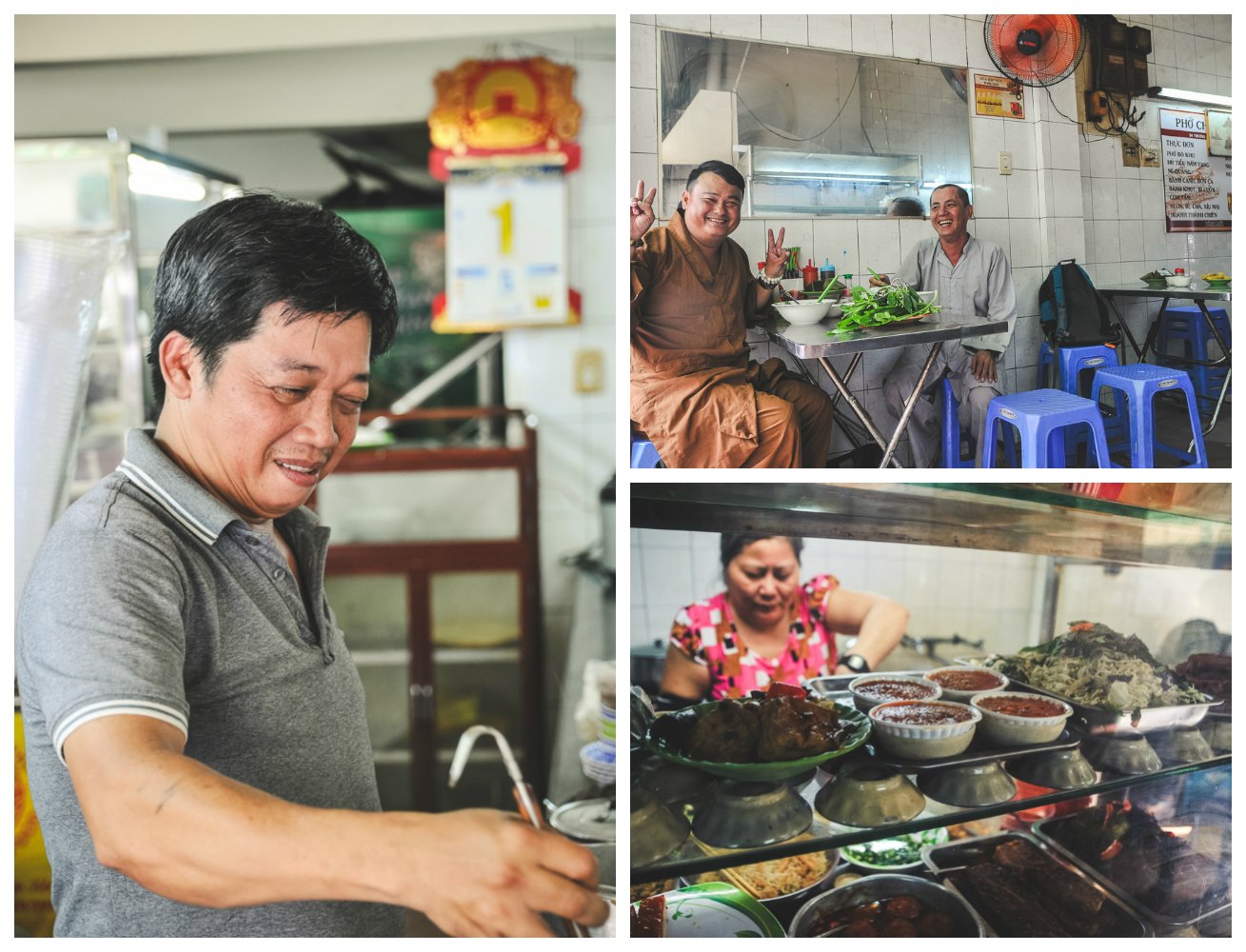 It took only 2 days to see the side effects of the transition from 4 months of an almost fully vegetarian diet to the meat indulgence in Saigon – feeling of heaviness, mood swings, headache. I am not surprised as I literally swallowed bowls of beef pho noodles, pork-filled bun bo hue soup, crunchy banh mi sandwiches with pate or xiu mai patties. I guess my body just got crazy… On top of that, I moved from ocean located Goa, India to the big metropolis and the fact that probably 40% of its inhabitants (and their motorbikes) were resting and enjoying their Tet ("Happy New Year") holiday didn't lessen the hustle, bustle and pollution. One way or another it became obvious for me that I have to search for some vegetarian food which showed up to be pretty difficult because of the mentioned holiday.
Vegetarian meals are called "chay" and most of such eateries would be hard to find as a form of the street food stalls, they are rather regular restaurants thus most of them welcomed me with the closed doors. Finally, I did find 2 museum-like places where lit by the intense light with waitress's eyes drilled into me I felt like an exhibit. I didn't handle this burden and left the first place using some absurd excuse while at the second I just ordered a take away jackfruit salad (it was delicious by the way) to enjoy it in the street entourage spiced up with hot sun and fume clouds – it just tastes best like that, I can't help it 🙂
3 days ago, thanks to a coincidence I stumbled upon a vegan place that serves a Vietnamese staple – pho soup! What's more, there is a couple of more vegan versions of local favourites plus the place is typical "hole in the wall" which means it is open to the street and I could have my food the way I love it. I dined there 2 days in the row and if it wasn't for a bunch of other places I wanted to try I could basically eat only there.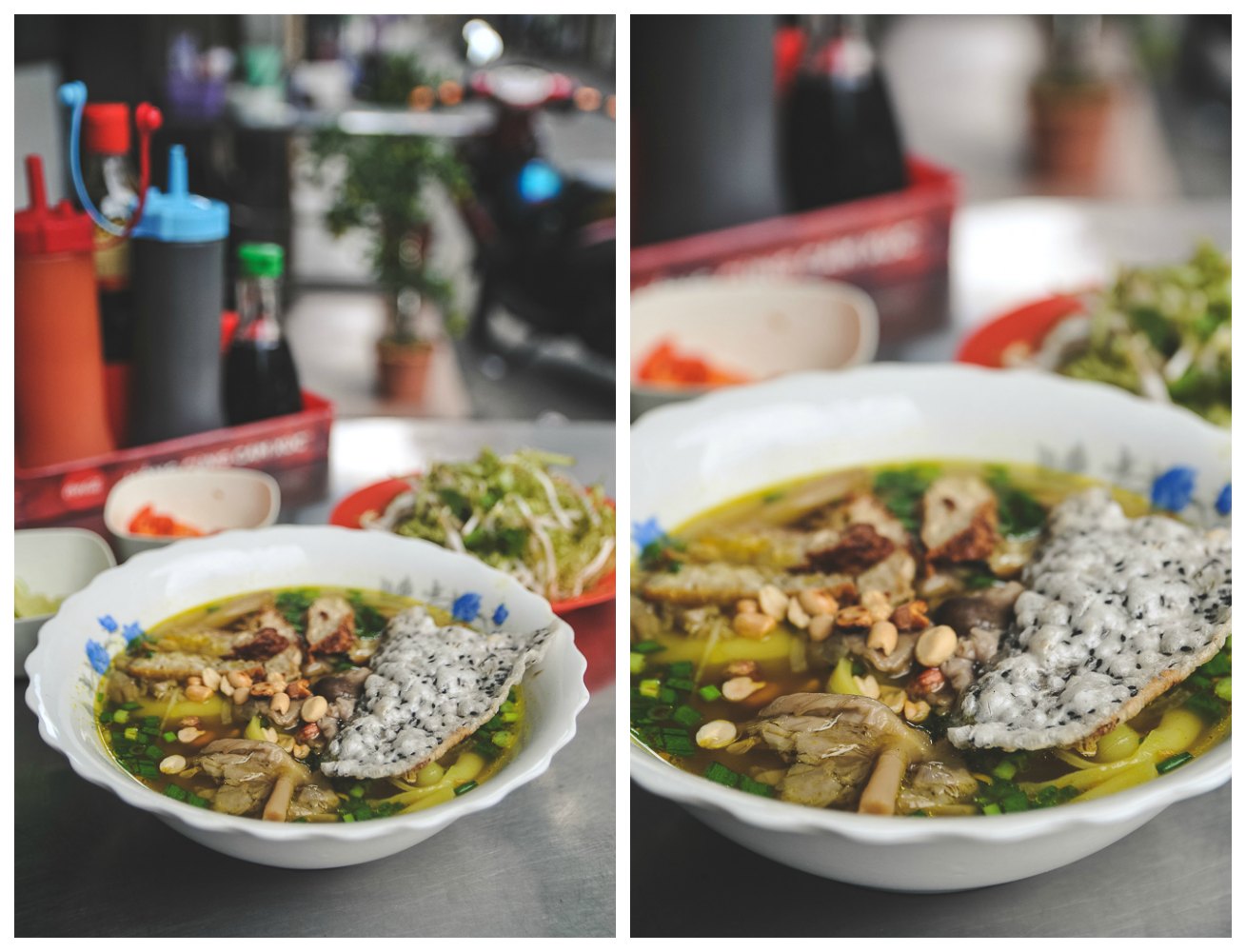 Perfect mi quang, a soup that's popular all over Central Vietnam, here with mushroom and chicken slices made out of tofu. 40.000 vnd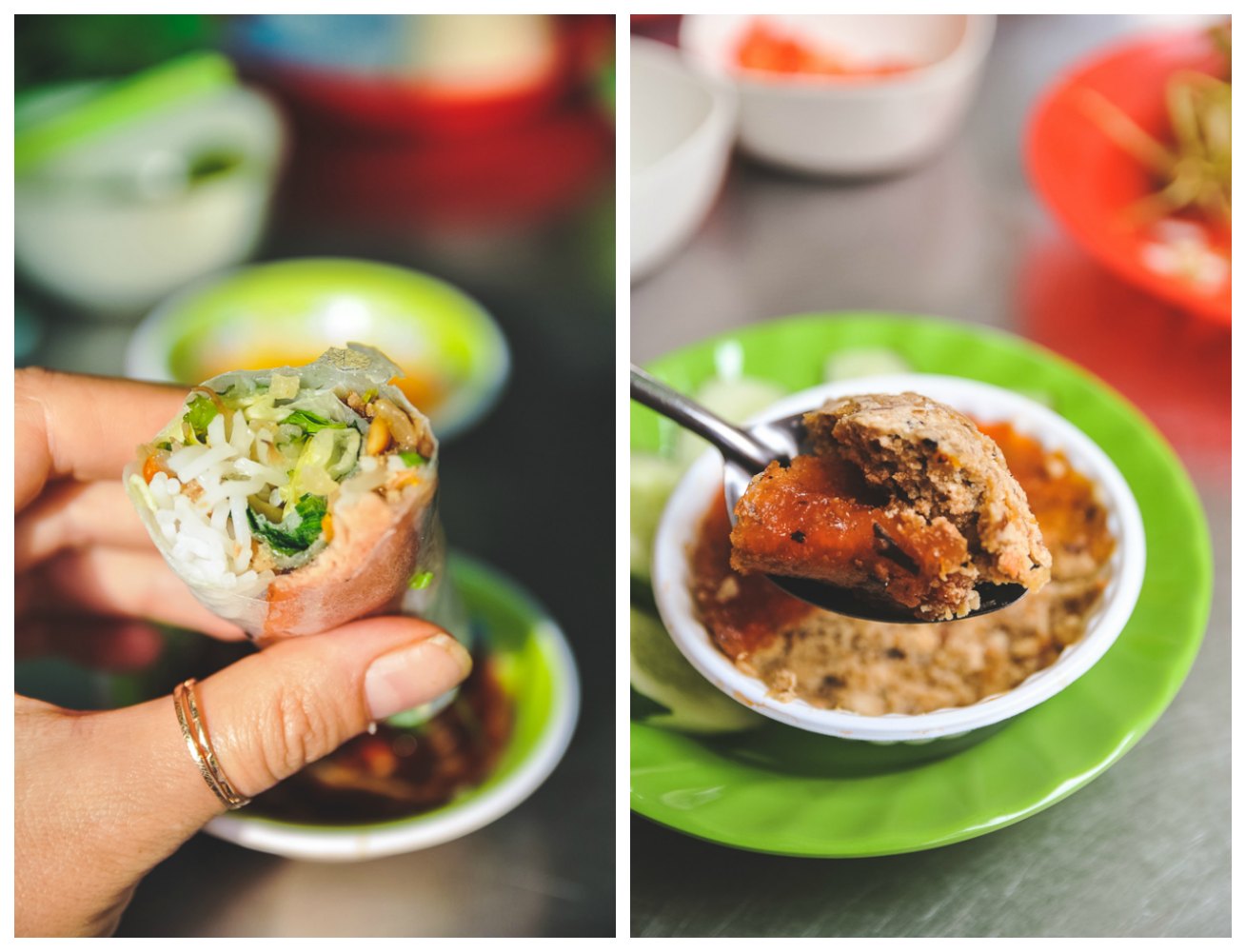 Goi cuon are very popular in the South. Fresh, crunchy, meatless. Served with peanut dip and fish (vegan) sauce with chilli (9000 vnd/piece).
A bowl of essential tofu pate (dau phu pate) – 20.000 vnd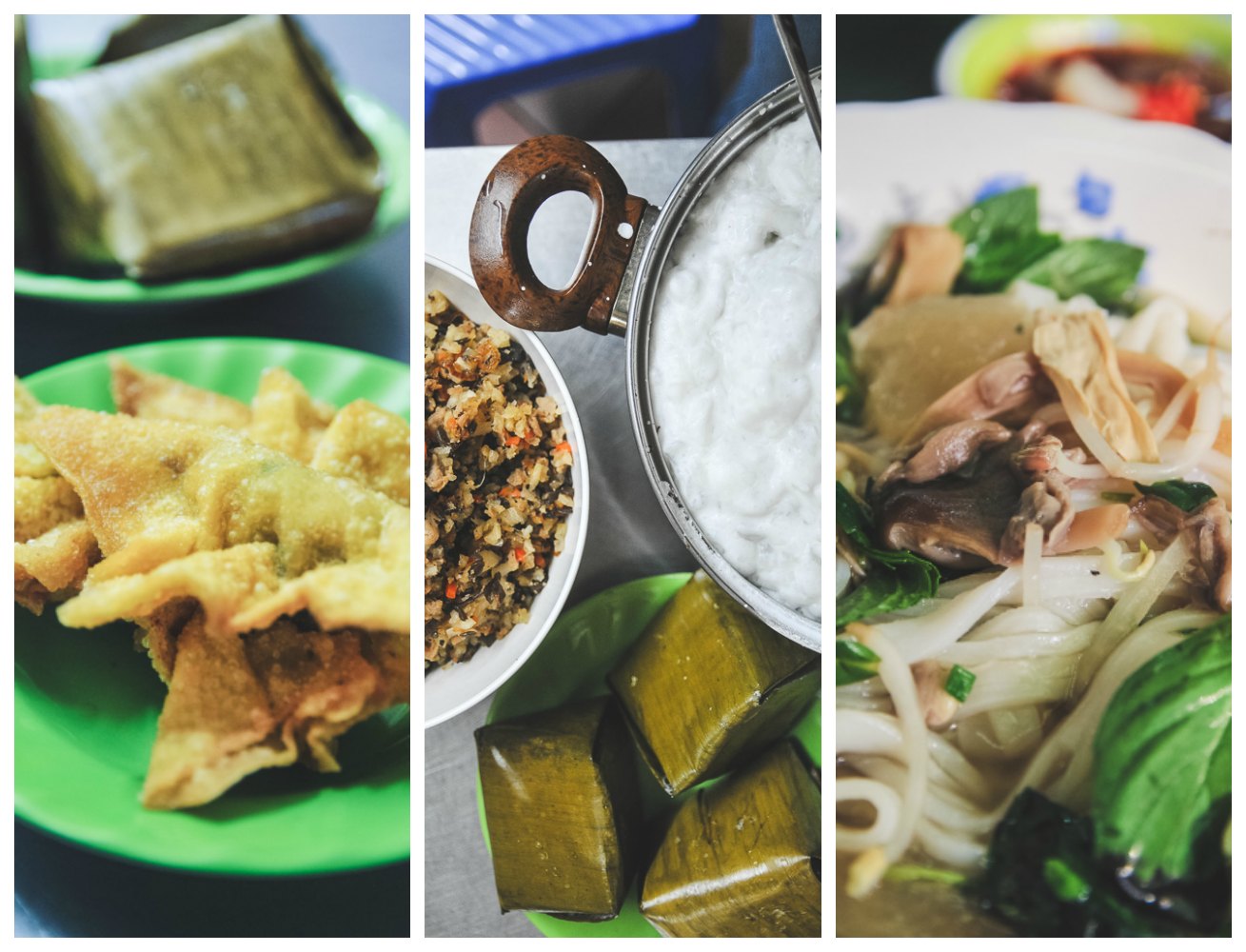 Vegan won ton (3.000 vnd/piece), morning favourite banh gio pyramids with tofu and mushroom filling and finger licking vegan pho full of mushroom and soya made "meat" (35.000 vnd)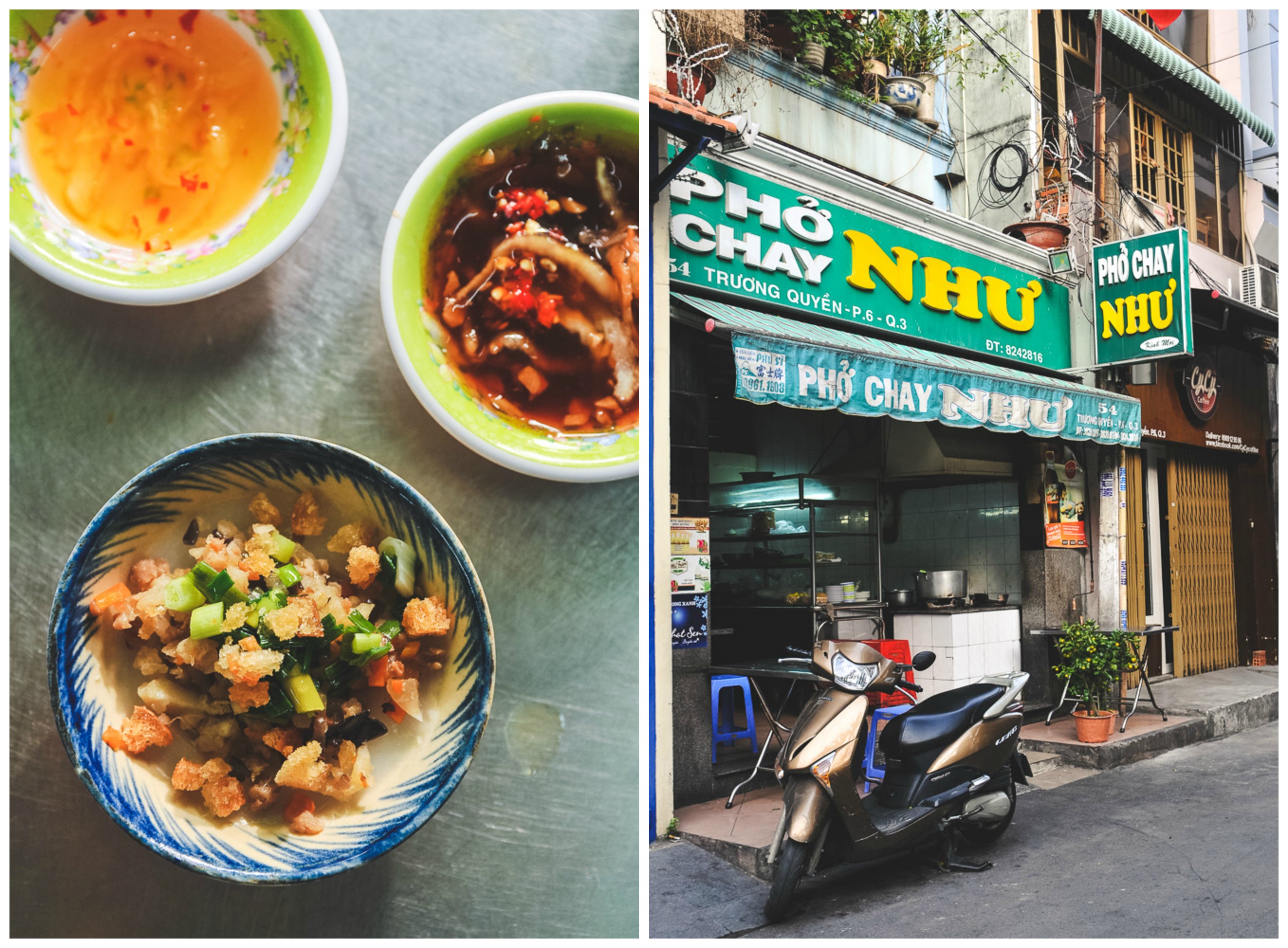 One of my all-time favourites – banh beo, which I am eating in the vegan version for the 2nd time already and again it tastes even better than the original.
Pho Chay Nhu, 54 Truong Nguyen, Q3, Saigon.