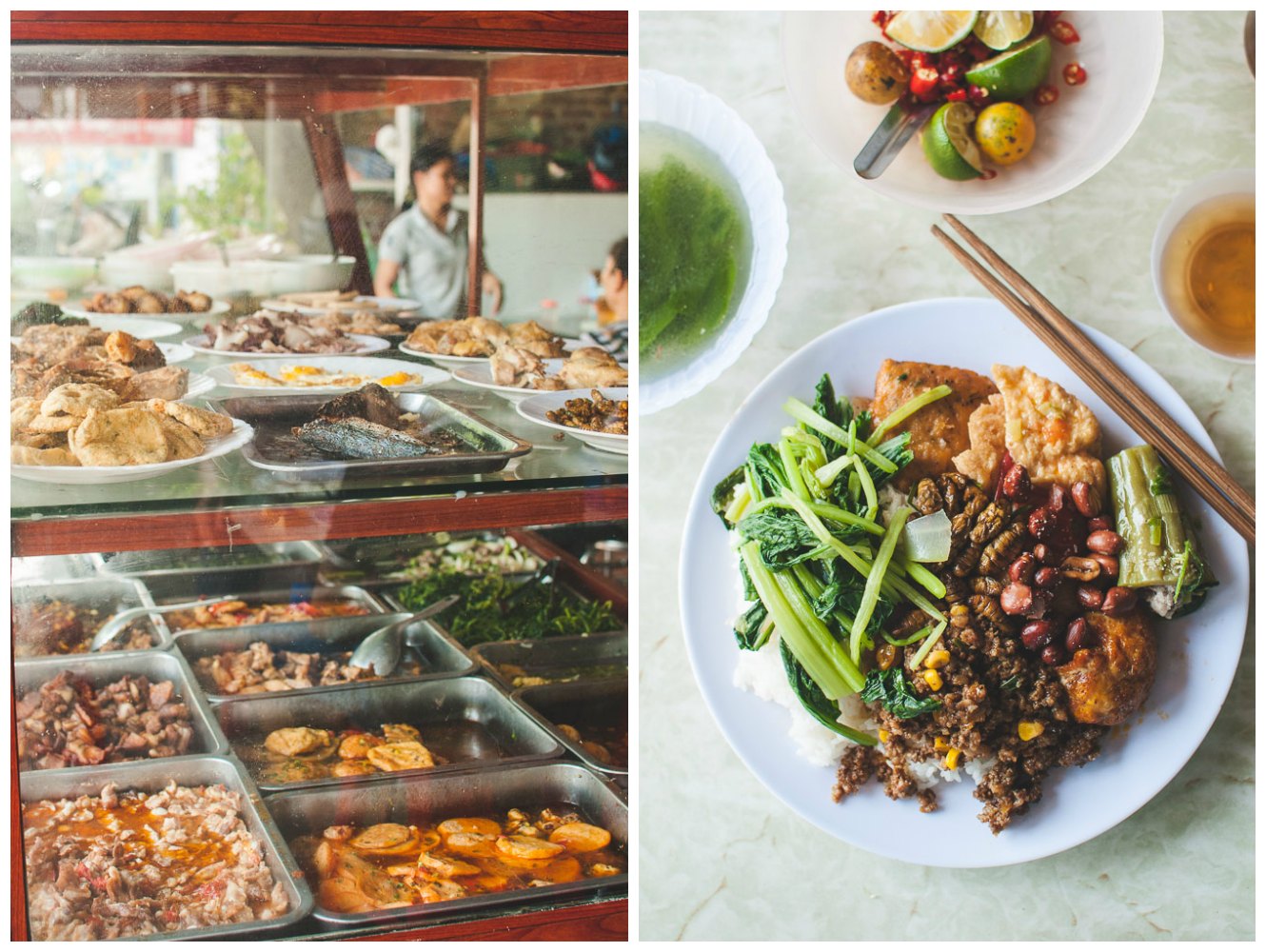 You are in Vietnam and you are hungry: what are you going to eat? Sure, you can always go for a pho soup for a hundredth time in a row and it is always going to be a good choice. Or for bun cha. But it turns out, the longer you live here, the more you start to long for some other, more "normal" food. For a piece of meat, some vegetables, or rice. I've never experienced that feeling during my previous trips to Vietnam, which is probably the reason why I've never paid much attention to the com binh dan stands. Untill now. Moving out and eating breakfasts, lunches and dinners everyday, day after day, week after week and month after month, have made these little "buffets" scattered around the city suddenly very attractive. Their principle is easy – you get a stack of rice, then you add a dish of your choice from the current selection. And then you pay. Depending on the place, sometimes your options will be quite restrained and sometimes you will have so much to choose from that you will have to loosen your belt. And you might have to spend as much as…. 2-3$! Well, Vietnam is a paradise in that sense – eating will never ruin you here.

To put it short:
1. Look who's serving rice, go there and say or show with your fingers how many portions you want. One serving of rice is "mot com".
2. If you don't want rice at all say "khong com" – you'll be handled an empty plate.
3. Little rice – say "it com".
4. Take your plate and walk to the counter where you just point at what you want. The portions are rather small so if you want more of a particular dish just point at it again.
5. Meat, fish, egss are more expensive than tofu and veggies so expect to pay more if you're a meat person.
1. Vegan buffet, 133 Nguyen Dinh Thi, Tay Ho, Hanoi; 10:30-15:00, eat as much as you want for 30.000 vnd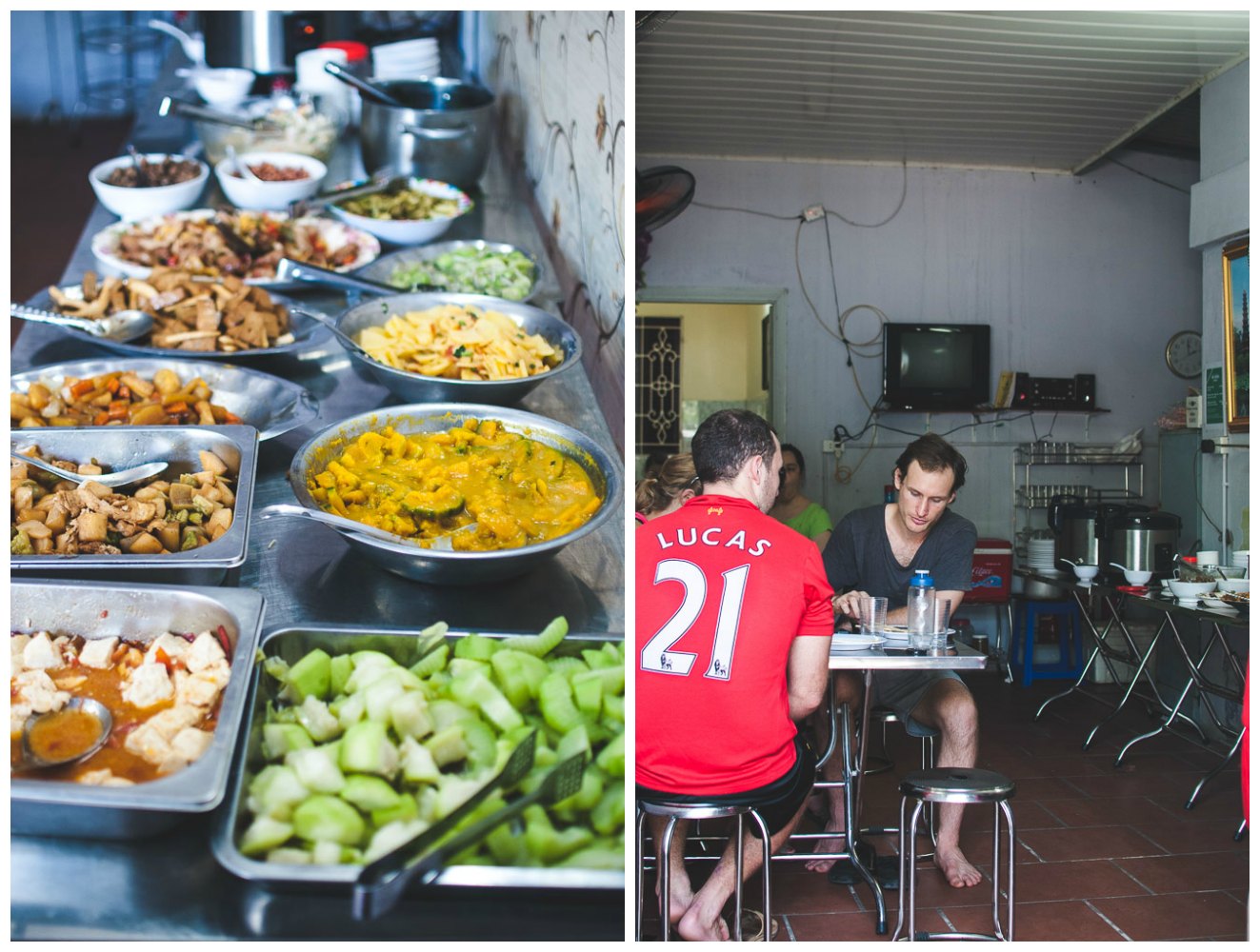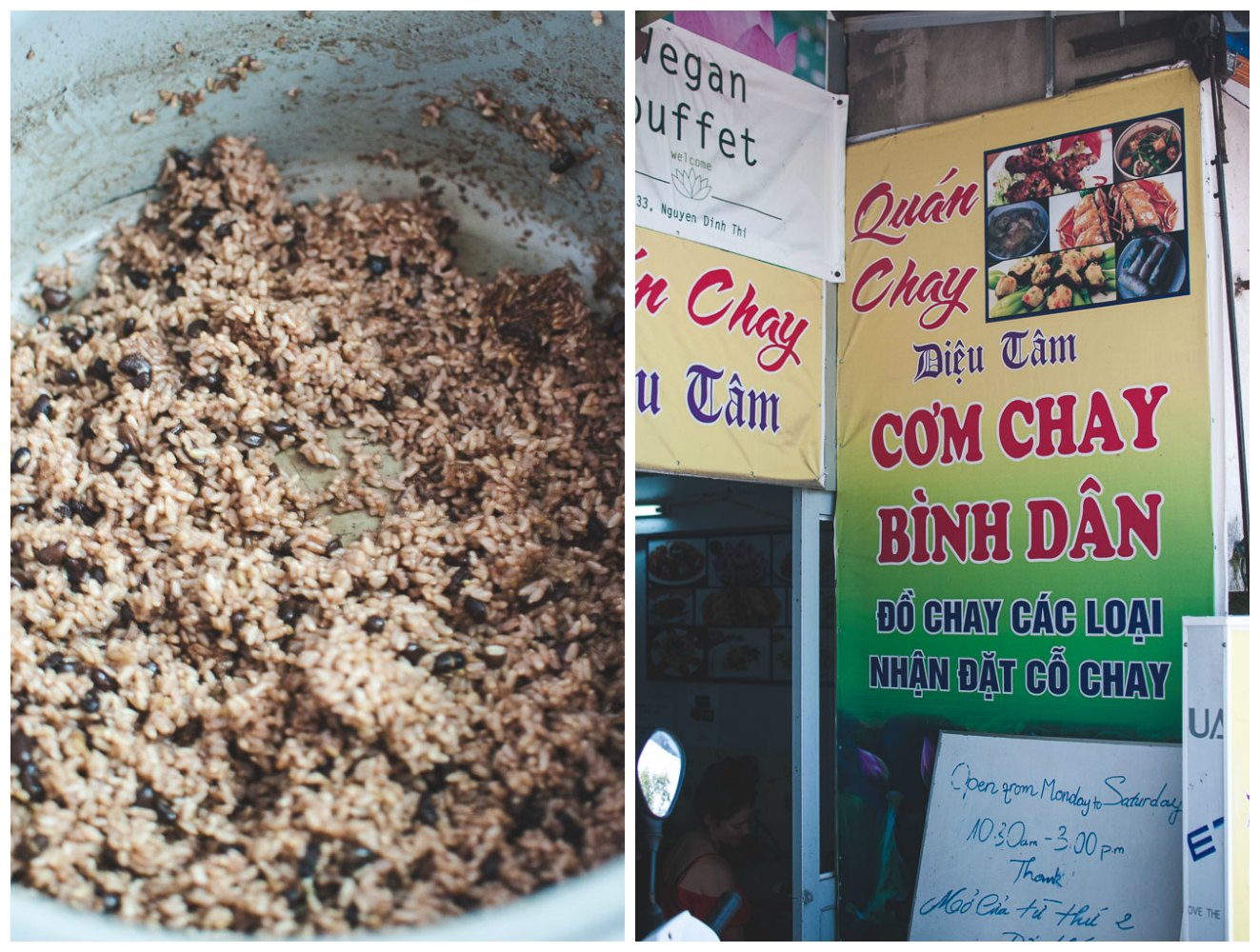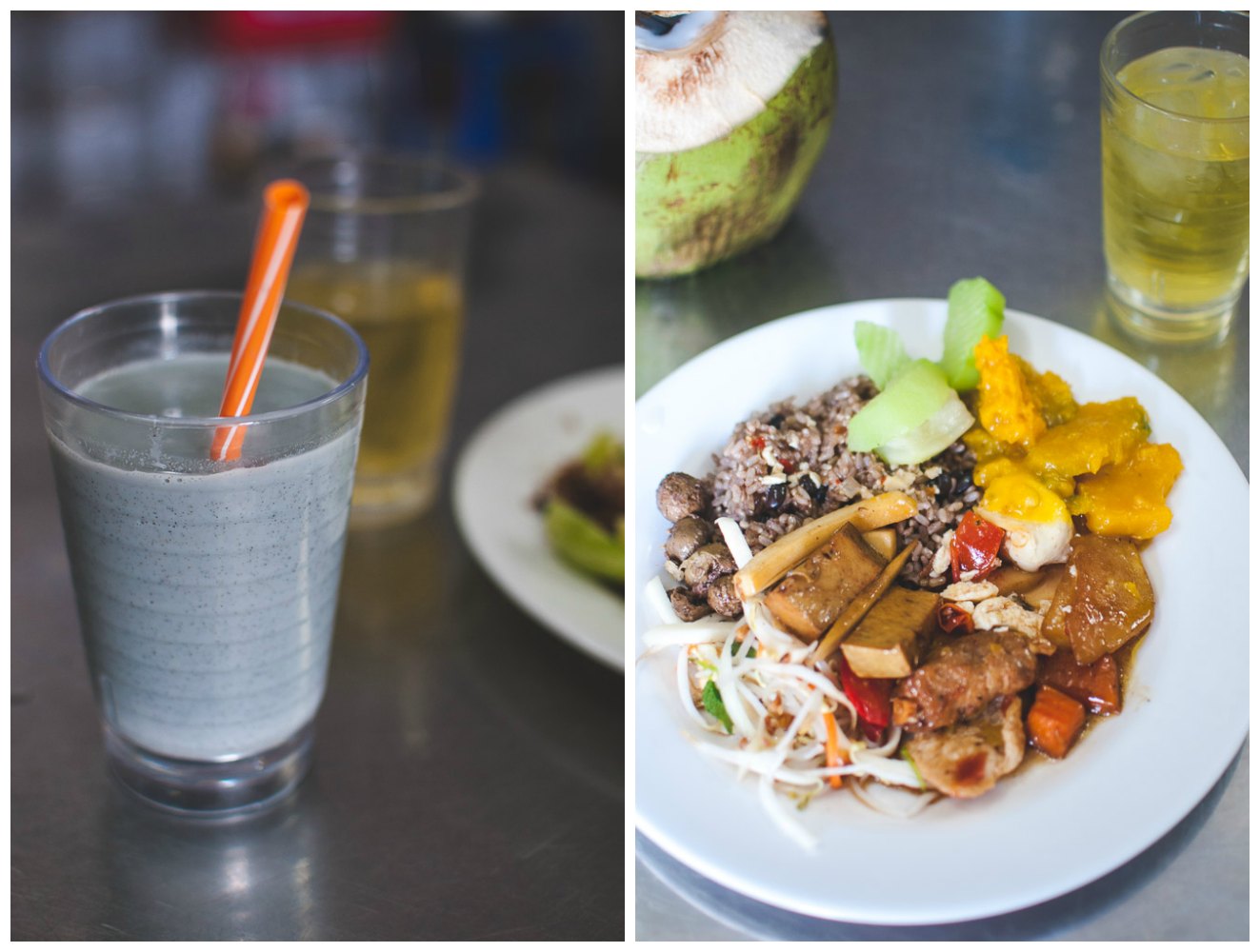 The system works according to the "all you can eat" principle and it is not easy to control yourself – all the food is delicious, there is loads of it and it is 100% vegan! It is also the only place I know of where apart from white rice you can also get the healthier, brown one – boiled together with black bean kernels. The accompaniments are in abundance: some delicious cooked pumpkin, potatoes, an excellent tofu with tomatoes (dau phu sot ca chua) that is usually fried, but here you can get the delicate stewed version which melts in your mouth. There is always a seitan version of caramelized meat (thit kho) with crunchy pieces of coconut, seitan shashliks on lemongrass stems, a selection of salads, with mung bean sprouts and mushrooms or bamboo shoots among others. To complete the dish you can have a delicious bouillon in which you will always find some crispy, fresh vegetables. I could go on like that about the qualities of this place for a long time, but let's just say I can come back here a few times in a week and never get bored. Drinks are included in the price – you can have green tea in self-service or all kinds of vegan milk (sugar-free!) for 10.000 vnd – soya, soya and black sesame or roasted brown rice milk. The place is run by three vegan-cook women who have just decided one day that their food is worth feeding also other people besides themselves.
2. Com Binh Dan, 30 Duong Thanh Nien, Tay Ho, Hanoi; closes after 15-16:00; the serving from the pic (piece of chicken, fish, egg) – 45.000 (not too cheap)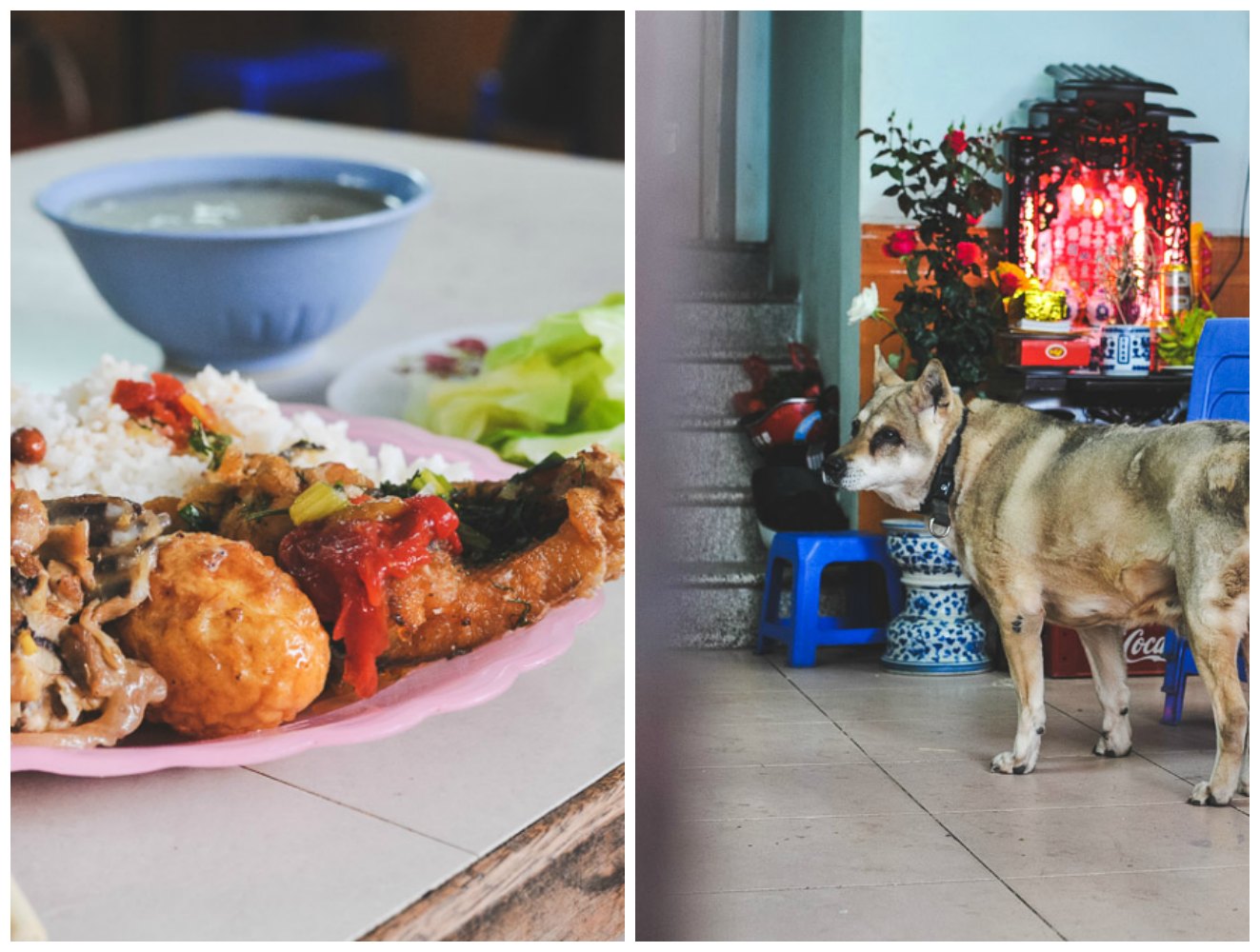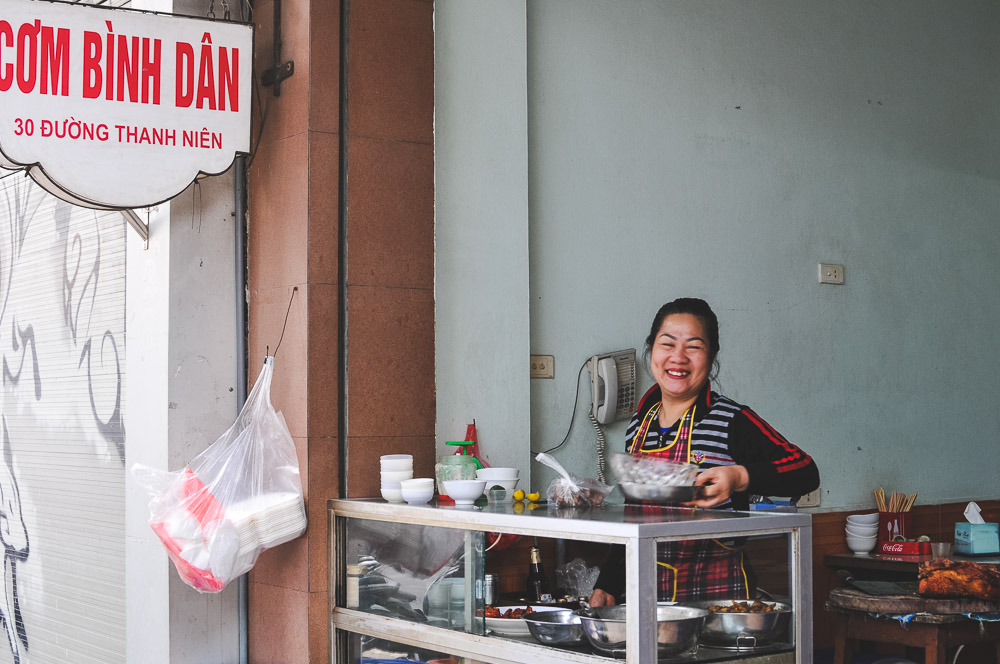 In this particular little place situated in a niche near the turnoff to the Thanh Nien bridge, you will always find this nice, smiling family with its chatty old lady, her chubby, merry daughter (or step-daughter) and an old chap of a dog – actually a bitch (and a quite abstinent one, considering the amount of meat in her perimeter). You can choose from several options – some delicious fish with tomatoes, chicken, liver, fried boiled eggs, stewed cabbage and the broth – an intense, tasty must-have. The portion was quite expensive, I would expect it to cost something between 35.000 and 40.000 vnd max, but the place and the experience were pleasant enough to come back.
3. Com Binh Dan, 49 Xuan Dieu, Tay Ho, Hanoi; opens late morning until ca. 14:00 and for dinner; serving from the pic (enough for 2 meals) – 40.000 vnd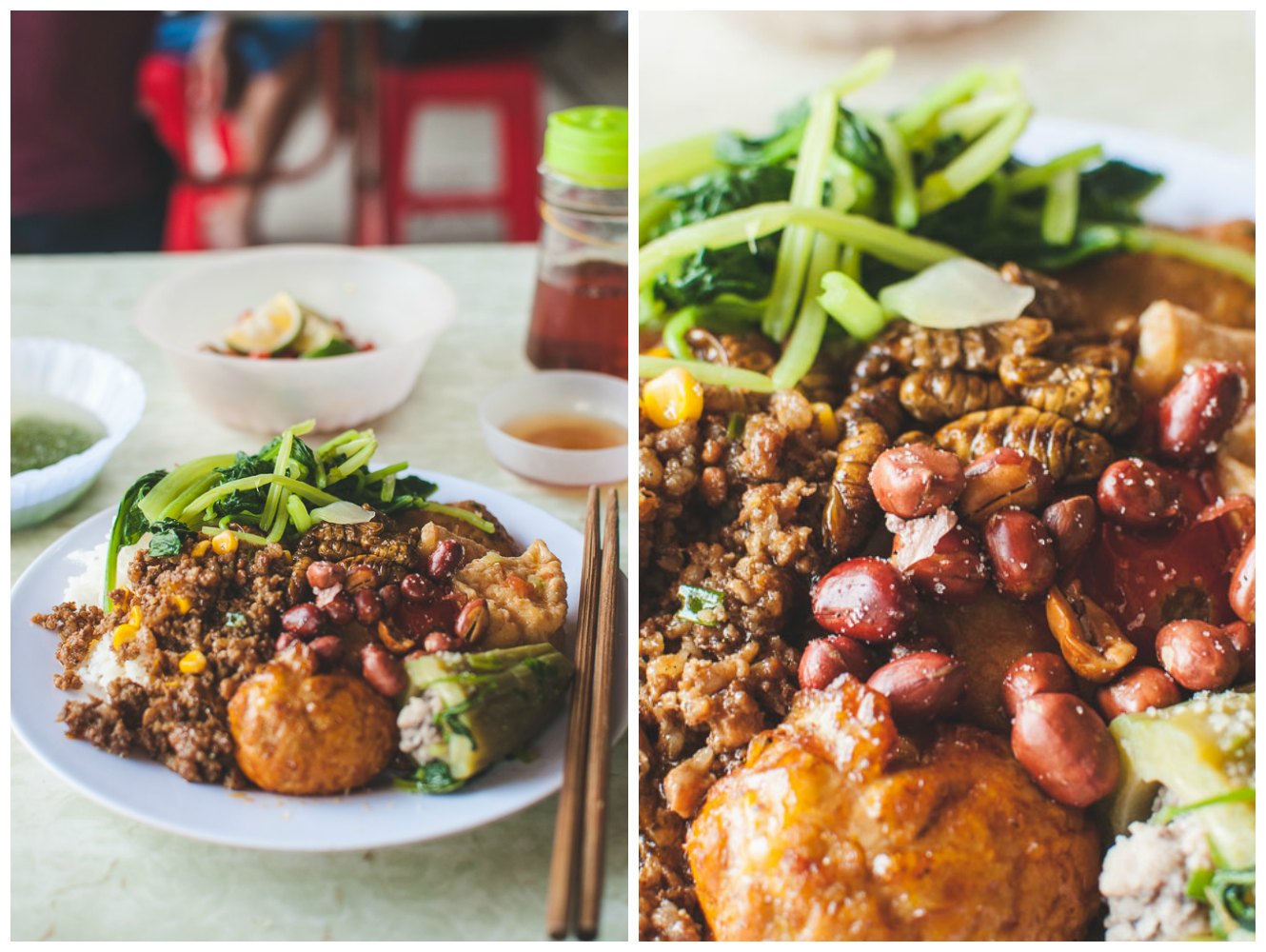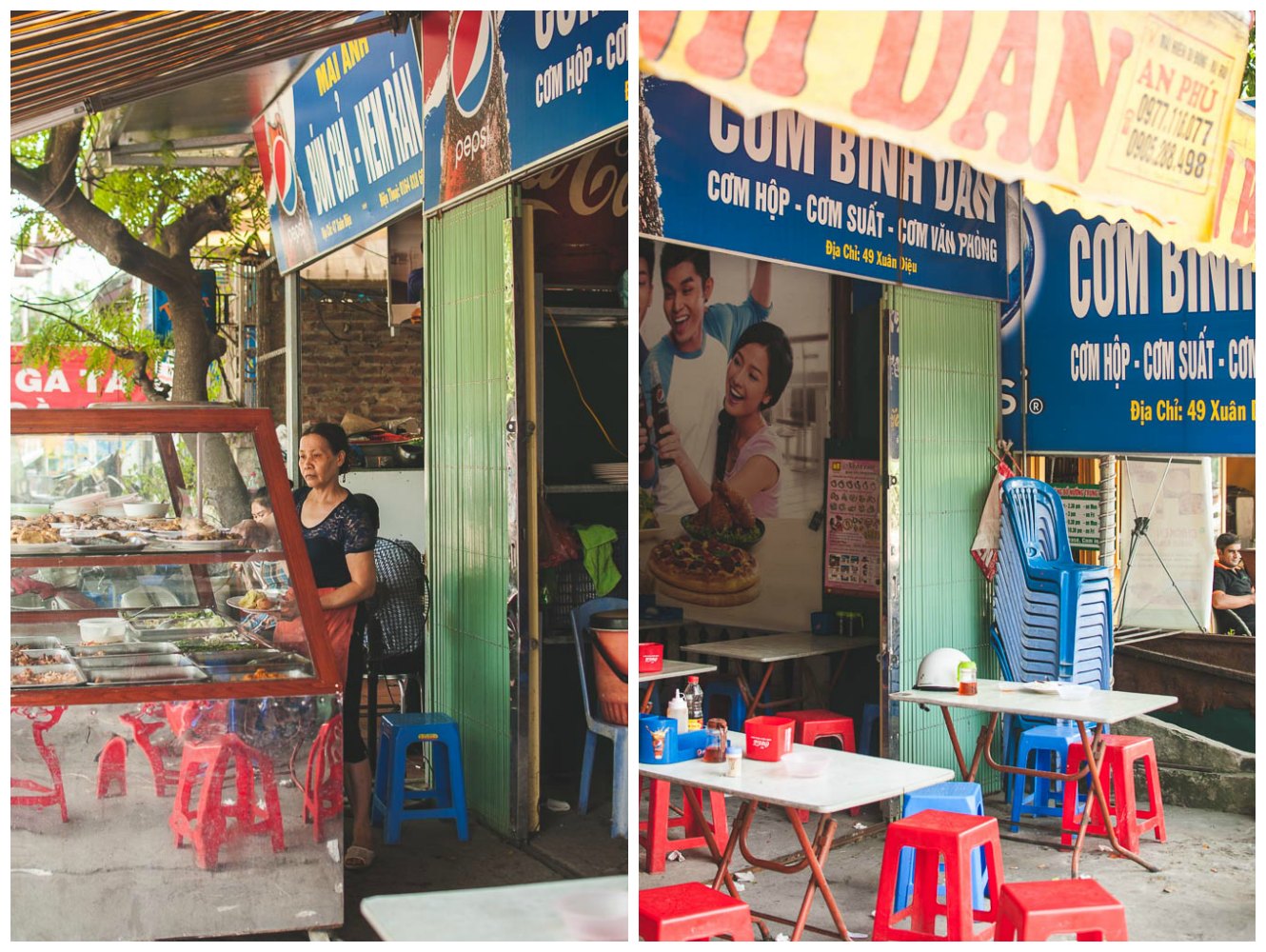 This place, located near the main street of the northern part of the Tay Ho lake – the expat district – is very large and busy during lunch hours. Its main clients are Vietnamese, but from time to time I am happy to see some western faces as well. I live nearby, so I am a regular here and I always end up satisfied. The choice of dishes is huge, all kinds of meat and fish, a lot of vegetables, eggs in different forms, sometimes even such rarities as fried larvae. I usually pay 30-35.000 vnd per portion and I always have to stop the generous lady from adding rice, so that I can still have some place for anything else on my plate and in my belly.
4. 3 chi em, 18 Dang Thai Mai, Tay Ho, Hanoi; com binh dan served at the lunchtime; ca. 45.000-50.000 vnd per serving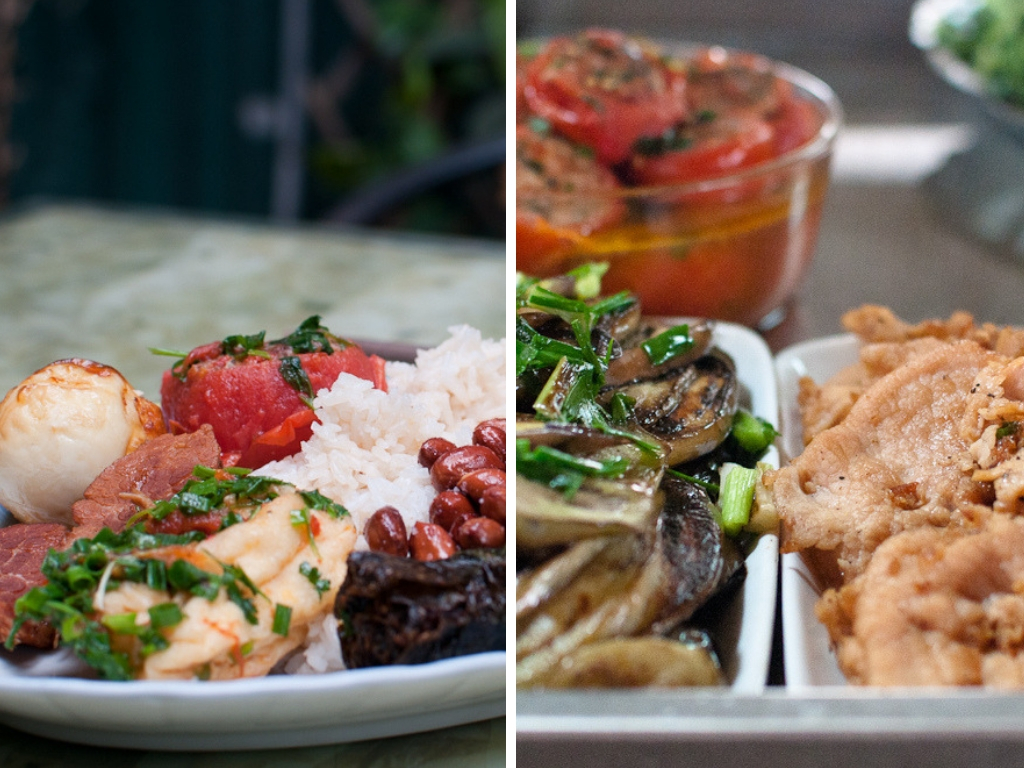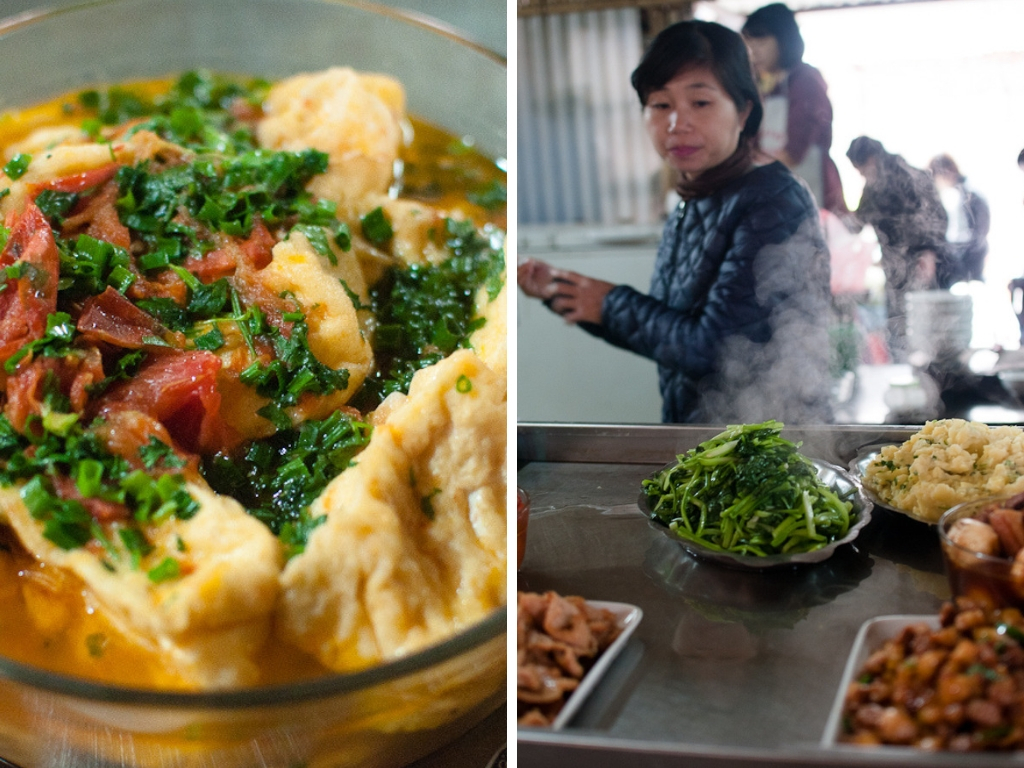 I have already written about this place before because it is really worth visiting. The daily buffet attracts plenty of people, mainly expat workers from the area. This comes as no surprises, as the prices are moderate for western wallets (although a bit higher than in regular street places) and the food is fresh and delicious. On top of that, the place is large and roomy, full of green plants, and you can get a few kinds of fruit cocktails and some excellent Vietnamese coffee. The menu is quite rich and rather repetitive – cooked pumpkin, potatoe puree, several kinds of fried eggs, carmelized bacon with eggs (thit kho tau), tofu with tomatoes (dau phu sot ca chua), beef in capsicum leaves (bo la lot), stuffed tomatoes (ca chua nhoi thit) or bitter melon, grilled eggplant (ca tim nuong), water spinach fried with garlic (rau muong xao toi) and the unmatched roasted peanuts with salt (lac rang muoi).
5. Bo De Quan, 164 Au Co, Tay Ho, Hanoi; Com Chay serving – 45.000 vnd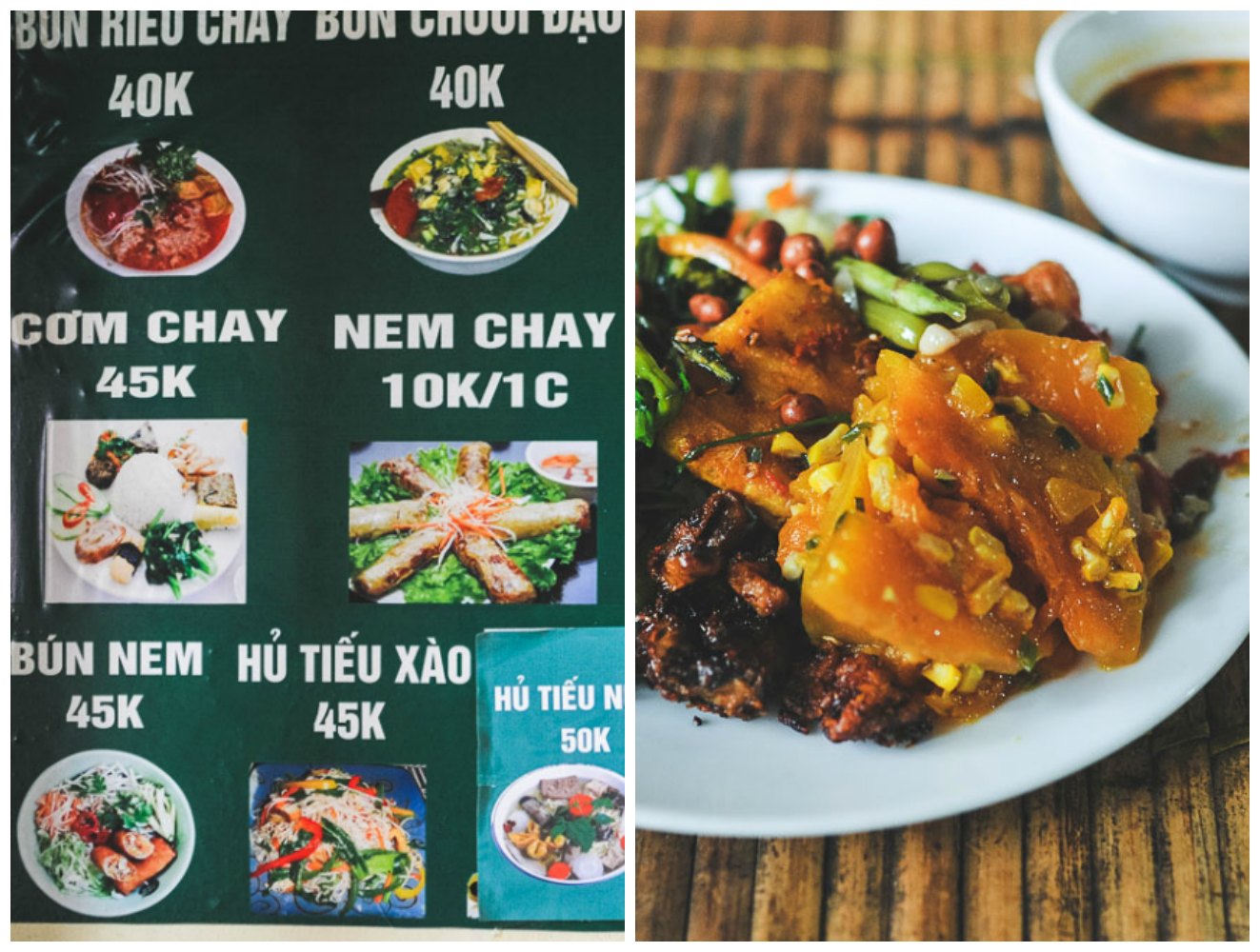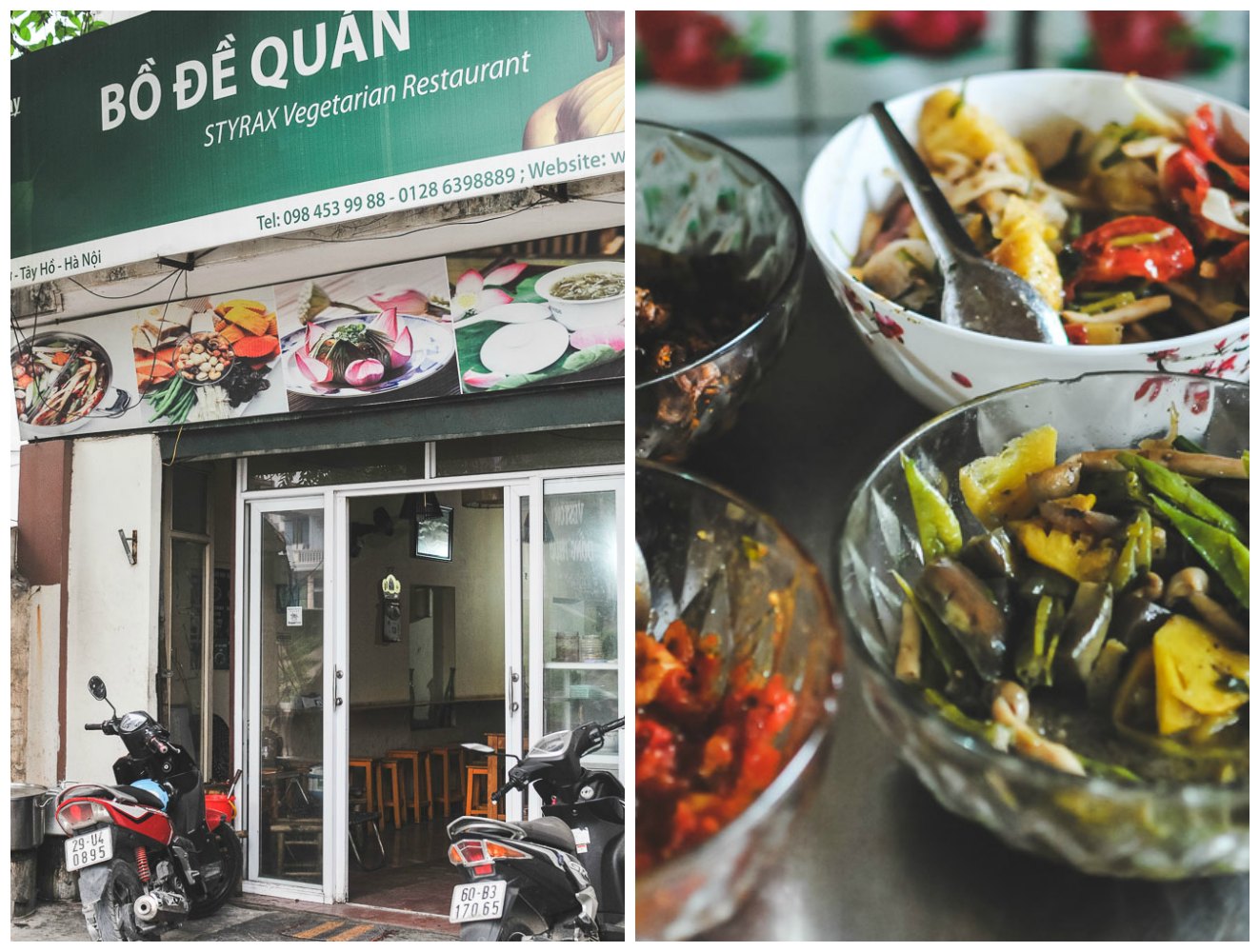 This is yet another excellent, vegan place in my neighbourhood. The system here works a bit defferently: you just order rice (com chay) and a few minutes later a big portion of everything lands under your nose. A kind of "all we have is at your disposal". Each portion is also accompanied by a bowl of dense, salty soup based on… bananas! You definitely should not order this dish for a small apetite. Be ready to find your plate full of tofu, pumpkin, carrots, fried seitan "meat", potatoes, rau muong, peanuts and pineapple salad. And of course, an unlimited amount of tea is included in the price. You will also find other vegan variations of popular Vietnamese dishes, such as the meat-free pho cuon (10.000 vnd per piece) which I really recommend.