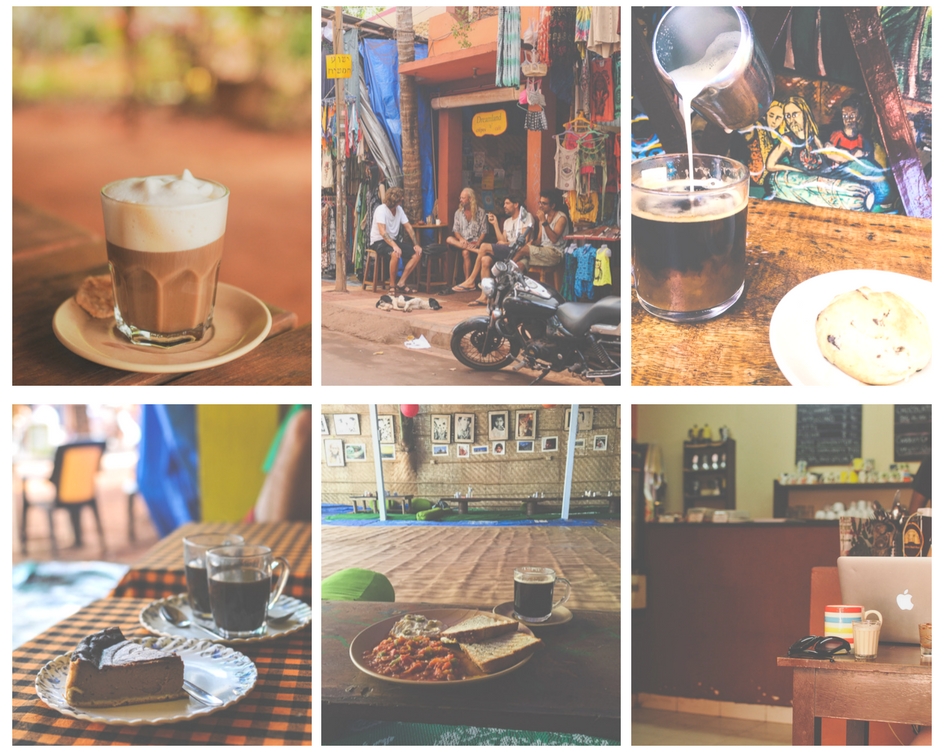 It might be, that if you travel you just love to discover good coffee spots in your new destination. That's how it is for me as I find there is something comforting in setting yourself on a pile of cosy pillows or a little stool just next to the busy street and having the 1st sip of the hot, aromatic brew. It makes it easier for me to sink into the place, hide my 'newbie' face behind the cup of Americana and become part of the local tribe. I can sit for hours just people watching, writing my journal that helps me to get a grip on my a bit messy traveller's life or getting into a random chat with a fellow caffein-lover. And most probably that is what keeps me drinking coffee in the first place, as I just can't imagine this blending in could be done over a tea or an orange juice. Even the omnipresent masala chai doesn't work for me so the ultimate "make me feel good in a new place" ritual is undeniably slurping a (preferably good) coffee. And here comes a bit of a challenge, as the spicy tea kingdom doesn't care so much about their morning espresso being absolutely happy with the instant Nescafe in the morning. Luckily if you get to more touristy areas of the country, you should find a few places with pretty decent mocha. Here is the list of my top coffee spots in Arambol.
Jungle Dance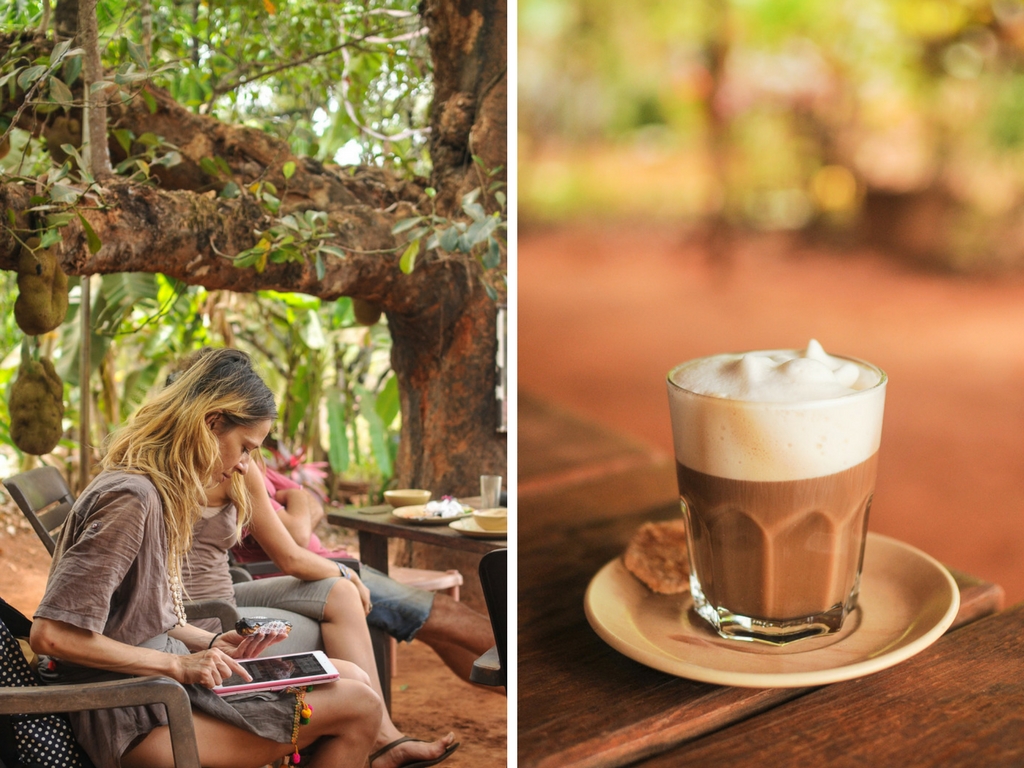 Slightly outside of Arambol this green oasis is a place to hide from the heat and rumble of the village. With its permaculture oriented garden, open kitchen, swimming pool and Contemporary Dance Theatre it will make you feel like you're visiting Ubud, the artists and yogis Mecca in Bali rather than a hippie Goa.
The only way to get here is either on your own scooter or by a taxi (scooter or car taxi are available all over Arambol) and it's usually pretty quiet with occasional contemporary hits coming from the dance classes or the laughter of little kids at the pool. Great place for work as the wi-fi is reliable and the soy milk cappuccino (80INR) is without equal. Also one of the best spots for vegan (soy milk) version of Masala Chai (40INR).
Dylan's Toasted and Roasted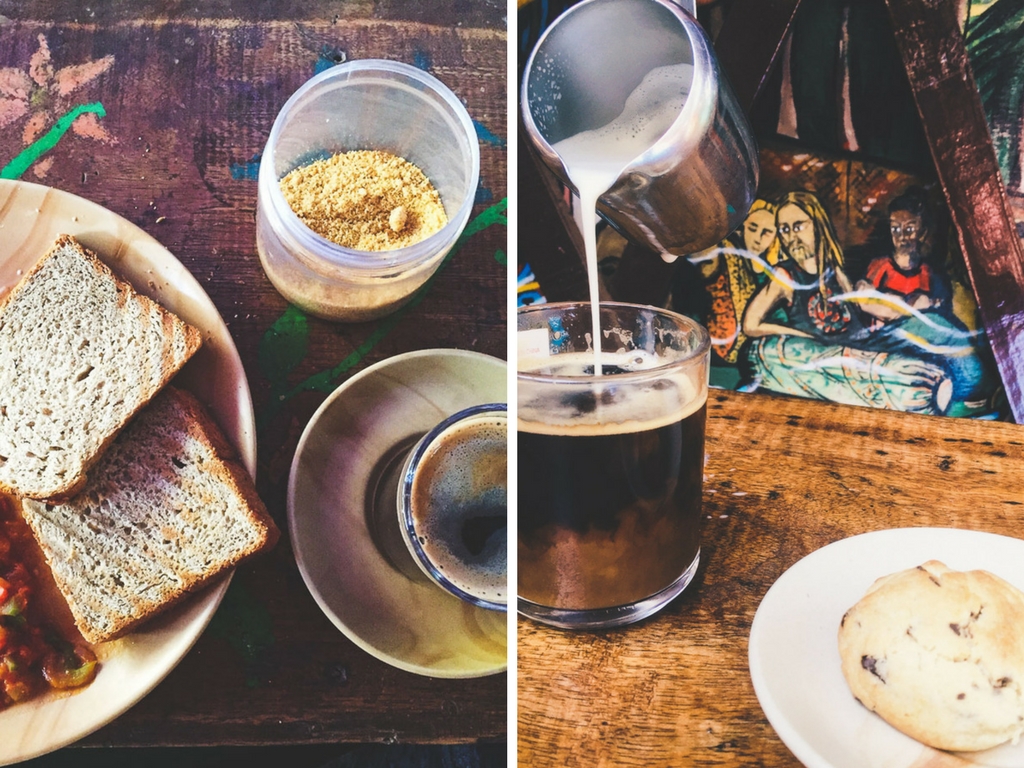 One of my best places to chill while I work (or the other way around). This is the place where the Internet usually works pretty ok (and you will look for such places ), during the day it's pretty quiet and offers a fan above your head which is the biggest blessing when you need to work for a few hours in the Goa's winter heat. They have a mocha machine, coffee machine, french press so you can have your coffee any way you like (Americana is 60INR, french press that makes 2 cups – 100INR). The beans here are Arabica from South of India and it might be my fav coffee in the whole village. Another pro – the soy milk is available (plus 30 INR to your coffee price). The star of the place is Raj, its owner, who is on the spot most of the time and will be happy to have a chat and share some stories. For me coming to Dylan's makes me instantly feel home in Arambol.
Dreamland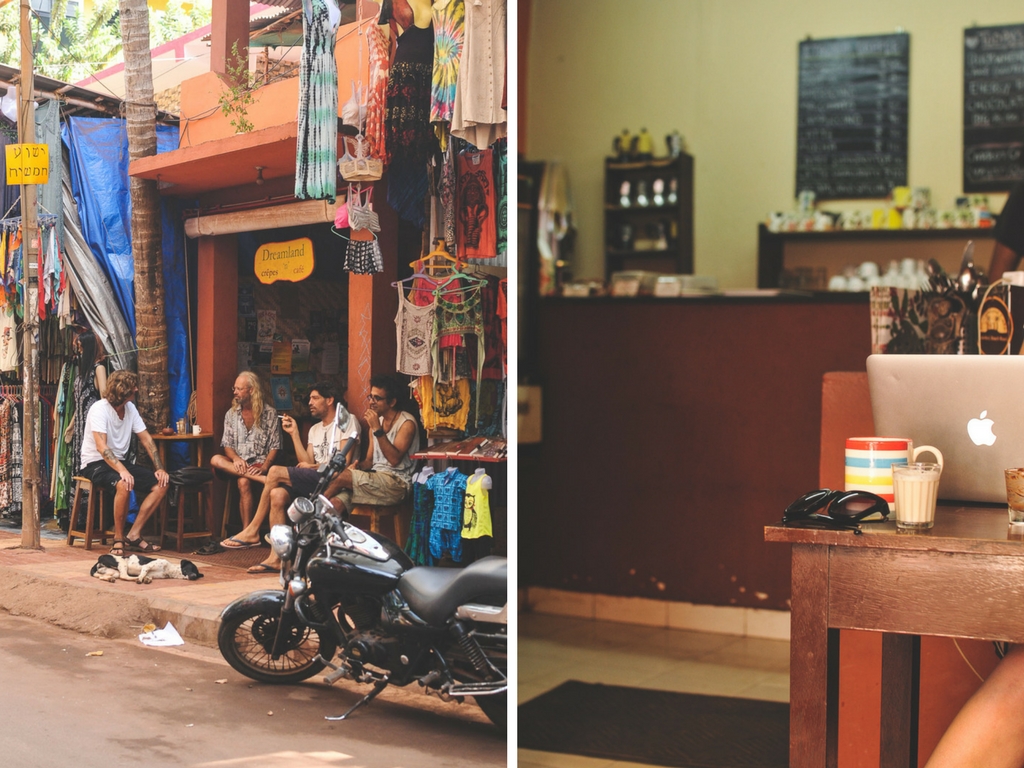 Hustle and bustle of the city are what you love? This is a place to be! Great location just at the main street, good coffee (a mix of 80% arabica and 20% robusta), early opening hours (from 8am, that is early in Arambol;)), very friendly owner from Tirol that will freshly prepare your coffee – it all makes this little cafe a cozy and lively place to be. Therefore you will see a lot of Arambol 'cool cats' here, chatting, sipping their mochas or soy milk lattes, biting into delicious paninis or just people watching with the cloud of smoke around their faces. On top of that Dreamland offers a variety of juices and smoothies and a few vegan/g-f free desserts (try the choco mousse, it's amazing!).
Krishna Lama Bakery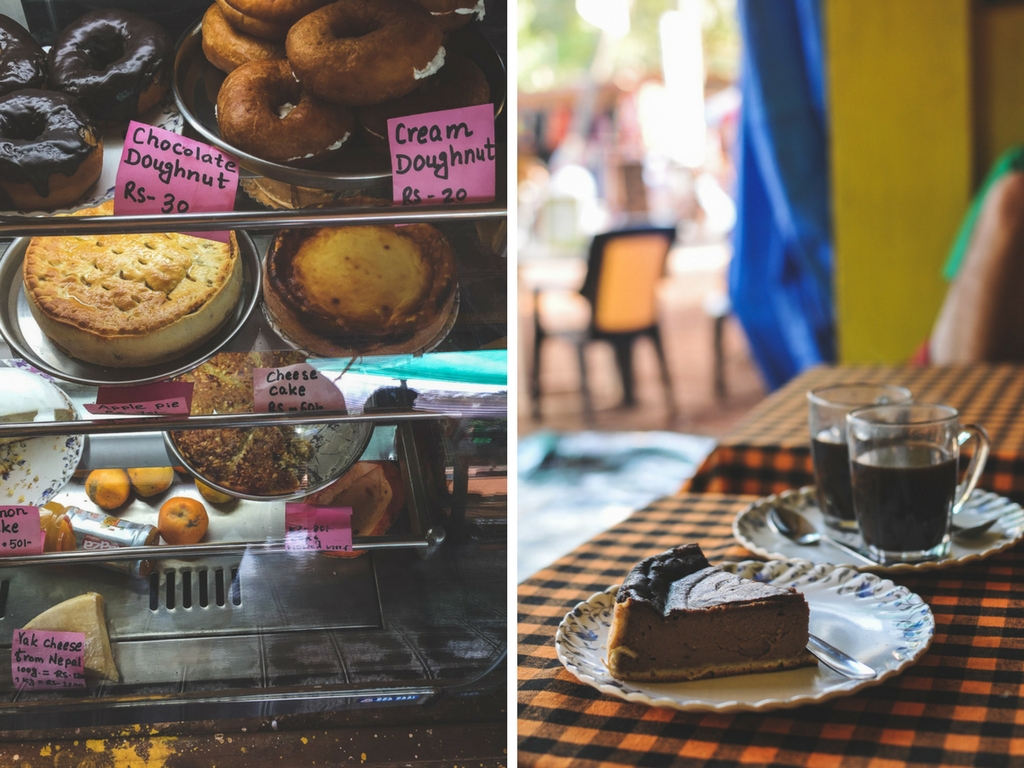 Most tourist favourite stop for a good pie, sandwich, choco ball and coconut cookies. Opens at 7:30 which is early for Arambol and you can eat, chill or work here until almost Midnight. Run by super friendly Nepali guys that greet you with the big smiles and sparkling eyes. Try the yak cheese avocado sandwich if you are ok with dairy, get a coconut cookie or carrot cake if gluten is not your enemy and enjoy a nice cappuccino or americana. They don't have vegan milk but absolutely don't mind if you bring it with you. A cup of coffee is 50-60 INR.
Body and Soul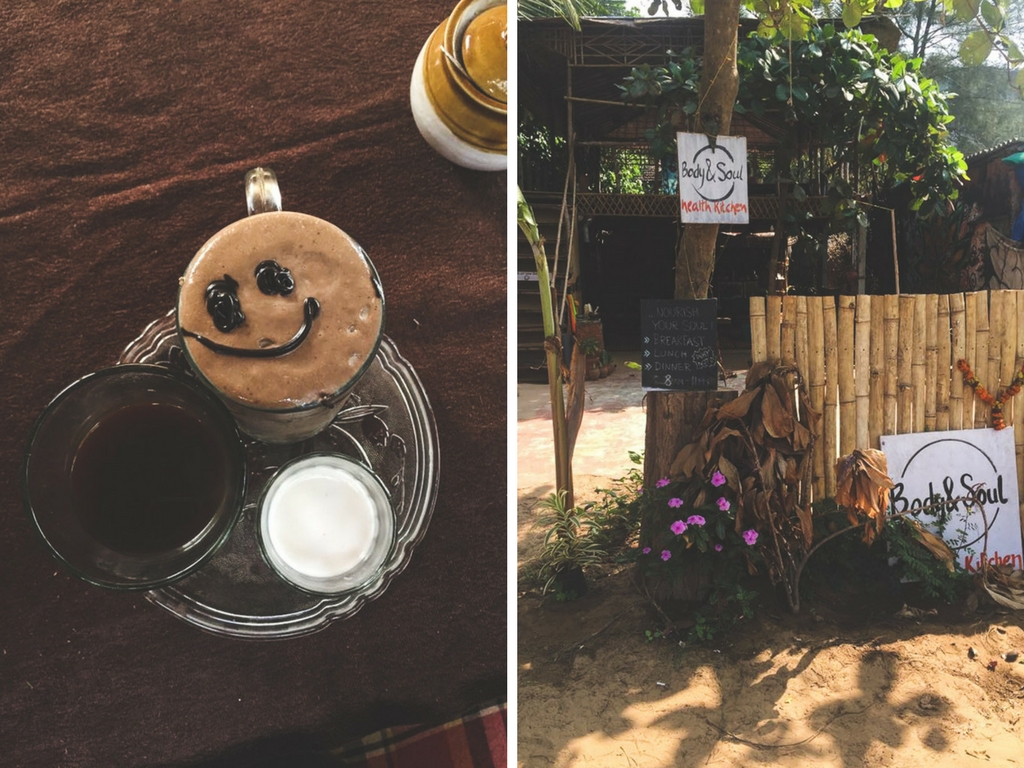 Body and Soul is a conscious kitchen and coffee place at the quiet end of Arambol toward Mandrem, just a few steps from the beach. Expect to get a strong black brew (classical mocha machine) here made of beans from central India. Coffee is served with a delicious coconut jaggery on the side and on your wish comes with a coconut milk. You can chill on cosy pillows or in a hammock and enjoy healthy smoothies and pretty good and healthy food.What I like the most is that they don't charge extra for a vegan milk option which is usually a case in most of the places anywhere I go. So a good coffee costs me 60 INR, which is slightly less than 1 $.PS. All of those places are to be found on Google Maps – only Body and Soul will be found by the name 'Soul De Kitchen' and Krishna Lama by the name 'Pastry Palace'.

Tagi: arambol, body and soul, body and soul kitchen, caffein, coffee, coffee break, dreamland cafe, dylans toasted and roasted, goa, in english, india, jungle dance, kawa, krishna lama bakery, masala chai, w azji