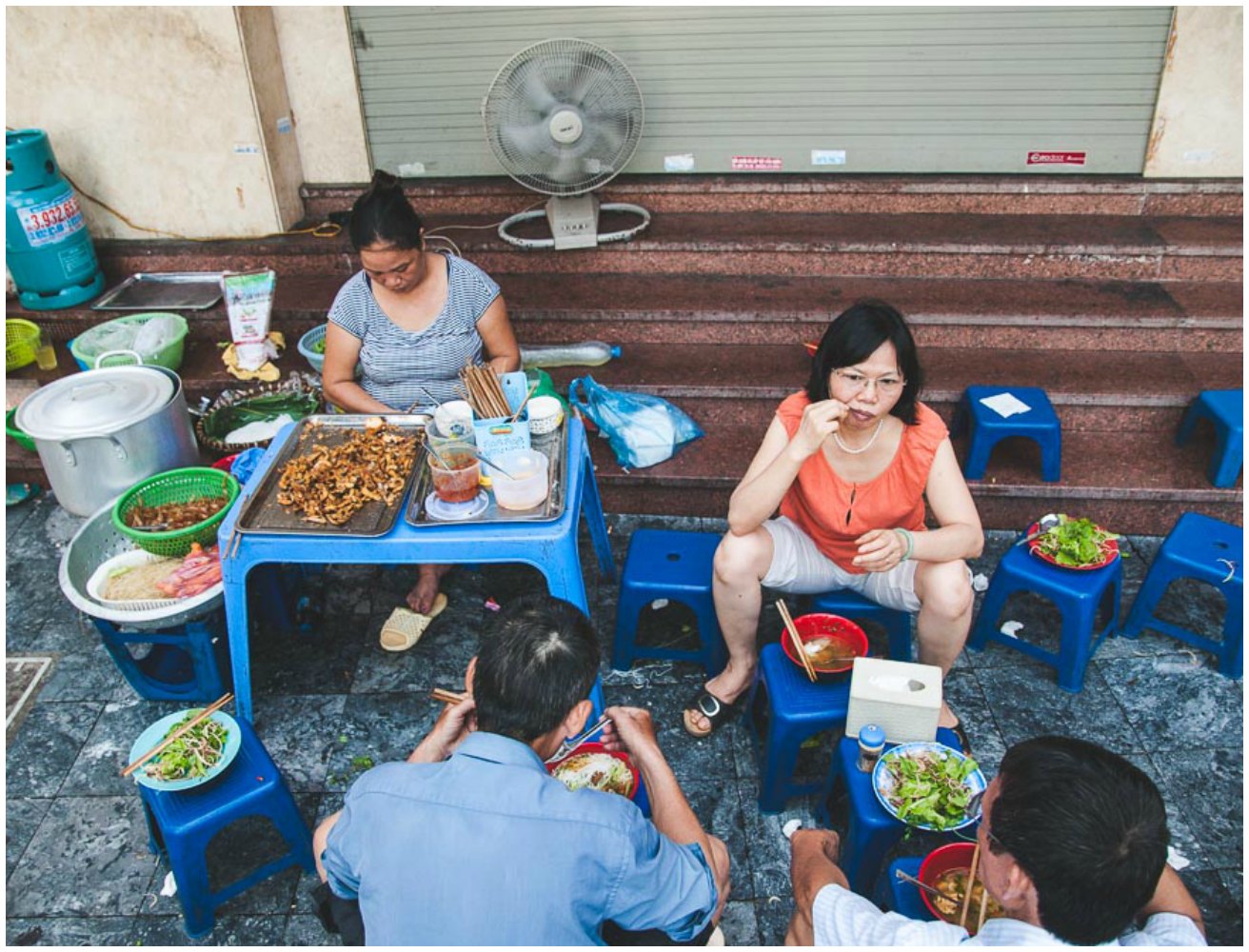 The human mass filling the morning bus number 13 is jumping at every bump and rocking at every turn on its way to Hanoi's Old District. The ice cold air blowing from the air-conditioning system holds back the annoying summer heat. I am on my way to see Thanh, who is taking me to her hometown for the weekend. The buzz of an incoming apologetic text message informs me that I still have an extra hour before our departure. I have no doubt as to how to spend it. A short roam in the crowded streets and here I am – sitting at a tiny table with my mouth full of bitter-sweet caffeine liquid. I am drinking it like a baby, slurping from the spoon and listening to the merry clicks of ice cubes in the tall frosted glass. They are melting instantly in the July's heat, leaving a sweaty spot on the wood-like pattern of the table's oilcloth. A seller carrying her grey braided basket crouches down right under my nose. She unfolds a wooden stool and a piece of cardboard on which she disposes, next to a portable scale, a sizable piece of pork. For a short while the tiny cafe turns into a noisy market, resonating with the patter of the chopping knife. Gourmets order ribs and pigskin over their coffees. 
It takes only a moment for the improvised stall to disappear and it is immediately replaced by baskets full of vegetables. Behind the back of the next vendor the morning Hanoi is bouncing and swelling on its way to work and urgent everyday errands. A concentrated young boy slips by on his bike, balancing the tray with two bowls of steaming hot soup in his hand as an acrobat. Unnoticed by his fellow citizens, for me he becomes a symbol of this flashing, chaotic on the surface while strongly synergic city mass…
An hour further into this spectacle I can see Thanh, upset to be late. She has yet no idea what a beautiful gift she offered me. She awoke the curiosity in me I have somehow lost these days. The joy of every moment spent in this city, the urge to embrace new surprises hidden in every street and at every nook and cranny of Hanoi. As for now, I jump onto the seat of her small Honda and we depart into the wild heat and the tooting noise of Vietnamese motorways.