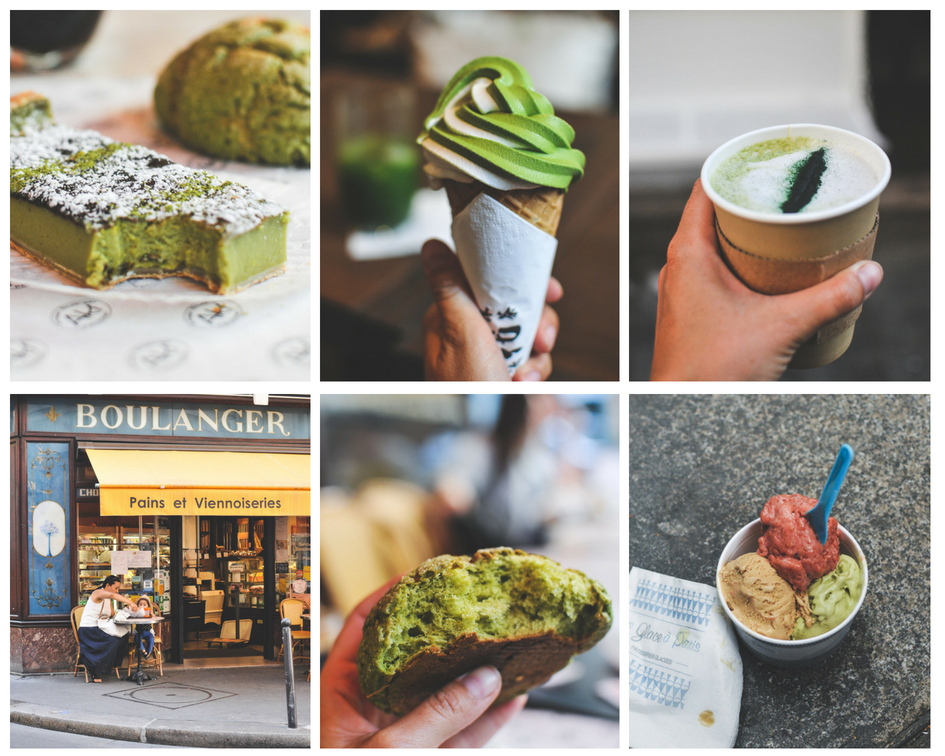 Let me take you for a stroll along matcha dotted Paris. No Eiffel Tower, Arc de Triomphe, museums, Louvre or high fashion. Just a hot Summer day that needs a proper green cooling. You know that the food can be cooling, right? Well, yes, the green ones are. And as I might not recommend this as the most healthy pass time it dams sure is finger-licking delicious! Alors! Let's discover green Paris!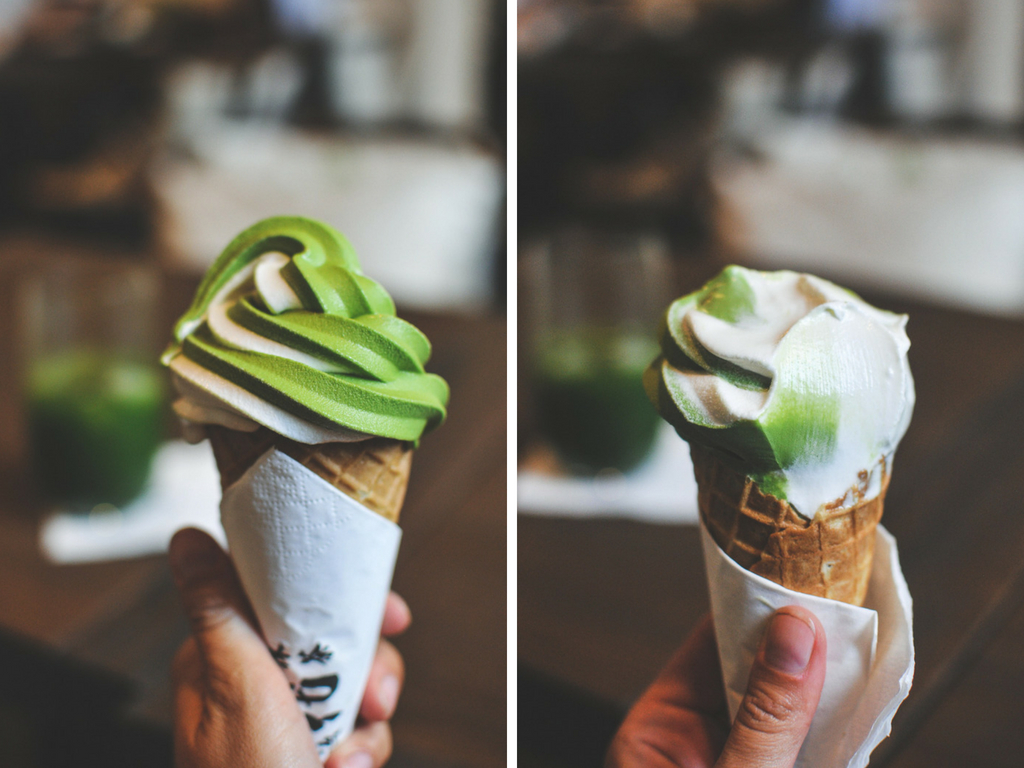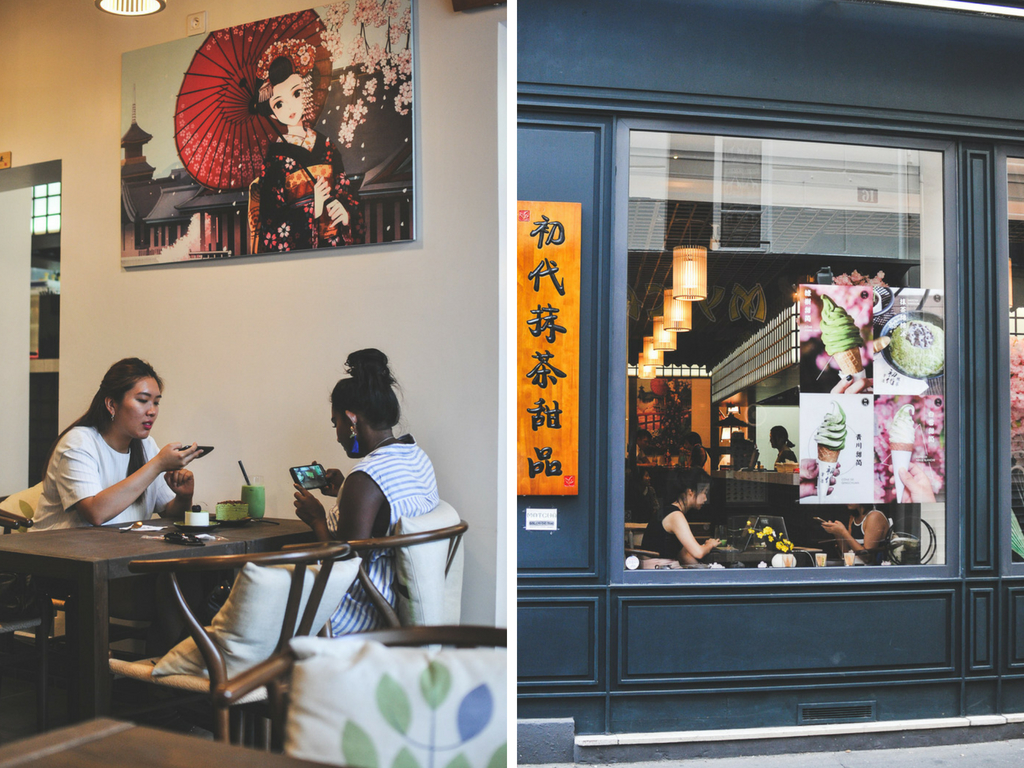 That ice-cream are matcha dreams come true! I could stay longer in Paris only to have them each day. The serving is surprisingly big, they're not too sweet, the matcha taste is strong and melts with a creamy flavour. Because of such treats I gave myself a holiday from the dairy on this Euro-trip 🙂 Apart of ice-cream we cooled ourselves in the 40 degrees heat with a regular matcha tea with plenty of ice. Delicately sweet, very good and very refreshing! Both ice-cream ant tea was 5 or 5,5 eur. You can get plenty of matcha goodies here as well as other treats full of mango or chocolate flavour. Definitely, a place for sweet tooths!
Address: Matcha Lizhong, 7 Rue Volta, 75003 Paris. The place seems to be pretty new thus it's hard to find it online.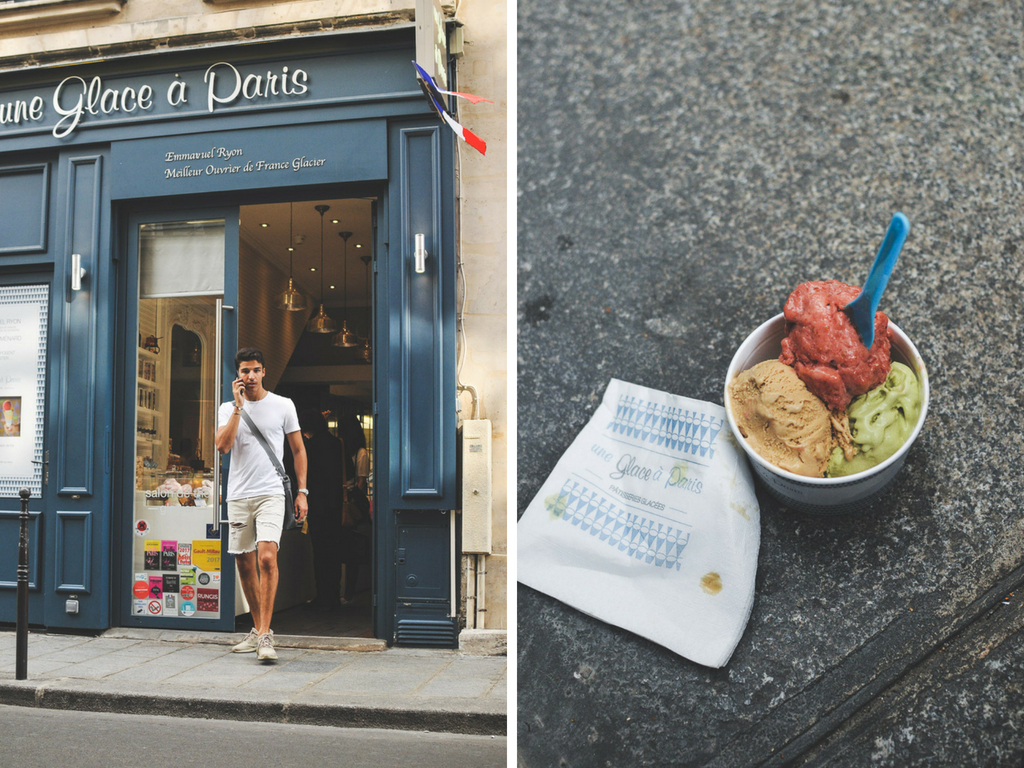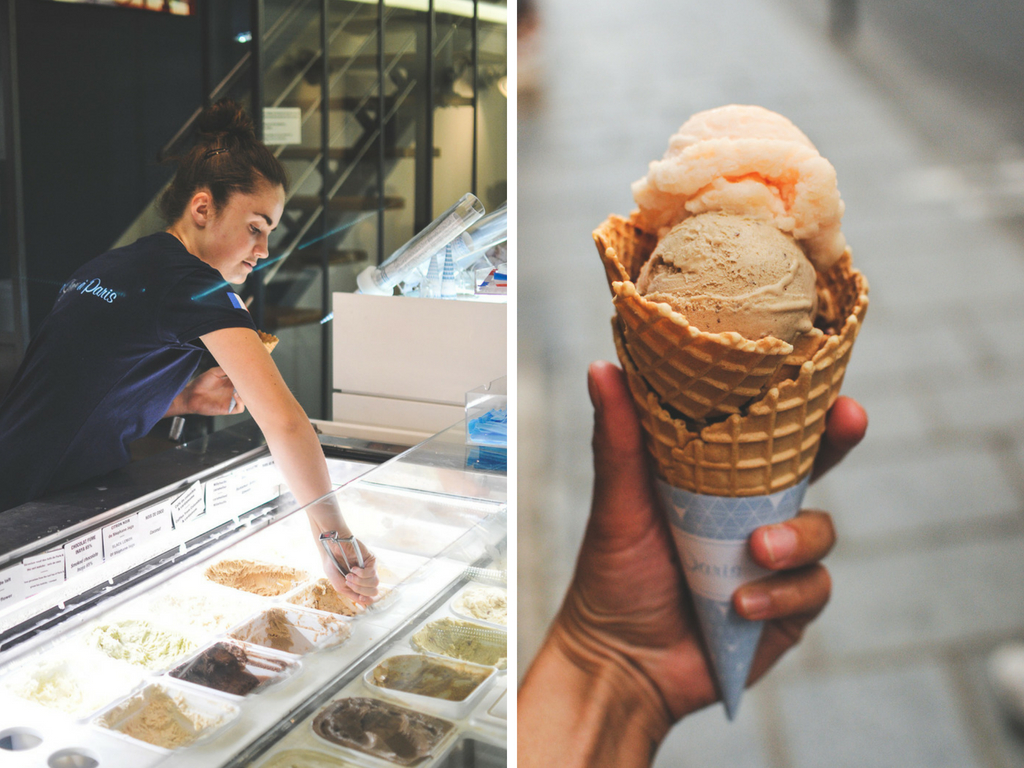 One of the most recommended ice-cream shops in Paris and yes! thumbs up for this place! Plenty of tastes that are made with good quality and natural ingredients. The owner is a patisserie master chef and he for sure mastered ice-cream too. The tastes are pure fun and would want you to come back and try more, though the prices are very Parisienne… 7 euro for 3 scoops, but hey, it's a holiday! My serving holds delicious matcha taste, amazing coffee cardamom and (just) good earl grey with figs (the first two tastes were so damn good, that maybe everything would be just good next to them). The place is open long hours – great treat if you have a late night sweets cravings! Monday – Thursday: 13:00 to 23:30, Friday: 13:00 to 00:00, Saturday: 12:00 to 00:00, Sunday: 12:00 to 23:00
Address: Une Glace a Paris, 15 Rue Sainte-Croix de la Bretonnerie, 75004 Paris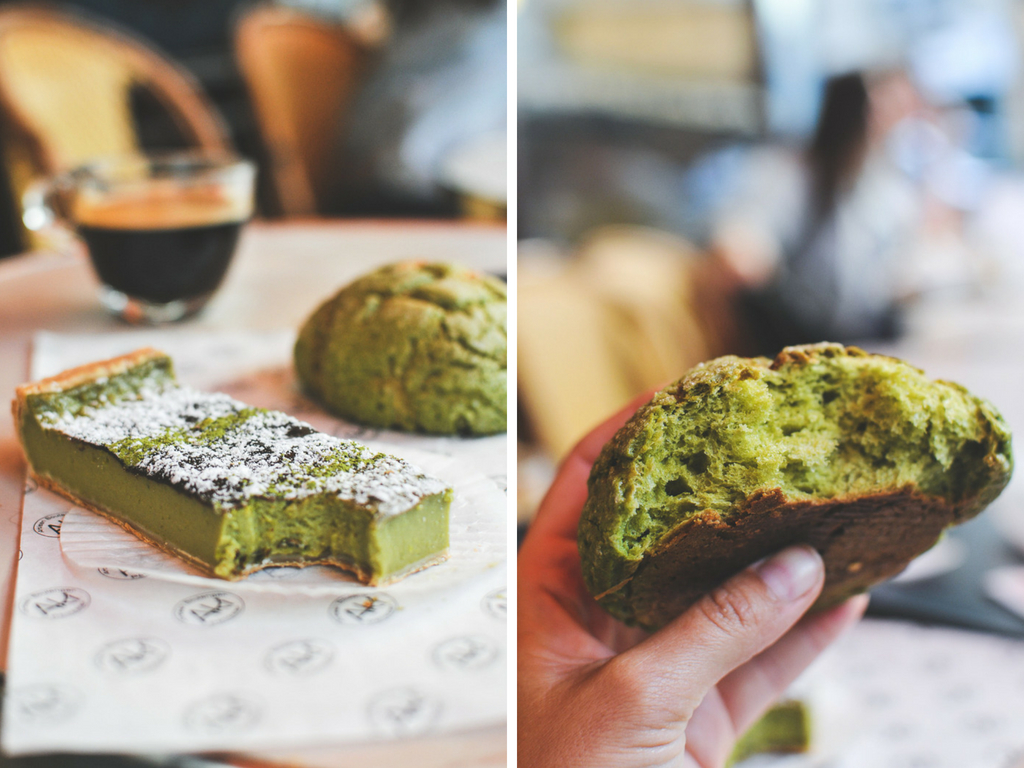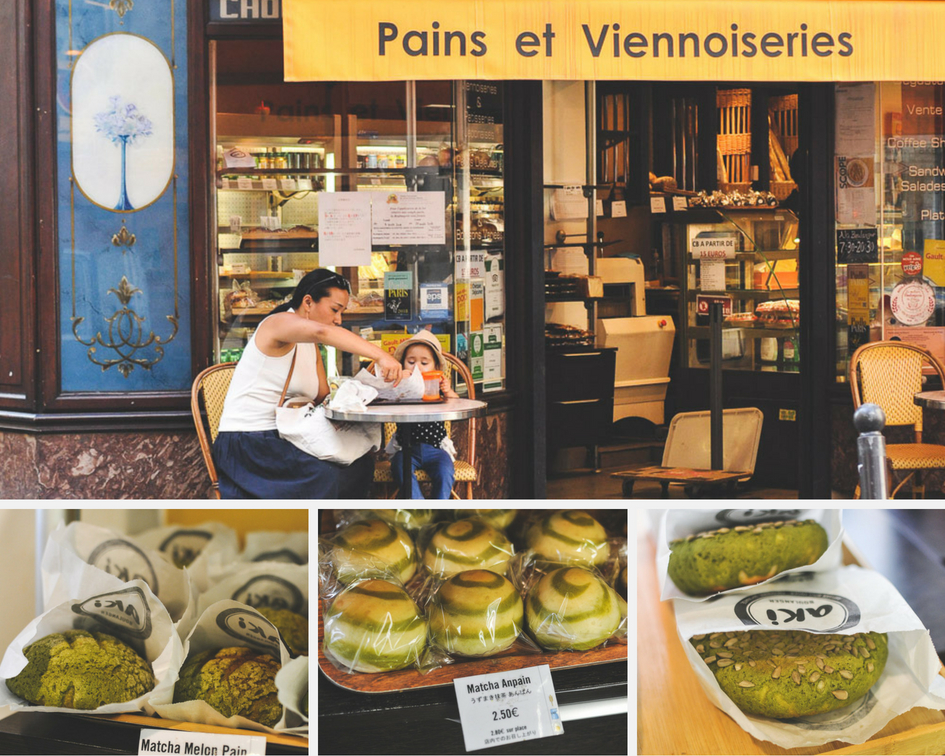 This is a great place if you want to combine matcha and Paris cafe morning. It's a regular Boulanger with an Asian twist and most importantly with this French cafe's tables just on the pavement so you can have your petit noir while people watching (and being seen;)). Make it flan, Mille crepes cake, Japanese sweet rolls or latte – you can have'em all green! It's all gluten and dairy full, they have little signatures next to each item so you can make sure if eggs, milk, sugar, what are there (yes, they are in most of the goodies). For me nice treat, but now as I write it from the month perspective – my body is not so happy to have all those cow's milk and wheat servings… What to do, sometimes curiosity and taste buds win.
Address: Aki Boulanger & Aki Cafe, 16 Rue Sainte-Anne, 75001 Paris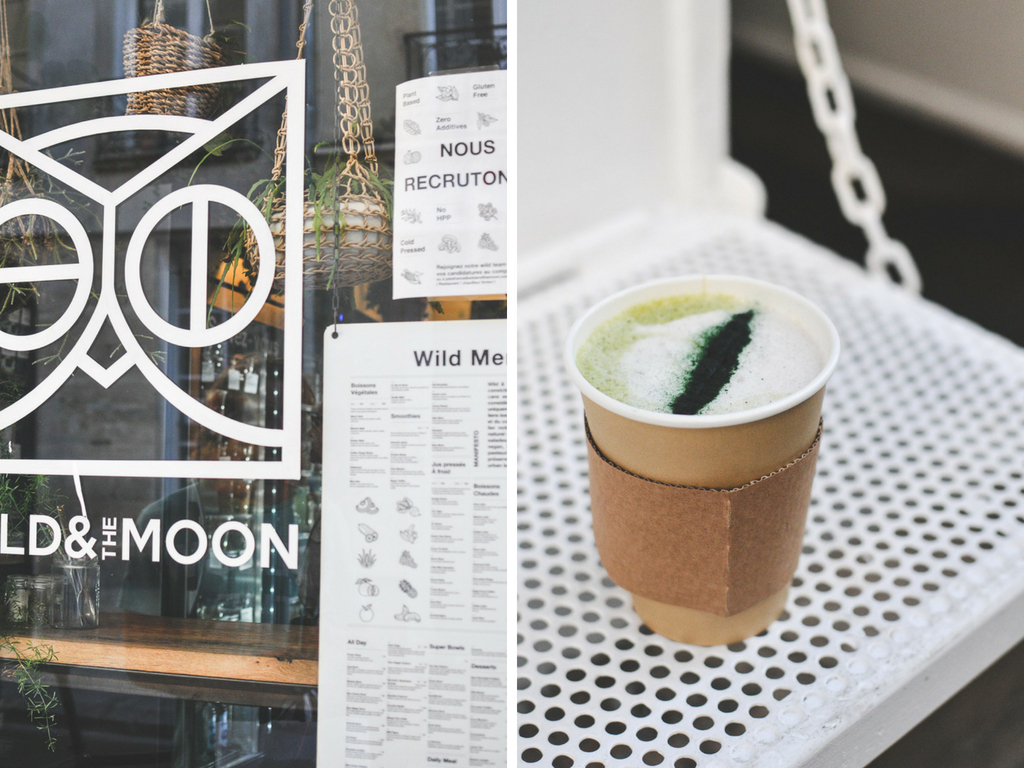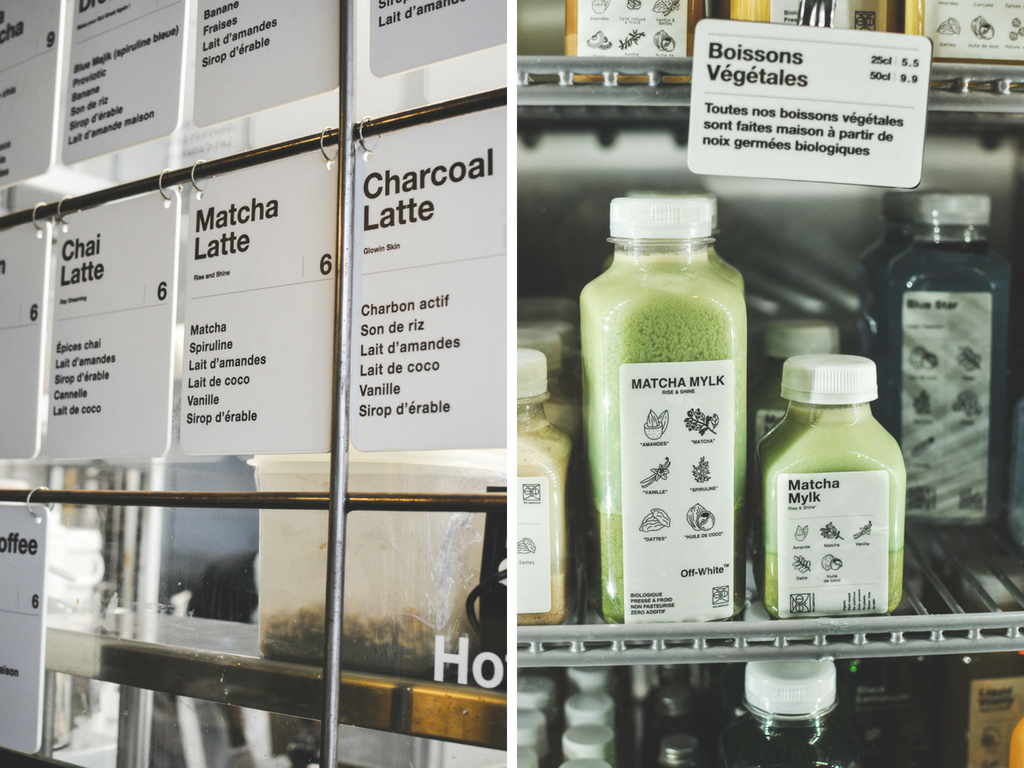 Last but not least – vegan, healthy stop for almond milk matcha latte! A very interesting place which I would definitely want to explore, but all I could fit at the time was a drink. I'd treat this one as a nice & healthy drink to enjoy but not too much matcha overall – there was too little green powder so it was lost in this cup full of sprouted almond milk, coconut milk, vanilla flavour, maple syrup and spirulina topping. But still fun, fun, fun! This drink was 6 eur. You can also buy bottled, vegan matcha milk there and something I'd definitely want to try – matcha smoothie bowl!
Address: Wild & The Moon. There are few locations all over Paris, this one was their little takeaway hole in the wall at 25 rue des Gravilliers,75003 Paris