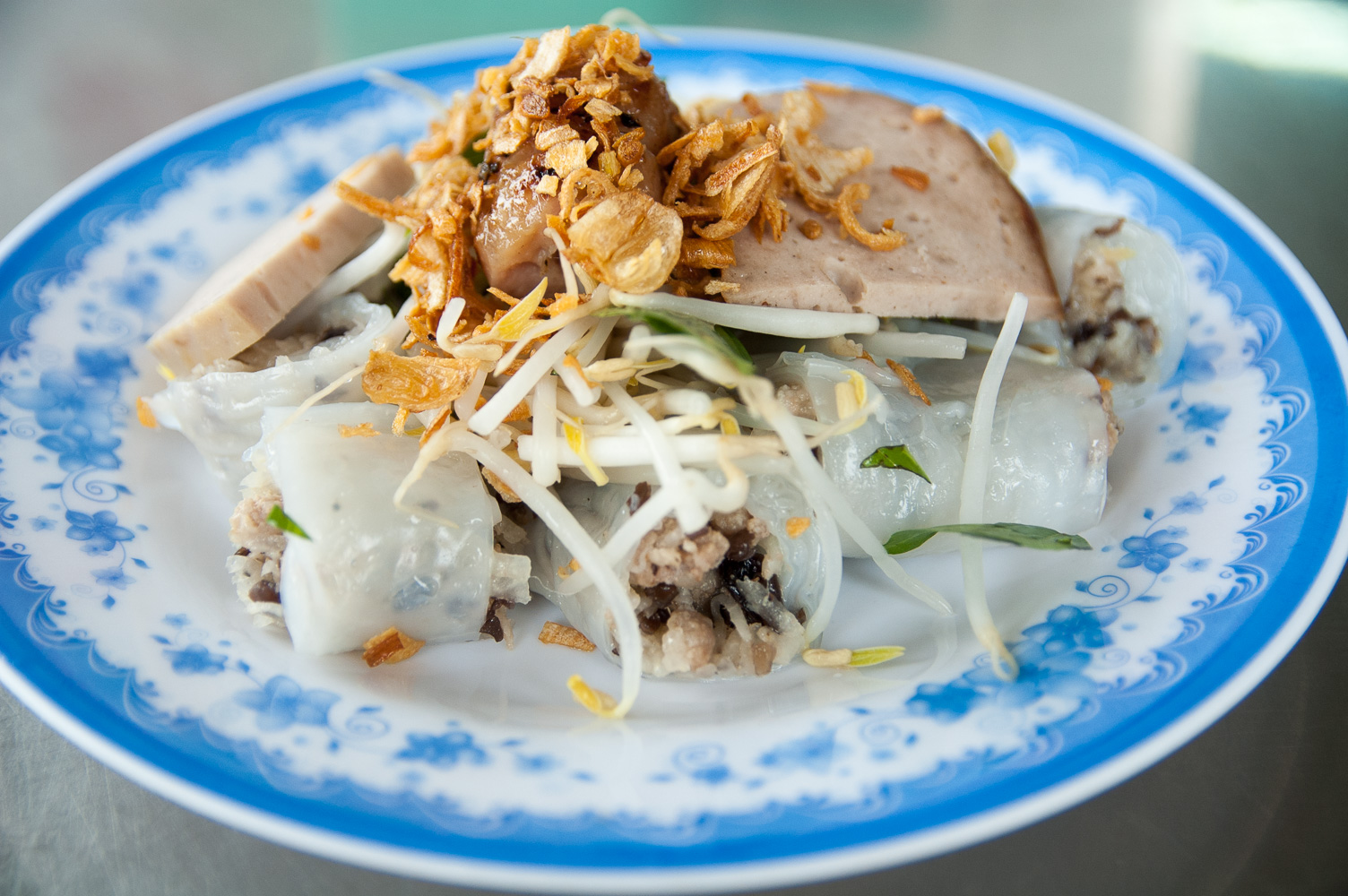 Banh cuon are delicate crepes with a meaty filling. You have to prepare the dough from rice and tapioca flour (you can also use starch) but the process of making the pancakes calls for advanced skills… First you have to tie a cotton cloth tightly on top of the pot (stringing it drum-like). You then pour some dough over the fabric with a ladle and spread it in a thin layer. The boiling water underneath forms a hot steam which instantly and evenly boils the dough, and the humidity makes it pliant and easy to remove from the cloth with a flat bamboo stick. You can see a perfect execution of this operation here – it is a popular place in Can Tho I will expand on later. You put the fried minced beef and mushrooms (wood ear mushrooms) filling on the crepes, roll them and serve together with slices o cha lua (minced pork Vietnamese cold cut), mung bean sprouts, thinly juliened cucumber and fried onions. There is also a very similar and just as popular version called banh uot, patches of dough without any filling, cut into pieces and served with the same accompaniments. You eat both of these dishes with nuoc cham.
You usually eat banh cuon for breakfast – in Vietnam this is easy as pie as you can get it for less than a dollar at every street corner. But the precision it demands in your own kitchen, at dawn, with an empty stomach – might end up in a disaster. Which does not mean I am discouraging you from making these pancakes ! To the contrary, they are delicious – and a sucessfull removal of a perfectly undamaged pancake from a frying pan (that's right, you can enjoy the home-made version using a pan!) will make you burst with pride. Just leave that fun for one of your free afternoons 🙂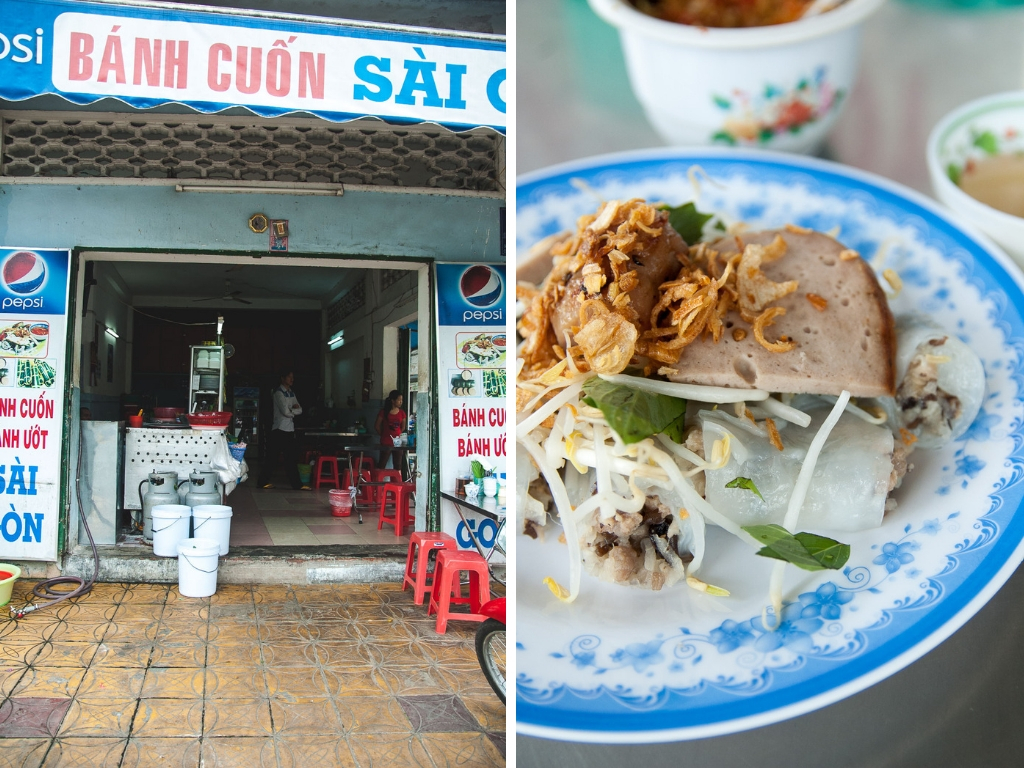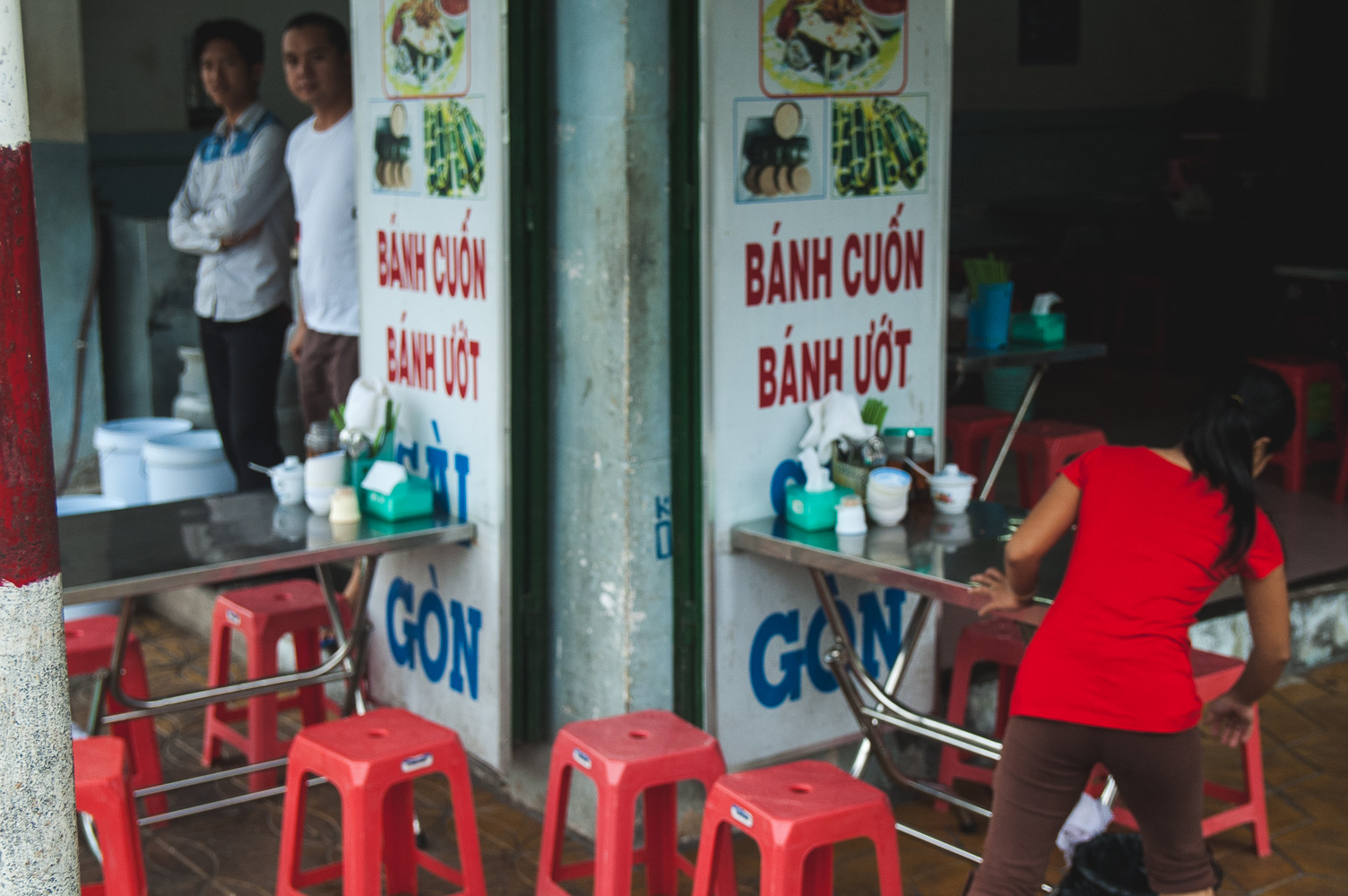 Banh cuon Sai Gon, Dong Khoi Str. & Dong Vo Van Than Str. crossing, Can Tho. 28 000 VND.
The best banh cuon I can remember was served at this place. It is noisy and popular and this dish is its speciality. To top that, the service is agreeable and young and speaks a little English. Open during breakfast hours and in the evening.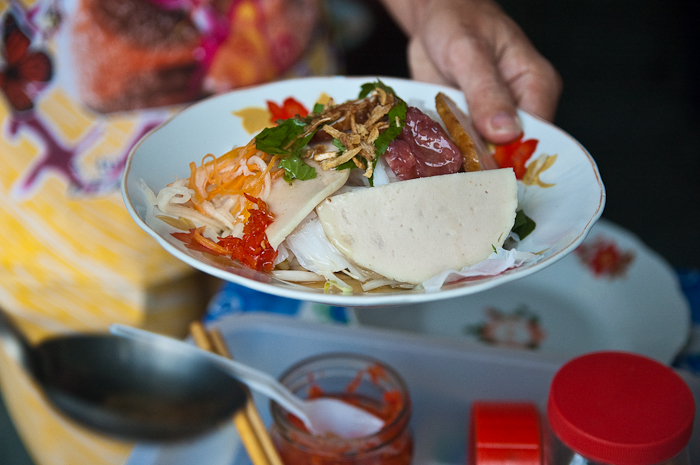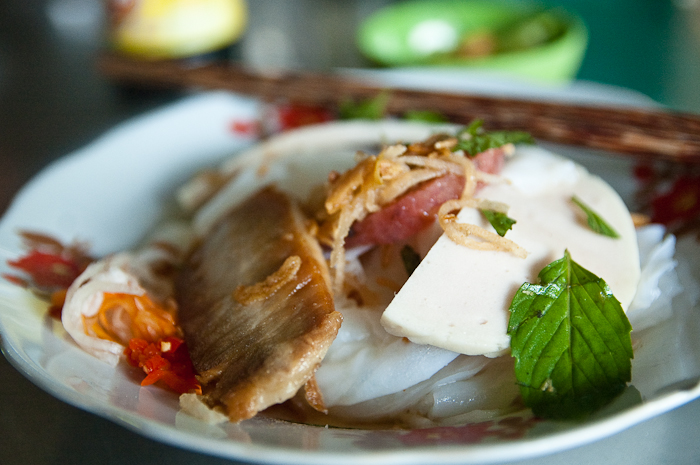 Banh uot, 15 Le Quy Don, Ben Tre. 15 000 VND.
Ben Tre is a strange city situated in the Mekong Delta, mainly memorable for its very communist architecture. Huge squares, long avenues, wide sidewalks along neverending walls and fences, children in school uniforms leave an impression of general, as well as culinary, emptiness I've been searching for something tasty for a long time before finally finding this address – which I definitely recommend.